What the Coronavirus Pandemic Means for Pregnant Women
Was this helpful?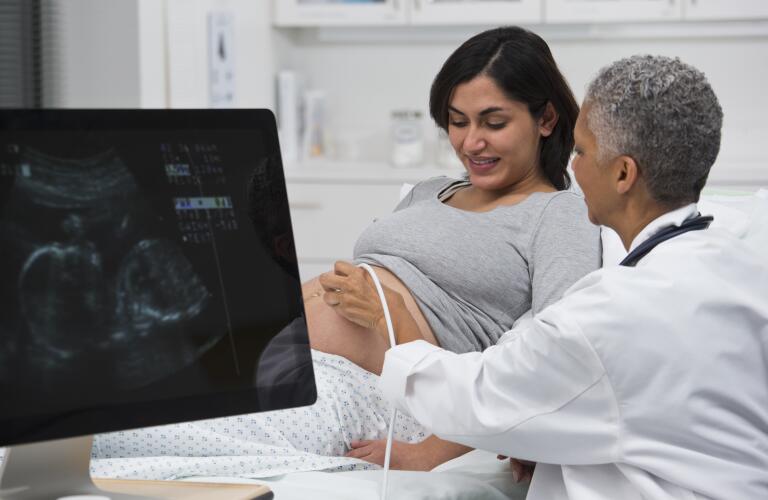 Pregnancy, birth and parenting can be stressful in the best of times. Navigating pregnancy and birth during a global pandemic is a bit trickier. Now, moms-to-be are wondering if it's safe to attend prenatal visits while the novel coronavirus is circulating, and if their support person will be allowed to accompany them during labor and delivery.
Here's what we know so far about the risks of coronavirus for mother and baby, prenatal visits in the era of social distancing, and recommended precautions for labor, delivery and breastfeeding.
Pregnancy appears to increase the risk of developing more severe COVID-19 compared to non-pregnant women. Pregnant women with underlying conditions, such as gestational diabetes, obesity, or lung disease have an even greater risk of developing more severe illness.
You can decrease your risk of infection by washing your hands frequently with soap and water and staying away from others. A pregnant woman should not care for someone who is coughing or has a fever, unless absolutely necessary. (If contact between a sick person and pregnant woman is unavoidable, the sick person should wear a mask; the pregnant woman should as well.)
Pregnant women may receive any of the three authorized COVID-19 vaccines (Pfizer-BioNTech, Moderna and J&J/Janssen) to further reduce their risk of COVID-19. Getting vaccinated is a personal decision, and one you can make with your doctor's guidance based on your risk of exposure to COVID-19 and underlying health conditions. Vaccine experts believe the vaccines are safe for pregnant or breastfeeding women, but the vaccine clinical trials did not study the effects of the vaccines on pregnancy. (Clinical trials looking at the safety and effectiveness of the three authorized vaccines are ongoing.)
Thousands of pregnant women have voluntarily been vaccinated and enrolled in a program to track vaccine adverse events and side effects. There are no safety concerns so far, according to the American College of Obstetricians and Gynecologists.
The COVID-19 virus may pass from mother to baby during pregnancy, but it seems to be a rare event based on limited reports. A few babies have tested positive for coronavirus shortly after birth, but there is no conclusive evidence that any of the infants contracted the virus while in the womb.
Some pregnant women with COVID-19 have given birth prematurely, but it's not clear if the preterm births were because of COVID-19.
After birth, babies can be infected via close contact with an infected person. Most newborns who have tested positive for the novel coronavirus had either mild symptoms or no symptoms, according to the U.S. CDC (Centers for Disease Control and Prevention). A small number of coronavirus-positive infants developed severe illness. Researchers and physicians don't yet fully understand why some people, including infants, develop severe COVID-19 symptoms while others experience only mild illness.
More research is necessary to understand the possible effects of coronavirus on fetuses and babies.
The WHO (World Health Organization), CDC and ACOG encourage pregnant women to check in with their healthcare providers throughout pregnancy. Prenatal care has been proven to reduce the risk of pregnancy complications and remains especially important for women who have pre-existing health conditions.
Prenatal visits during a pandemic might look a bit different, though. Many providers are offering virtual visits and equipping women to perform some simple at-home monitoring of vital signs, such as heart rate and blood pressure. Your provider will also want to see you in person at least a few times during your pregnancy. You may be asked to wear a mask during in-person visits. Depending on your provider's guidelines, you may be able to bring one support person with you to your prenatal visit.
The coronavirus pandemic may affect the number of ultrasounds you undergo during your pregnancy. The Society for Maternal-Fetal Medicine has said the number of ultrasounds may be minimized, depending upon the patient's personal risk factors. In an effort to limit potential spread of the coronavirus, some hospitals and imaging centers are not allowing friends, family members, or support persons to attend pregnancy ultrasounds.
To decrease the risk of infection and protect healthcare workers, most hospitals and birth centers now only allow one support person in the room during labor and birth. Some hospitals are requiring the support person to stay in the hospital for the duration of the woman's stay. Be sure your overnight bag includes a few days' worth of supplies for you and your partner.
The hospital or birth center will likely screen you and your support person for COVID-19. If you suspect or have confirmed COVID-19, call ahead to the labor and delivery unit so they can take the appropriate precautions. You should wear a mask to decrease the risk of transmitting coronavirus to essential healthcare workers. Your healthcare team will be wearing masks also; they may also wear face shields, goggles, and gowns. Support persons who have symptoms of COVID-19 or who test positive for the disease will not be able to attend the delivery. If you have COVID-19, the healthcare team will care for you in a single-person room with the door closed.
Coronavirus shouldn't affect how you give birth. According to WHO, C-section "should only be performed when medically justified."
If you have COVID-19 or have tested positive for coronavirus infection at the time of delivery, your baby should be suspected of having COVID-19 and undergo testing, according to the CDC. Your care team may suggest separating the baby from you, temporarily, to keep your baby from becoming sick. However, because it may be days or weeks until you are no longer infectious, and because physical touch is important for both moms and babies, it's important to discuss the risks and benefits of temporary separation. The WHO does not currently recommend separating mothers and babies.
If you are awaiting COVID-19 test results at the time you give birth, your baby should not be suspected of having COVID-19.
All parents should wash their hands well before (and after) caring for their infants. If the mother is COVID-19-positive, she should wear a mask when feeding or caring for her baby; it's also a good idea to maintain at least 6 feet of distance between mom and baby when the baby is sleeping or doesn't require direct care.
According to ACOG, "researchers are still learning if COVID-19 can pass through breast milk and cause infection in the baby." One research team detected the novel coronavirus in breast milk, but other studies have not. To date, there have not been any reported cases of an infant contracting COVID-19 via breast milk. ACOG and the WHO continue to encourage mothers to breastfeed. Again, mothers with active or suspected coronavirus infection should wear a mask when feeding their babies. A coronavirus-positive mom may also choose to pump breast milk and have an uninfected person feed the baby.
New moms may be discharged from the hospital 12 to 24 hours after birth if they are medically stable. Early discharge home minimizes the risk of picking up an infection in the hospital.
Due to social distancing recommendations and potential health risks, it's not a good idea for friends or family to visit. But, it's essential to remain connected. Call and reach out for support as needed. Some lactation consultants offer virtual visits. Your healthcare provider will likely call you to see how you're doing. Report any concerns and be sure you know who to call for help if you need assistance.
You may not have the pregnancy and birth you initially envisioned, but your healthcare providers will do their best to help you have a positive experience.

Was this helpful?