6 Things to Consider When Choosing Your Maternity Hospital
Was this helpful?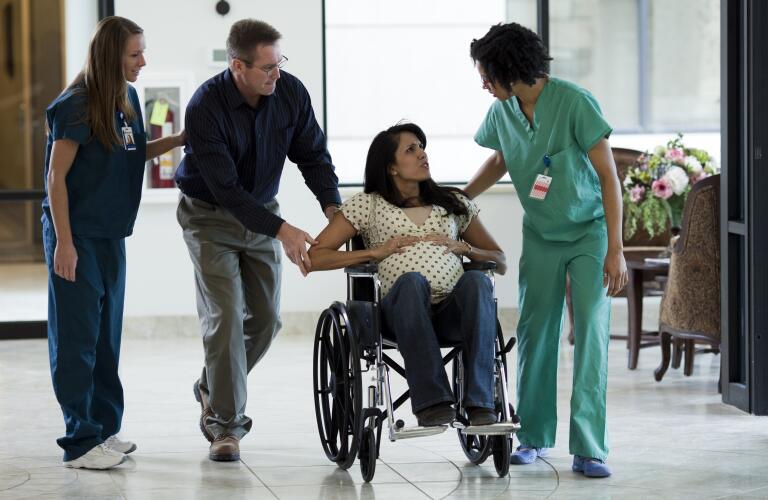 You'll make plenty of decisions during pregnancy and as you prepare for your baby's arrival. Choosing where to deliver your baby is one of the most important decisions you will make. Many soon-to-be mothers have a desired labor and delivery experience in mind; this can help guide hospital selection. Also consider these important factors surrounding childbirth when choosing your maternity hospital. Your and your baby's health depends on it.
Because the process of labor and delivery requires a team of highly skilled healthcare providers, it is important to consider the quality of care at the facility where you choose to have your baby.
Ideally, you should find a hospital that performs better than expected (5-stars) for labor and delivery and then look for a doctor who has admitting privileges there. However, if you already have a doctor (or have a few on your list), find out where he or she can admit and deliver babies, then research those hospitals on Healthgrades.
To help mothers-to-be evaluate and compare hospital performance for maternity care, Healthgrades recognizes hospitals who provide superior care for women before and after childbirth with the Labor and Delivery Excellence Award™. This award is based on outcomes data for all patients (all-payer data) provided by those individual states that provide it. See the current list of Healthgrades Labor and Delivery Excellence Award recipients.
What if your hospital has no maternity care ratings or awards?
Unfortunately, some states do not provide the information needed to make better healthcare decisions related to maternity care. If you live in one of those states, you can consider other hospital quality measures, such as patient safety (how well hospitals protect patients from harm) and patient experience (how well hospitals provide an overall outstanding patient experience). You'll find this information on Healthgrades too.
Your insurance coverage is a practical matter. To receive the most insurance benefits and pay the least out-of-pocket for your baby delivery, you may need to choose a hospital that participates in your plan. If you've already chosen a healthcare provider, find out where he or she has admitting privileges, and make sure the facility accepts your insurance. Expenses for labor and delivery can quickly add up, especially if you need a C-section or your newborn needs extra intensive care.
Several factors may put you in the category of having a high-risk pregnancy. These include being of very young age or older than 35; being overweight or underweight; being pregnant with multiple babies; having had previous pregnancy problems; and having other health conditions, such as high blood pressure, diabetes, cancer or autoimmune disorders.
In these and other unforeseen circumstances, it's important to be proactive in assessing your risk. Be sure your doctor and hospital staff are well-equipped and experienced in high-risk births and preventing potential childbirth complications.
Everyone hopes your baby arrives in perfect health. Some babies need extra support and monitoring after birth, especially with high-risk pregnancies. Neonatal intensive care units (NICUs) are special care nurseries with advanced equipment staffed by neonatologists and other experts who routinely work with the tiniest patients. NICU staff provide high-level care to premature and critically ill babies, and they prepare you to bring your baby home by teaching how to care, comfort, and feed your baby.
Ask if your hospital has a NICU and visit the facility during your maternity tour. Knowing your hospital has a NICU can relieve some stress and offer reassurance should your baby need medical care after birth. If your hospital of choice does not have a NICU, ask the hospital where they transport babies who need intensive monitoring.
Childbirth carries some level of risk—for both vaginal and cesarean delivery methods. However, as with any surgery, C-section delivery carries additional risks, including infection, hemorrhage, reaction to anesthesia, blood clot (deep vein thrombosis), and injury to nearby organs.
There are reasons when a C-section is necessary to protect the life of the mother or baby, or both. Your doctor may suggest a C-section if you are carrying more than one baby, if labor isn't progressing, if your baby is in distress or in an abnormal position, if there is a problem with the placenta, or if there are other health concerns for you or your baby.
For low-risk births, the Department of Health and Human Services set a national C-section rate guideline of less than 24%. Why is it important to know your hospital's C-section rate for low-risk births? If your hospital's rate is above this guideline, your chances of having a C-section may be higher than at a hospital with a lower rate.
Have an open discussion with your doctor about the potential of having a vaginal delivery vs. C-section. Ask about the circumstances under which he or she will suggest a C-section, and what part you have in the final decision. If your doctor's affiliated hospital has a high C-section rate, discuss any concerns with your doctor. If your doctor disregards your question, you may want to find another doctor.
An important step to preparing for your baby's arrival is taking a tour of the hospital's birth center. There are many reasons to take a maternity tour. You'll find comfort becoming familiar with the facilities. You can meet the staff and labor and delivery nurses—people who could be caring for you during your stay—and get answers to important questions.
On the practical side, make sure you know how to get to the hospital, where to park, and where to check in; see if you can register ahead of time. Ask about visitor services to help family members plan their visits.
You can learn about resources and services available to you and get ideas on what comfort items you should bring from home. Being familiar with the labor and delivery facilities can ease fears and offer a smooth transition as you prepare to celebrate your baby's arrival.

Was this helpful?