What to Do If You Feel Rushed at Your Doctor Appointment
Was this helpful?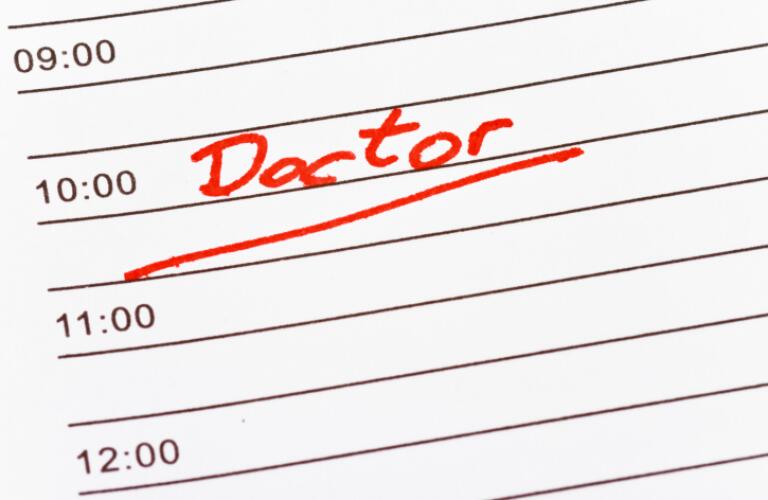 The average doctor's appointment lasts just 13 to 20 minutes—and 1 in 5 doctors spend even less time with patients. The brevity of appointments likely affects your doctor as much as it affects you: 4 in 5 doctors report they work at full capacity—or feel overextended, according to a 2018 survey by The Physicians Foundation.
You may feel somewhat powerless to increase the time you spend together. But you can take steps to make the most of your doctor's appointment and advocate for yourself if you need more help than time allows.
Try to see your doctor at the beginning of the day or right after lunch, before he or she becomes backlogged. Doctors may try to compensate for running late by shortening your appointment time.
A day or two before your appointment put some time and thought into what you'd like to accomplish at the doctor's office. Do you have symptoms you'd like your doctor to diagnose and treat? Are your current medications or treatments not working? The more clear you are in your own mind on the purpose of your visit, the more clearly you'll be able to communicate with your doctor and work together for a resolution to your health problem.
Bring a list of what you'd like to talk about with your doctor. List the discussions points in order, starting with the most important, in case time runs out as you go down the list. Bring two copies so you and your doctor can look at the points together.
This is the quickest way to show your doctor what you're taking and how you're taking it. If you bring all your medications, you won't have to guess the dosage or frequency—it should show right on the bottle. Be sure to bring any vitamins, supplements, and natural remedies you use as well.
We all want to feel valued and understood. If you feel rushed during an appointment, your doctor probably does too. Start your doctor's appointment by saying something like, "It's good to see you. I know we only have a few minutes, so I'll help make the most of our time. I came in because…" This will show your doctor right away you're aware of the time crunch—and that you'll do your best to make the most of it.
As you discuss your issue with your doctor, try to stick to what's relevant to your situation. Instead of a long tale about what happened to you, describe your problem in 1 to 2 minutes. For instance, you might say, "My ankle has ached on and off for about two months. It seems to hurt mostly when I walk or run." Your doctor can ask questions from there to get more details. Again, writing things down before your appointment will help.
When your doctor gives you a diagnosis or instructions, or orders a test, take a moment to ask yourself if you truly understand what the doctor said. If not, ask for further explanation. Questions show you're engaged in your care, which can further engage your doctor with you. Don't worry about the time it takes to ask questions. You'll find it may save time by avoiding a follow-up phone call or additional appointments.
As a last resort, you can ask to book (and pay for) two back-to-back appointments with your doctor, or book a follow-up appointment a few days or weeks after your initial meeting. Ask about the charges when you make the appointments, so that you know what the extra time will cost you. Check with your insurance company as well.
For routine health maintenance visits, you may opt to see the nurse practitioner or physician assistant. Both are highly qualified health professionals. They may be able to offer you more time than your doctor regarding your concerns. If problems arise, they have immediate access to your doctor.
Most doctors are short on time, but some may be a better personality fit for you than others. If you feel not only rushed during a doctor's appointment, but also that your doctor isn't listening or communicating well, it may be time to find another doctor. Ask friends or family for recommendations for other doctors, or do a comprehensive search on Healthgrades.com.
Was this helpful?