What Does an Attending Physician Do?
Was this helpful?
An attending physician is an experienced medical doctor who is responsible for the overall care of a patient in a hospital or clinic setting. In a teaching hospital or academic medical center, attending physicians frequently lead and direct a group of medical students, interns and residents.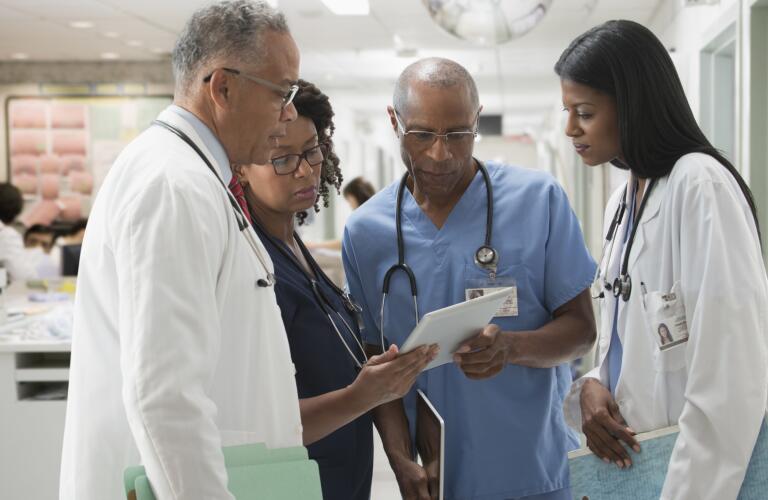 Attending physicians act sort of like a head coach: They have final say over medical decisions and are ultimately responsible for the team's actions. But just as a head football coach relies on defensive and offensive coaches to draw up plays, an attending physician can delegate assessment, diagnosis and treatment to other physicians on the team, who must clear their plans with the attending physician.
Attending physicians have completed medical school and residency training (3 to 7 years of supervised medical experience) and are usually board certified in a medical specialty, such as pediatrics, oncology, or obstetrics/gynecology.
In contrast, a resident is a doctor who has graduated medical school and is undergoing training in a specific medical specialty. A first-year resident is often called an intern. Residents develop professional skills and accumulate clinical experience under the supervision of their attending physician. Doctors typically spend 3 to 7 years in residency training before they are eligible for board certification.
By definition, attending physicians have significantly more experience than residents.
In most teaching hospitals, attending physicians have two primary responsibilities: patient care, and education of medical students and lesser-experienced physicians. Attending physicians must be familiar with each patient under their care and must regularly check the patient's status and care plan.
However, the attending physician does not have to personally perform all aspects of the patient's medical care. In many facilities, attending physicians will visit their patients daily with a group of medical students, interns and residents. A resident may be asked to summarize the patient's condition, assess the patient, and make recommendations for treatment, including new medications or imaging tests. The attending physician may (or may not) physically assess the patient.
From there, the attending physicians will evaluate the resident's recommended plan of care; ask additional questions, if necessary; provide relevant information and expert advice; and help the resident determine the plan of care.
Attending physicians also demonstrate and teach students and residents how to perform medical procedures, such as the insertion of a central line or gallbladder surgery.
Patients in teaching hospitals and academic medical centers won't necessarily see an attending physician when they are first admitted. In many places, residents handle initial admissions, particularly those that occur after usual business hours. You have the right to ask for the name of your attending physician, and you can ask for a meeting with your attending physician at any time, though you may have to wait until the physician is available.
Many attending physicians also serve on hospital committees, so they split their time between patients, residents, and administrative meetings. Your attending physician's involvement in your care will depend on the severity (and uniqueness) of your condition and the experience of the resident physicians involved in your care.
Attending physicians typically cede more responsibility to residents as residents gain experience. If you are under the care of a very experienced resident, you may only see your attending physician once or twice. If issues or miscommunications arise, you always have the right to request a visit from the attending physician. Rest assured, though: Your attending physician is overseeing every aspect of your care, as attending physicians are ultimately responsible for the care of each of their patients.

Was this helpful?