Telemedicine Frequently Asked Questions
Was this helpful?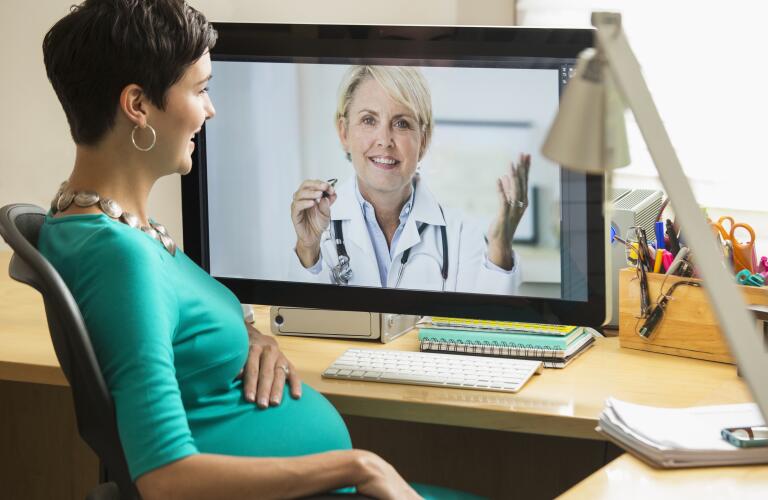 Telemedicine used to literally mean "telephone medicine." That is, you called a number and spoke with a doctor who evaluated your condition over the phone and prescribed treatment.
Today, the preferred term for digitally delivered healthcare is "telehealth," and it encompasses a broad array of technologies from health monitoring via medical devices to sending your healthcare provider a message through a patient portal to video visits with a clinician. Perhaps because the definition of telemedicine has expanded so greatly, many people feel confused about what it is and how it works. Learn more telemedicine facts and find answers to the most commonly asked questions below.
What are telemedicine services?
The use of technology is what distinguishes telehealth or telemedicine from other types of healthcare. Telemedicine services include:
Video visits: chatting face-to-face with a healthcare provider through video technology, including tablet computers and smartphones
E-visits: communicating with your provider by messaging through a patient portal
Virtual check-ins: brief, 5- to 10-minute phone conversations with a healthcare provider
Mobile health or mHealth: using smartphone or tablet apps or secure texting to interact with a provider
Remote patient monitoring: digitally collecting data on one or more patients in a single location and transmitting it to a care team in another location, such as transmitting data from an in-home blood pressure machine or blood glucose monitor to your doctor using your phone
Secure email: this includes forwarding medical records, videos, and other information through secure email channels
How does telemedicine work?
It's usually very simple to use telemedicine services. Depending on the type of telehealth service you wish to access, you may need to follow specific processes outlined by your healthcare providers or insurance company, and you may need to use designated apps or other software. For instance, to conduct a video visit you may need to download your provider's proprietary app to your smartphone or tablet computer. For an E-visit, you'll have to access your provider's patient portal. Check with your provider and insurance company to find out how to access the telehealth service you desire.
How does the technology work?
The Department of Health and Human Services (HHS) stipulates that telehealth software applications and networks must be secure to comply with HIPAA (patient privacy) regulations. Healthcare providers cannot use the same type of text messaging services, for example, that you use to chat with friends. Instead, they must use a text program that has been specifically designed to adhere to HIPAA regulations. In other respects, the technology works the same as familiar applications you might use every day: video chats on the phone with family members, texting, or messaging a customer service representative online through a chat box.
During the COVID-19 nationwide public health emergency, however, HHS has amended requirements. Healthcare providers may provide telehealth services and communicate with patients in good faith using non-public facing remote communication technologies even if it does not fully comply with HIPAA requirements. For example, providers may use third-party video chat applications including Apple FaceTime, Facebook Messenger video chat, Skype, or Zoom. However, providers must notify patients that these applications may have privacy risks. What's not permitted? Public facing applications, such as Facebook Live, TikTok, and Twitch are not permitted.
Will my insurance cover this? (Yes, thanks to the recent mandates.)
One of the key telemedicine questions people ask is, "Will my insurance pay for this?" The answer is a resounding yes! Not only do most healthcare insurance companies pay for telehealth services, but often they provide them for free or a low copay to encourage people to use them. Recently, Congress expanded reimbursements for various telehealth services for people on Medicare, so most Americans now can receive healthcare through telehealth services very affordably – and without congregating in a medical office during this era of social distancing.
What types of conditions/problems is telehealth suitable for?
Telemedicine—and video visits, in particular—can be used to diagnose and treat a surprisingly wide range of conditions. At the very least, you can start with a telehealth visit and later be routed to other medical services if needed. A small sampling of conditions telehealth services can evaluate and treat include:
Respiratory infections, including evaluating symptoms of COVID-19
Skin rashes, burns, insect bites, scrapes, cuts, and abrasions
In some cases, your healthcare provider will order additional tests (urinalysis for suspected UTI, for example, or X-rays for a suspected broken bone). Other times they can make a diagnosis on-the-spot and prescribe medications, like antibiotics, during the telehealth visit.
You should never use telehealth services for suspected medical emergencies. For signs of heart attack or stroke, trouble breathing, head trauma, loss of consciousness, or other urgent conditions, always call 911 for immediate medical assistance.
Can you get a prescription after a telemedicine visit?
The short answer is yes. Since most prescriptions are transmitted electronically from provider to pharmacy, there's no reason why a doctor or other healthcare provider cannot send a prescription to your pharmacy after a telemedicine visit.
When it comes to controlled substances, however, the situation currently is in flux. Up until late 2019, doctors were barred from prescribing controlled substances without conducting a physical examination of the patient—which, of course, is impossible through telemedicine. However, in November 2019, the Department of Justice issued a rule to establish a "special registration" process that will allow registered telemedicine practitioners to prescribe controlled substances based on a telehealth visit. This situation is not yet settled, and at the current time it's unlikely a doctor can give you a prescription for something like narcotic pain relievers for a sprained ankle. That may become possible within the next few years, though.
What if I need a procedure?
Telemedicine makes a great triage tool. Triage is the process of determining the urgency of a patient's condition. If your healthcare provider determines, through a telehealth visit, that your condition requires any sort of procedure, then you will work with the provider's office to obtain a referral (if necessary) for the required procedure. Medical procedures obviously require a person-to-person interaction with a healthcare provider, but the telehealth visit can get you started down the right path to receiving the intervention you need.
Can new patients use telehealth or do they need to be established with the practice?
According to the American Medical Association, all 50 states allow patients and doctors to establish their relationship via telemedicine. However, each state's medical board governs the precise types of telemedicine a provider can engage in, based on the patient relationship. For example, some states do not allow doctors to diagnose or treat new conditions via telehealth, even with established patients. Other states provide great leeway in how doctors can use telehealth services with new and established patients. You should check with your provider's office to find out if you're qualified to use telehealth services, based on your existing relationship with your provider.
Do doctors need new credentials to practice through telehealth?
Since telehealth is only a delivery system, not a type of medicine, any licensed practitioner can deliver care through telehealth programs without additional certifications. This includes MDs, NPs, PAs, RNs, and so on. However, most states require that providers also be fully credentialed by the site for which they're delivering telemedicine. For example, if an RN worked in a hospital's telehealth department, fielding phone calls from patients and giving nursing advice, and then she switched jobs to work at a different hospital, she would need to obtain full credentialing from the new hospital before she could continue performing telehealth services.
Can doctors treat patients across state lines now and how is that different than before?
In March 2020, the Health and Human Services Department issued a regulation to allow physicians and other licensed healthcare practitioners to practice across state lines, including through telemedicine. In the past, doctors could not engage in interstate practice, though they could obtain medical licenses in multiple states. Years ago, several states formed a coalition called the "Nurse Licensure Compact" that allows Registered Nurses in a compact state to practice in a fellow compact state without additional licensing. Today, all medical professionals now can work with patients in all states at their discretion, which could greatly expand the use of telemedicine. Whether or not this regulation will become permanent after the COVID-19 pandemic ends remains to be seen.

Was this helpful?