How to Safely Go to the Doctor for Non-COVID Care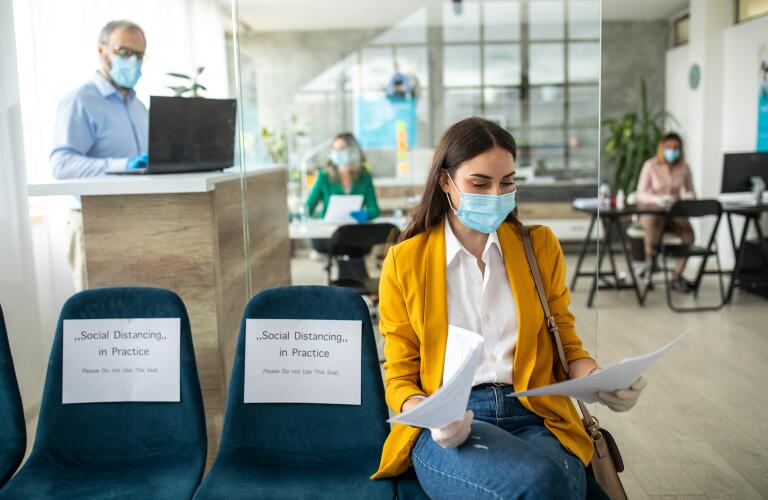 During the early phase of the COVID-19 epidemic in the United States, elective surgeries and routine healthcare visits were put on hold as providers and facilities sought to devote resources to COVID care and minimize other patients' exposure to SARS-CoV-2, the novel coronavirus. Although we've gone through spikes, or waves of COVID-19 cases, the healthcare community has found ways to restore many non-COVID care services. If you put off routine care during that period, you may now be asking if it is safe to visit the doctor during the COVID-19 epidemic. The answer is yes, but expect your visit to look a lot different now when seeking non-COVID medical care.
Healthcare providers and facilities are changing the way they operate during the pandemic. Not only are many taking on telehealth (remote patient-provider visits through videoconferencing, commonly referred to as a "virtual" appointment), they are implementing new infection-control procedures. These procedures may differ significantly between geographic areas, depending on how widespread the coronavirus outbreak is in the local area.
Consider calling ahead to find out about changes that may affect you, including restrictions on what (or whom) you can bring into the facility with you.
In general, you might expect:

All clinicians and staff wearing masks, gloves, and possibly other types of personal protective equipment (PPE), such as face shields.
Contactless temperature screening when you arrive at the entry
Designated entry and exit points that may differ from the ones you've previously used
Doctors and other clinicians staying at least 6 feet away from you in the exam room, except as necessary to conduct an examination or take vital signs
Face mask requirement for all patients
One-way foot traffic through facilities
Physical distancing in waiting areas
Rules that restrict how many people can accompany you on your doctor visit
Delays in getting an appointment (the provider's office may ask if a telehealth appointment would be sufficient for your needs)
Separate facilities for patients with suspected COVID-19 (this may be more relevant for primary care visits)
You may also see frequent cleaning and disinfection of surfaces and medical devices. All of these precautions serve to reduce your risk of exposure to the novel coronavirus—or any other infectious agent—while you're in the healthcare facility.
You should wear a face mask in any public space, whether it's officially required or not. Wearing a mask inside your provider's facility helps reduce the spread of COVID-19, even when you have no symptoms. (It's possible to be infected and not realize it, and you may be contagious.)
You also can reduce your potential exposure to pathogens by giving thought about what you're wearing and bringing with you to your appointment, such as:

Bring only essential items, like your wallet. Avoid bringing tote bags, briefcases, or other extraneous items, because they can pick up viruses and bacteria from the surfaces you set them on. Be sure to wipe down and disinfect any items you do bring with you to your appointment, such as your purse, wheelchair, or oxygen tanks.
Bring something to entertain your child if necessary. Many facilities have closed their play areas in waiting rooms, so bring one or two small items to occupy your child, such as a book, tablet computer, or portable video game device. Disinfect these items when you get home.
Do not bring beverages or food.
Do not bring other people with you, except as required for essential caregiving purposes. If you're bringing a child to the doctor, leave your other children at home with a family member or close friend.
Wear closed-toe shoes that you can leave outside your door for a day or two after you get home.
Wear only the garments you'll need to feel comfortable; leave behind extra sweaters, raincoats or wraps.
You do not need to wear gloves when visiting your doctor's office. Just wash your hands (or use hand sanitizer) before and after you touch any surface. Feel free to use the sink or sanitizer in the exam room.
You can make your doctor visit as safe and productive as possible if you follow certain guidelines:

Avoid touching surfaces (or touching your face) to the maximum extent possible.
Be aware that many procedures, including how you check in for your appointment after you arrive, may have changed since your last visit. Some places ask you to call after you arrive in the parking lot; they may have you wait in your car (rather than the waiting room) until your provider can see you. Be patient, ask questions, and follow the staff's instructions.
Bring a list of questions or concerns for the provider to address as efficiently as possible.
Cough or sneeze into your elbow, even when wearing a mask.
If you do not witness a staff person disinfecting a device, such as a mammography machine, before you're asked to use it, feel free to speak up and politely request they do so in your presence.
Stay at least 6 feet away from other people in the waiting room, in the hallways, and in any other public space.
Wash your hands frequently or use hand sanitizer.
Wear your mask at all times, except when told by a healthcare provider to remove it.
If you put off seeing your healthcare provider for routine care at the outset of the pandemic, or if your appointments got canceled, you can resume getting the care you need. By taking precautions like wearing a face mask and following any new procedures your provider has implemented you can make your visit to the doctor as safe as it can be.

Was this helpful?