How to Be a Health Advocate for Your Spouse
Was this helpful?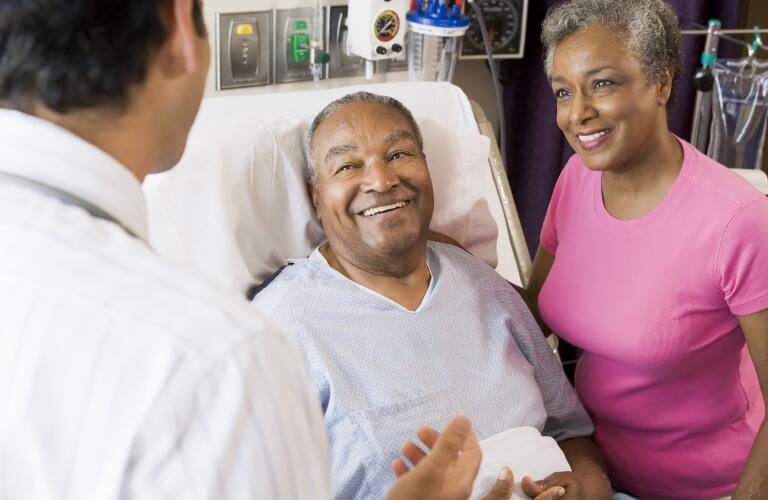 As a spouse, you may be the most trusted health advocate your significant other has. You can support each other as you grow old together, helping to remember doctor's appointments, being a second set of ears at the physician's office, and encouraging healthy lifestyles. Patients should be a proactive, complementary part of their own health care and, as a spouse, you can bolster your partner's confidence when asking questions and investigating treatment options. Having a spouse by their side can help patients feel more secure when visiting the doctor as well as during ordinary days at home.
As a health advocate, you'll want to play as big a part as your spouse wants in preparing for appointments. Collecting all the information needed for the appointment can often be a big job, especially as people get older and have more complicated health issues. That's something you, as your spouse's health advocate, can assist with. To improve your chances of a successful partnership, start gradually: Talk ahead of time to gauge how involved your spouse would like you to be. Ways you can help include:
Review your spouse's medication list to make sure your partner hasn't forgotten anything. You could also collect the medicines in a bag and bring them to the appointment, since some medical offices request this.
Collect and organize necessary paperwork in a folder.
Drive your spouse to the doctor's office (if he or she doesn't or can't drive).
You will be a second set of ears as a health advocate. While your spouse listens to the doctor and answers questions, you can help by taking notes of important information the physician tells you, such as when to take a new medication, when to schedule tests or screenings, or when to make a follow-up appointment. If you think of a question your spouse doesn't ask, make sure you get answers from the doctor.
Don't be afraid to speak up and voice concerns you or your spouse have about the diagnosis, test results, or next steps. It's especially important to have an advocate as patients get older because they often have more health problems to talk about with the doctor.
Some questions you may want to ask your spouse's doctor:
What is the purpose of this new medication, and what are the side effects?
What is the next step in this treatment plan, and what can we expect as an end result?
When should my spouse make a follow-up appointment, and what should he do before that date?
How can we contact you after normal business hours?
What signs or symptoms of this condition would require a visit to the emergency room?
What lifestyle changes can we make as a couple to improve our health?
Attention to detail will also be important outside the doctor's office. Calling, asking questions or filing paperwork are tasks you can handle. To support your spouse throughout a health condition, medical procedure, or more serious health issues, you can:
Research a disease and possible treatments.
Make doctor appointments and schedule tests.
Work with your spouse on choosing a specialist or getting a second opinion.
Set reminders for daily medications.
Follow up with the insurance company or Medicare.
Lifestyle changes can be difficult to maintain, but with a spouse's encouragement, patients may find it easier to stick to new, healthy habits. Here are a few ideas:
Eat a better diet, get more physical activity, and find ways to reduce stress for a health boost.
Prepare healthy meals for (or along with) your spouse to make meal preparation less of a burden and more enjoyable. Buy a new cookbook or search online for simple and nutritious meals.
Take a brisk walk with your spouse a few times a week. It's great for bonding and fulfills the body's need for exercise.
Find activities that are fun and rewarding to help you and your spouse maintain a high quality of life. Consider a cooking or dance class for seniors if you crave a more social setting.
In some stages of life, a spouse may be more than a health advocate—you may become a primary caregiver. In serious situations, you may also need to hold medical power of attorney to be able to make healthcare decisions for your spouse in case he or she is unable to do so. In these difficult situations, you, as your spouse's trusted health advocate, can keep his or her wishes and values in mind when making necessary health decisions.
As a spouse, you offer something that no other health advocate can do—the personal bond. You already know your partner's medical situation and history, and you're devoted and supportive. Since you're already going through life together, you can help each other make the best health decisions throughout your golden years.

Was this helpful?