Doctor Appointments for Every Season
Was this helpful?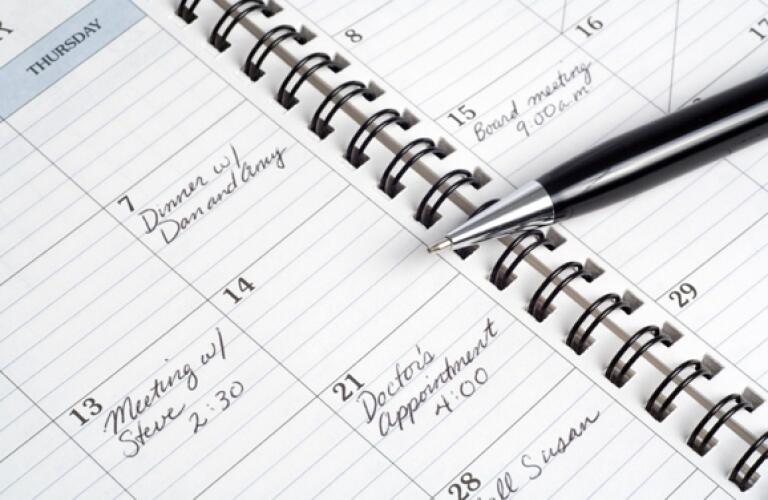 Whether you're just starting to make health a priority or you follow all the preventive health guidelines, our handy appointment planner will help you map out yearly medical appointments in advance for good health year round.
You can make some appointments now and set up calendar reminders for others. Keep in mind if you have a chronic health condition, you should see specialists as often as recommended.
Now is the perfect time to schedule a general exam with your doctor. Medical experts disagree about how often we should get preventive check-ups, so make sure to discuss it with your practitioner. It likely will vary according to your health history, gender, family history and age. Similarly, some providers like to see children yearly, while others say some children can skip a year if their vaccinations are current and you have no concerns.
During an exam, your provider will help you assess your risk for medical problems, suggest lifestyle changes, check your blood pressure, update vaccinations and order a cholesterol test. Several health experts recommend low-risk women ages 40 and older get a yearly screening mammogram. Routine colorectal cancer screening for low-risk individuals usually begins at age 50. If you are over age 65, ask your doctor about bone density testing and a vaccine to prevent pneumonia.
The sneezing, eye-itching months are upon us. Regional climates differ, so you may want to see an allergist earlier depending on where you live. The most common allergens are:
Pollen
Dust
Food
Insect stings
Animal dander

Mold
An allergist can test for allergies, then recommend medications and, in some cases, immunotherapy—allergy shots that decrease your sensitivity to specific allergens.
Spring also is the perfect time to schedule an eye appointment. If you wear prescription glasses, you'll want a current prescription before ordering sunglasses for the summer. Children should have their first professional eye exam at 6 months, 3 years, before first grade and every two years after that, according to eye experts. They recommend adults at low risk of eye and vision problems visit the eye doctor every two years from ages 18-60 and every year after turning 61.
While you're brushing up your eye prescription, it's a good time to think about the dentist, too. One hundred million Americans skip dental visits every year, according to the American Dental Association, which leads to dental disease. Ask your dentist about how often you should get your teeth cleaned, as frequency depends on your personal health and dental history. Most dentists recommend cleanings every six months or one year and children should start visiting a dentist by their first birthday.
Spending time in the sun means scheduling a skin check either with a dermatologist or your regular doctor. More than 5 million people are treated for skin cancer yearly; one in five Americans will develop it. Skin cancer experts recommend a monthly self-skin check and a professional skin exam every year.
Later in the summer, start thinking about school and sports physicals. These exams allow a doctor to evaluate athletes and make recommendations about chronic conditions, such as asthma. Make sure college students receive all recommended vaccinations before heading back to campus.
Starting in September, think about scheduling a flu shot for everyone in your family. The flu vaccine helps create antibodies to the different strains of flu—and it changes with each flu season. That's why it's important to be vaccinated every year. The Centers for Disease Control recommends babies as young as 6 months get vaccinated. Even people who previously could not get the flu shot due to egg allergies have options like nasal mist and egg-free vaccines.
Lovely as the fall season is, ragweed and raking leaves can be a miserable combination for some people, so if you're suffering from lingering nasal congestion and eye discomfort, consider making another appointment with your doctor or allergist to discuss other treatment options.
Has it already been six months since your last teeth cleaning? It might be time to visit again. December is a great time to reflect on your health this past year, get recommendations for new healthcare providers if you need them and prepare to make appointments again next year.

Was this helpful?