6 Tips for Talking to Your Doctor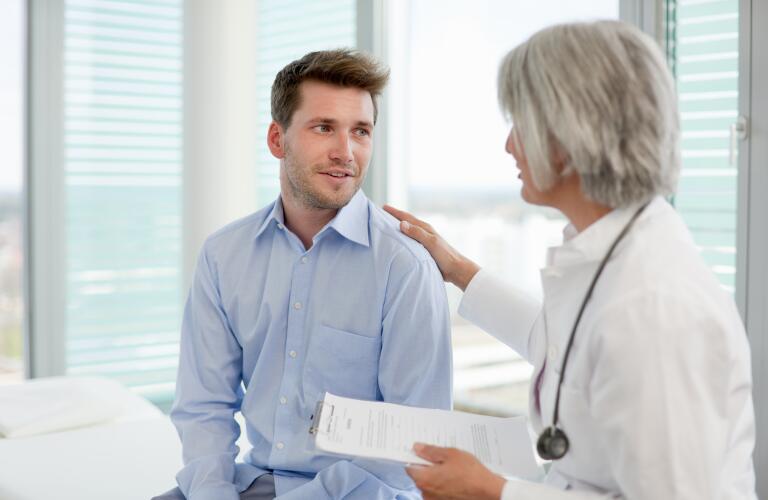 Traditional in-person medical appointments can often be intimidating: You're sitting in a sterile room, wearing nothing but a thin sheet, listening to the doctor talk about things you don't quite understand. Alternatively, if you are talking to your doctor over the phone or through online chat tools, you might feel more comfortable. Regardless, you hold one key advantage: You know yourself better than anyone. Follow these tips to advocate for yourself and talk openly with your doctor as you work together to keep you in good health.
The average doctor's appointment lasts about 18 minutes, so having a list of topics ready can help make sure you cover everything before you leave. This can include questions about your condition, descriptions of your symptoms, family history factors or prescription refill requests.
You probably don't need another set of eyes and ears for standard check-ups. But if you're seeing a doctor about a significant or complicated health concern, it's smart to have a friend or family member join you. Not only can they provide emotional support, but they can also take notes and help remember what the doctor tells you.
Your doctor isn't looking for the "right" answer to your health questions. He or she is just trying to make an accurate diagnosis and find you the right treatment. Don't gloss over your symptoms or lifestyle habits, such as exercise, diet, smoking or alcohol use. Tell the truth as it stands now—and if there's something you'd like to change, your doctor may be able to help you there, too.
Beyond lifestyle, there's a whole host of topics many people find awkward to discuss with their doctors: sex, bodily functions, emotional problems and memory issues among them. But healthcare careers are not for the squeamish, which means your doctor will not be bothered by even the most taboo of topics. If you feel uncomfortable, say so, and your doctor will likely help put you at ease. Your honesty only helps you better find the care you need.
Just because you have limited time with the doctor doesn't mean you should feel rushed. Asking questions improves the quality of the care you receive and helps you make smart healthcare choices. Don't be afraid to inquire about the purpose of a test, the side effects of a drug, or any alternative treatments that may be available. If the doctor gives an answer you don't understand, ask him or her to explain it again. You can also say, "Let me make sure I have this right," and repeat back what you heard. It's better to take a few moments to get a clear answer in the short term than to risk confusion and complications down the road.
Seeking a second opinion is not questioning your doctor's judgment. It simply allows you to explore all of your treatment options. A good doctor will not be offended by your request for a second opinion, as it will only help him or her better understand your condition and find the best treatment for you.
You and your doctor are partners in your good health, and an open dialogue is one of the most effective tools in your care. If you don't have the level of communication you'd like with your current provider, search Healthgrades now and review patient experience surveys to find a better match for you.
Was this helpful?