5 Mistakes People Make During a Telehealth Appointment
Was this helpful?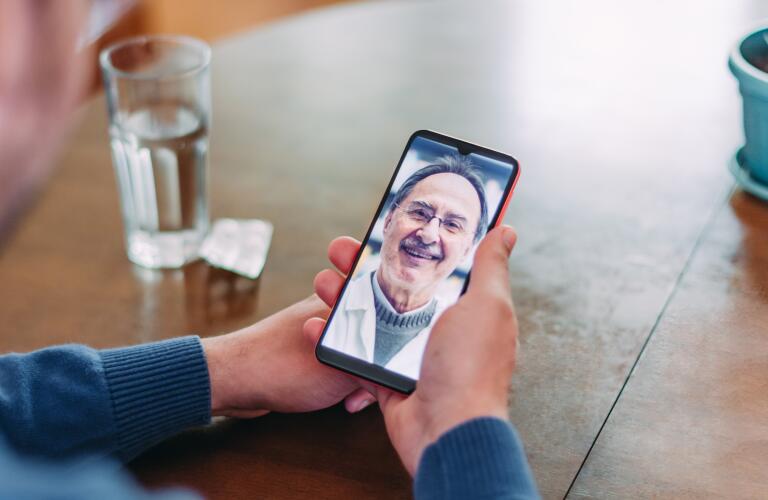 Have you seen your doctor by video yet? More people than ever before are using telehealth due to the coronavirus pandemic, as health authorities encourage "contact-free" care to avoid spreading the virus. But even before COVID-19, telemedicine was on the upswing because of its convenience and easy access to doctors. Are you taking advantage of telehealth's benefits? Or are you making one of these all-too-common telehealth mistakes?
Don't assume that just because you are familiar with Zoom or FaceTime that you can wait until five minutes before your appointment to see how to connect with your doctor. While some providers use these common virtual teleconferencing platforms, others may have their own apps they want you to download. These apps might have system requirements that don't work with your computer or mobile device, or which require you to update your system. You also may need to register and set up accounts, all of which take time.
If you haven't visited with a particular healthcare provider via telehealth before, find out the specifics well in advance. Download any software you need, create an account if necessary, make sure your equipment is capable and, if possible, do a trial run with your connection. If you aren't tech-savvy, find a friend or family member who can help. Again, waiting until just before your appointment to try to get this set up could lead to you being unable to connect, resulting in a lost appointment and wasted time all around.
If you don't know how to do telehealth and are uncomfortable with videoconferencing, see if you can do your virtual visit by an old-fashioned audio phone call. You and your doctor won't be able to see each other, but at least you can connect.
You don't want to make the mistake of forgetting key questions or concerns during your telehealth call. So, just as with an in-person office visit, you should write these things down ahead of time. Jot down details of medical problems, such as your symptoms and when they started.
You also may want to record your vital signs ahead of time or have on hand devices such as your home blood pressure monitor, pulse oximeter, glucometer and thermometer, in case your doctor needs you to check these measurements during the visit.
Sometimes, it's good to bring a loved one to a doctor visit to help remember what's said, to take notes, and to ask questions on your behalf. The same is true for a telemedicine visit. Also, it can be helpful to have someone else there who can hold your phone up to any areas on your body you may need to show the doctor.
If you don't have someone with you, consider recording your telemed visit. If you're seeing the doctor on your tablet, you can record on your phone, or vice versa.
You need your telehealth visit to be private, so that other people aren't walking in and out of the room, potentially overhearing your business. Choose a room where you can be alone, if possible. Or consider doing your visit from your car (yes, this is a thing).
Also avoid loud noise, such as TVs or screaming children. You and your health provider need to be able to hear each other. Another mistake is allowing yourself to get distracted by what's around you. Don't do dishes or fold laundry while talking to the doctor. Yes, you may typically multitask to get everything done—but telehealth needs your full focus.
Sometimes, people feel reluctant to do a telehealth visit because they are ashamed of what their house or apartment looks like inside. Your doctor's primary concern is your health, but if worry over what your lodgings may look like on-screen are keeping you from telemedicine, see if you can do the call from another location, such as a loved one's house. Or consider an audio-only phone visit instead.
Don't pick a spot with weak cell reception. You don't want your doctor freezing on-screen as she is giving you vital advice. If possible, use a more reliable landline. If you are at home on a wireless network with other people, see if they can sign off during your visit to increase the bandwidth available to you.
It's a good idea to ask as the call starts what to do if your connection fails and if there is a number you can call to continue the visit.
Your doctor wants to be able to see your face. But if you don't position yourself properly before your camera, you could wind up in deep shadow. To make sure this doesn't happen, don't sit in front of a bright window or light, which could cause backlighting and leave you as a silhouette on-screen. You should, however, have plenty of light in the room.
Also, be careful—especially with mobile devices—to position your camera correctly. Your doctor prefers to talk to you face to face, not face to chin or forehead or thumb. Most telemed apps have a small window that will show you what the doctor is seeing from your camera, so check this periodically to make sure you are showing what needs to be seen.
Not every medical concern is best treated via telehealth. If you have a call scheduled and suddenly become more seriously ill, it may be better to go to urgent or emergency care rather than wait to bring it up during your video call.
Avoid telehealth for:
These are better handled in person, in an emergency room. Other problems that require in-person care include things that can't be examined well via video, such as a new lump or mass that the doctor needs to touch to diagnose. Or, if you require a procedure, such as a biopsy, a telehealth visit is not sufficient.
Instead, consider telehealth appointments to manage chronic conditions and medications, to treat upper respiratory infections and other less severe illnesses, to address minor accidents, and for mental health counseling. If in doubt, call your health provider ahead of time to determine if telehealth or in-person care would be best.
Was this helpful?