Why It's Important to Take Your OAB Medication Every Day
Was this helpful?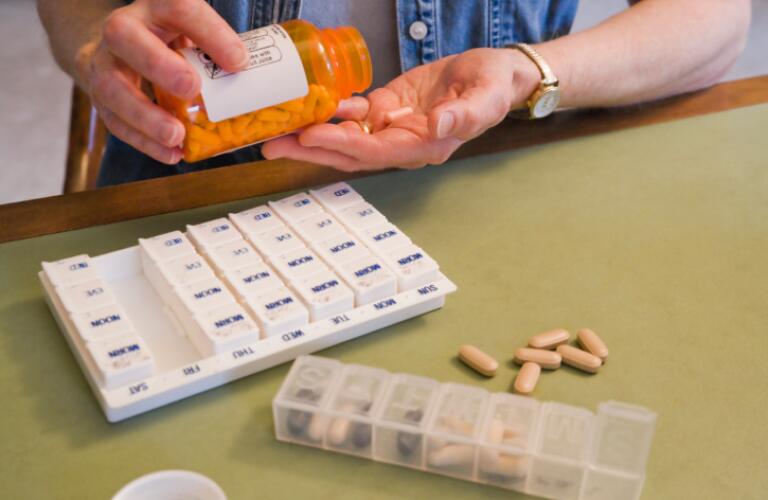 As you age, it's normal to experience slight changes in the way your body functions. But an increased urge to go to the bathroom, coupled with urinary leakage and frequency, may actually result from a condition known as overactive bladder (OAB). Left untreated, this problem can increase your stress level and lower your quality of life. Fortunately, several medications work to manage symptoms so you can go about your day normally. However, some people face challenges which may prevent them from taking their OAB medication consistently, such as side effects like dry mouth. But taking your medicine for overactive bladder every day like your doctor prescribes is one of the best methods for dealing with this troublesome issue.
Typically, doctors use a combination of lifestyle changes and prescription medications to effectively manage OAB. First-line prescription drugs for overactive bladder fall into two categories: antimuscarinics and beta-3-agonists. Some people with OAB experience side effects after using these prescription medications. The most common side effects of antimuscarinic drugs include blurred vision or trouble seeing up close, constipation or indigestion, drowsiness, dry mouth, itchy or dry eyes, urinary retention, and urinary tract infections. Common side effects of beta-3-agonists generally include headache, high blood pressure, and urinary tract infections.
If you experience side effects due to your OAB treatment, you may find it difficult to continue taking the medications your doctor prescribes. Or, you could just have trouble remembering to take your pills each day. And some people stop taking their medications because they don't think they're working, since it can be hard to keep track of how often you urinate. But taking your medicine every day keeps levels of the drug consistent throughout your body, promoting a greater therapeutic effect that lasts longer.
Some side effects, such as dry mouth, can be managed by making certain lifestyle changes, such as chewing gum, using alcohol-free mouthwash, and eating a low-sugar, low-acid diet. Others may be controlled or prevented altogether by changing the medication or the dose of the medication you're taking. It's best to talk with your doctor about any problems you experience as a result of medicine for overactive bladder. Since many drug options are available, the solution could be as simple as switching your prescription to another drug.
If you have trouble remembering to take your OAB medication every day, there are still options to help. Pill boxes, electronic alarms and reminders, and creating a medication routine may help you stick to a regular dosing schedule right at home. If you're concerned your meds aren't helping your OAB, try keeping a journal that tracks how frequently you urinate. This can help you realize the differences in your condition, and also can provide insights that may be useful for your doctor.
Overactive bladder medications can significantly improve your quality of life and help you urinate more normally. If your OAB treatment causes side effects, if you have trouble remembering to take your medication, or if you feel your treatment isn't effective, talk with your doctor about treatment alternatives. You may need to try several OAB drugs before finding the one that's right for you.
Was this helpful?