Treatment Devices for Overactive Bladder
Was this helpful?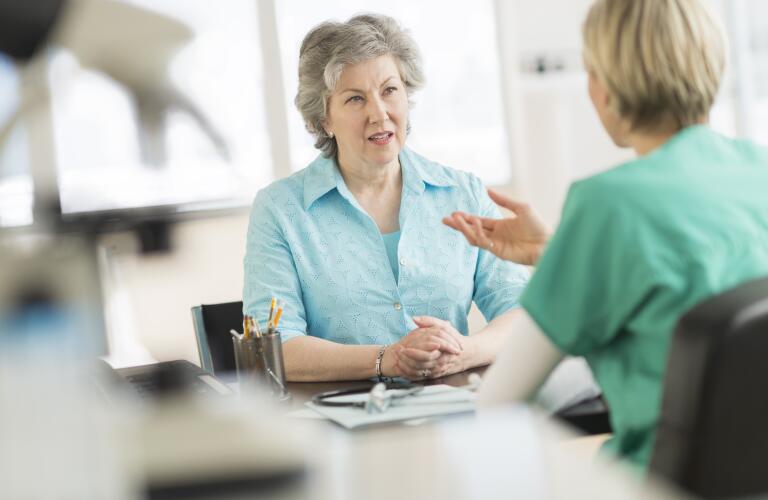 When you gotta go, you gotta go. But if you have to go frequently and you have trouble controlling the urge, you might have an overactive bladder. And if you do, you're one of at least 33 million people in the U.S. with this condition, also known as OAB.
Normally, you can control the urge to urinate by contracting a certain muscle in your bladder. But with overactive bladder, your bladder muscles contract involuntarily, causing an urgent "must go must go" sensation even if you have very little urine in your bladder at the time. Your body is telling you that you can't wait until a more convenient time to find a toilet—you have to go NOW. You may leak or even gush urine moments after experiencing the powerful urge to urinate. You may also wake up multiple times in the night to urinate, leaving you exhausted the next morning.
The frequent need to go can be frustrating—and it can get in the way of your daily living. But there are ways of coping. The first stop is usually behavioral interventions, which may include pelvic floor muscle exercises, also known as Kegel exercises, which help strengthen the muscles that can stop the involuntary contractions. Your doctor may also recommend strategies, such as scheduling your trips to the toilet, training your bladder, and scheduling the amount of fluids you drink at certain times of day. Obese women may improve symptoms of OAB by losing weight, and all women may benefit from dietary changes like reducing the number of alcoholic, caffeinated, and carbonated beverages they drink.
However, the behavioral interventions might not work well enough for you. Various medications are also available to help relax the bladder and relieve the symptoms of overactive bladder. Some doctors even try injecting botulinum toxin (Botox) into the bladder muscle. Because an enlarged prostate is the culprit behind overactive bladder for many men, doctors often try prescribing drugs to relax the muscles around the bladder and urethra or to slow prostate growth.
But it's also possible that the side effects of the medications, which often include dry mouth, dry eyes, and constipation, are too annoying. If you're really struggling with urinary incontinence, your doctor may want you to try another mode of treatment.
Women with overactive bladder can be fitted for a device called a pessary, a small ring made of silicone or plastic. A pessary is inserted into the vagina to hold up the bladder and keep urine from leaking out. If fitted properly, a pessary shouldn't be uncomfortable. Some women with stress incontinence also choose to wear a pessary during activities that tend to cause leakage—think: jumping and running. This device is also sometimes used for women suffering pelvic organ prolapse.
Side effects of using a pessary are minimal. You may notice more vaginal discharge than normal, and the discharge may have a slight odor. Post-menopausal women may experience some irritation from the pessary, and may need to use estrogen cream to relieve it.
Another option for women who are having accidents as a result of urinary incontinence is a urethral occlusive device. You insert this disposable device's thin catheter-like tube into the urethra, instead of the vagina. Then you inflate it with air to keep it in place. It blocks the flow of urine and keeps it from leaking out. When it's time to go to the toilet, you pull a thread to remove the tube. A possible side effect is a urinary tract infection, or UTI, although it is also possible for the tube to migrate to the bladder.
Sacral nerve stimulation therapy can significantly reduce that urgent feeling of needing to frequently urinate. Your doctor implants a small neurotransmitter just under the skin to send mild electrical pulses that stimulate the nerves controlling your bladder muscles. The implantation is a minimally invasive procedure that can be done under local anesthesia on an outpatient basis. The battery will need replacing about once every three to five years, according to the Cleveland Clinic, but usually the doctor will just insert an entirely new neurotransmitter.
Risks of sacral nerve stimulation therapy are low. They include infection related to device implementation or pain at the implant site. These problems can be resolved easily and quickly.
With this method of nerve stimulation, nothing is permanently implanted. Essentially, your doctor puts a needle electrode into your posterior tibial nerve at your ankle and then uses a hand-held device to send mild electrical pulses to it. Your nerve conveys the pulse to the intersection of nerves known as the sacral plexus, which govern part of your pelvis—and alter the incorrect nerve signals that are causing overactive bladder. The entire process takes a half hour or less, and you might need about a dozen sessions. Side effects are minimal; you may experience some mild pain or bleeding where the needle is placed.
If you think you may be experiencing some symptoms of OAB but haven't sought treatment, don't be embarrassed. The Urology Care Foundation estimates that many people have symptoms of OAB but are too embarrassed to address them, even though there are treatments that can help. If one of the aforementioned devices isn't right for you, there may also be a surgical solution. OAB is one reason for urinary leakage—there are other types of urinary incontinence. Talk to your primary care physician about your situation and ask for a referral to a specialist. Doctors who specialize in diagnosing and treating urinary incontinence in women include urogynecologists and in men urologist.
Was this helpful?