Medications for Treating Overactive Bladder
Was this helpful?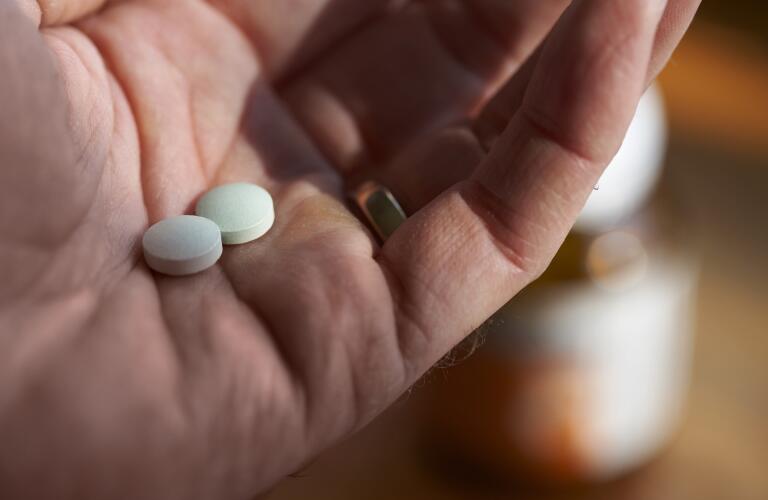 Many people take medication to treat overactive bladder (OAB) with great success. But some put off seeing their doctor to get a prescription that might bring relief. And still others who start medication stop it without ever getting the full benefit. The more you know, the better able you'll be to make smart choices about medication for OAB.
In a recent study, researchers asked more than 1,300 OAB patients who had stopped taking their medication about their reason for stopping. Nearly half said the medication didn't help as much as they expected. In fact, while medication can often reduce urine leaks or extreme urges to urinate, it may not stop them completely. Side effects—such as dry mouth, constipation, and dry eyes—may also occur.
Having realistic expectations is one key to success. Combining medication with nondrug treatments—such as scheduled bathroom breaks and pelvic muscle exercises—can also boost effectiveness. If a medication still doesn't improve your symptoms or if it causes bothersome side effects, a different drug might work better for you. Fortunately, there are several types of medication available for treating OAB. Be sure to discuss them with your doctor before stopping any medication.
These drugs (also known as anticholingerics) are the first-choice medications for treating OAB. They include:
Darifenacin (Enablex)

Festerodine (Toviaz)

Myrbetriq (Mirabegron)

Oxybutynin (Ditropan, Ditropan XL, Oxytrol, Gelnique)

Solifenacin (Vesicare)

Tolterodine (Detrol, Detrol LA)

Trospium (Sanctura, Sanctura XR)
Medications in this group reduce OAB symptoms by relaxing the smooth muscle of the bladder. All of them can be taken orally. In addition, oxybutynin is sold in patch and gel form. The most common side effect of antimuscarinics is dry mouth, which affects almost one-third of people who take the drugs. Other possible side effects include constipation, dry eyes, blurred vision, and trouble emptying the bladder.

If antimuscarinics don't work well for you, your doctor might prescribe another type of medication, such as:
Duloxetine. This is an antidepressant that may decrease OAB symptoms by increasing the availability of two important body chemicals—serotonin and noradrenaline—that affect bladder function.

Desmopressin. This is an antidiuretic—a drug that reduces urine output. It may decrease waking at night to urinate. There's also limited evidence that it might help daytime OAB.

Estrogen. In women, tissues of the vagina and urethra are affected by low levels of estrogen after menopause. The tissues become thin and easily irritated. And that irritation, in turn, may worsen OAB symptoms. Topical estrogen applied to the vagina helps some women.

Imipramine. This antidepressant reduces urine production and may decrease nighttime urination. However, it can also cause side effects, such as sleep problems, loss of appetite, and upset stomach. In addition, there is a small risk of more serious side effects, including heart-related problems and increased thoughts of suicide. As a result, imipramine usually isn't prescribed for OAB unless other drugs have been tried unsuccessfully.
Mirabegron. This beta 3 agonist relaxes the detrussor muscle fibers within the bladder. Mirabegron is a tablet. It may help you if you cannot tolerate the side effects of antimuscarinics. Mirabegron is not for people who have poorly-controlled high blood pressure.


Botulinum toxin. Botox injections in the bladder are FDA-approved as a treatment for OAB after first-line medical therapies have failed. The injections stop excessive contraction of the bladder's detrussor muscle. The effect of the injection lasts an average of six months.
Was this helpful?