Keeping a Bladder Diary for OAB
Was this helpful?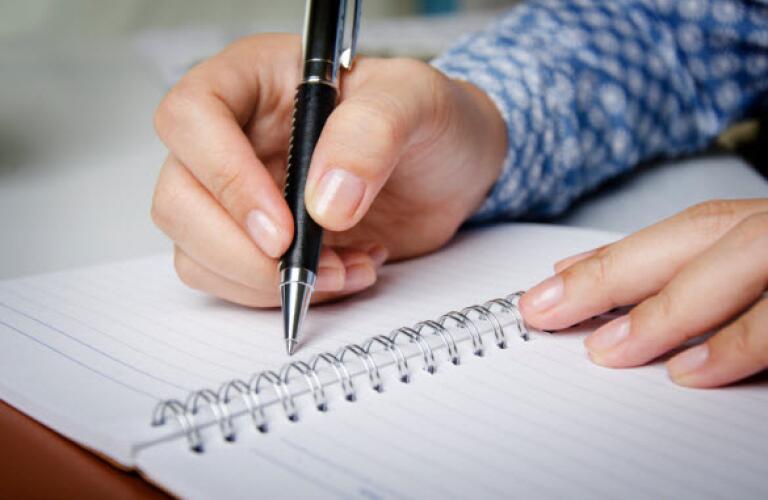 Overactive bladder (OAB) is group of urinary symptoms that affect millions of people. Nearly 30% of men and 40% of women in the U.S. experience OAB at some point in their lives. Typical OAB symptoms include a sudden, strong urge to urinate, urine leakage as well as frequent urination during the day and night. OAB can usually be managed through lifestyle changes or with medication and surgery in severe cases. Many people learn to control their OAB by monitoring their bladder behavior and making modifications to their daily habits. Keeping a bladder diary is a great first step in managing an overactive bladder.
How to Set Up and Keep a Bladder Diary
Maintaining a bladder diary can help you manage your OAB symptoms by providing clues about what is causing your OAB and new habits that can help relieve it. A diary is also good to share with your doctor if you seek professional treatment. You can simply jot down notes in a notebook, print out a template like My Bladder Diary or download an app to keep your diary on your mobile device. You should keep a diary for 3-5 days, but they don't have to be consecutive days. Start your diary first thing in the morning and record your routine for a 24-hour period. Here's the basic info that you need to track:
Time of day: You can record specific times of day or a range like 10-11am.

Fluid intake: Note the type of fluid you drank and how much. For example, 6oz of water or 12oz of soda.

What you ate: Some foods like soup or ice cream have more liquid and could contribute to your OAB.

How many trips to the bathroom: Jot down how many bathroom breaks you take during each hour time slot or just add up your total for the day.

Urgency level: Record how urgent your need to urinate was. Use a simple scale from 1-3 or low to high.

Accidental leaks: Record how many leaks and how much leakage you experience, ranging from a small to large amount.

What activity you were doing when you experienced the need to urinate: Make note of anything from sitting to exercising to laughing or coughing.
Look For Lifestyle Changes You Can Make
Once you've tracked your fluid intake and urinary habits for a few days, review the data you've collected and see what patterns you notice. This will help you figure out what lifestyle changes could help you reduce your OAB symptoms. Here are some patterns to look for:
Too much fluid intake: If you drink too much during a short period of time, you'll overwhelm your bladder and need to urinate more often. Try drinking small amounts during the day and reduce the amount you drink in the evening and before bedtime. Aim for two 8oz glasses of fluid with each meal and one 8oz drink between meals.

Not enough fluid: Drinking too little can actually irritate your bladder and increase the urge to urinate.

Food and drink that irritates the bladder: What you consume matters. Caffeine, soft drinks and alcohol all irritate your bladder and can make you need to go more than normal. Spicy foods can also be a bladder irritant so watch what you eat and when. Mexican food and a beer for dinner might cause you to wake up to urinate more during the night.

Going when you don't really need to: Sometimes you might use the toilet at the slightest urge or when you don't need to go because you want to avoid an accident. This can make your bladder start to send messages to your brain that it's full, even when it's not. Fortunately, you can train your bladder to keep to a schedule that will make your life easier and accident-free.
Benefits and Basics of Bladder Training
Did you know you can train your bladder to behave? Now that you know your urinary habits, you can adjust them to a schedule that reduces the urgency to urinate and prevents accidental leaks. The secret to bladder training is that you go to the bathroom on a set schedule, even if you don't have to go. You gradually increase the time between bathroom trips over several weeks. The goal is to urinate once every 2-4 hours. Every body is different, so find the schedule that works best for you and stick with it. This is how it works:
Use your bladder diary to determine your baseline number of minutes between trips to the bathroom.

Extend the intervals between urination by 15 minutes. For example, if you normally urinate every hour, wait and go every hour and 15 minutes.

Start by urinating first thing in the morning, then be strict about sticking to your new schedule. If you have an urge to urinate before your scheduled time, try to wait it out. But certainly go if you think you might have an accident. You don't have to keep to the schedule overnight.

Once you feel comfortable with your new interval, add 15 minutes to it. Try to do this every week until you reach your goal of only urinating every 2-4 hours.
If lifestyle changes and bladder training don't work for you, don't get discouraged. Take your bladder diary to your doctor and ask them to help you figure out a strategy to manage your overactive bladder. They're many ways to treat OAB and with a little patience and determination you can find one that works for your body and lifestyle.
Was this helpful?