How to Find the Right Treatment After an Overactive Bladder Diagnosis
Was this helpful?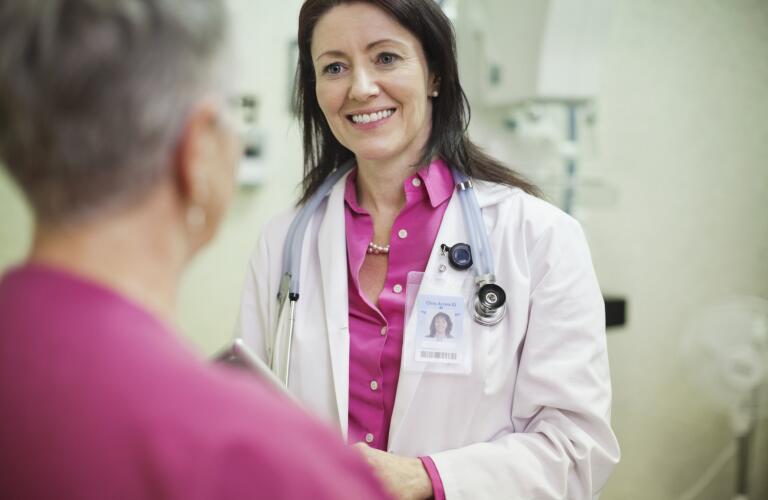 We've all experienced the feeling of a full bladder signaling our body that it's time to run to the bathroom. But if you are one of the 33 million Americans with overactive bladder, also called OAB, this feeling comes on frequently and urgently, often seemingly out of nowhere. Some people with OAB will also experience urinary incontinence, or leaking of urine, when this urge appears. Dealing with these symptoms can be frustrating, but there are several treatment options to consider. Overactive bladder treatments run a spectrum—from simple things you can do at home to to medications to more invasive options, such as surgery. So, which one is best for you?
If you're diagnosed with OAB, your doctor will likely suggest you start with making some lifestyle changes. This includes:
Avoiding certain foods and drinks: It's best to stay away from things in your diet that can irritate your bladder. Caffeine, alcohol, and carbonated drinks are common culprits. Spicy, citrus-y, or tomato-based foods can be irritants as well. And though you may be tempted to limit how much liquid you drink overall, it's important to stay sufficiently hydrated. If your urine is too concentrated due to dehydration, it can further irritate your bladder.
Working towards a healthy weight: Extra weight puts extra pressure on your bladder, exacerbating your symptoms.
Quitting smoking: Cigarette smoke bothers your bladder, and coughing can lead to incontinence.
Bladder training: Urinating at specific times during the day may help. Or, your doctor may recommend you try resisting the urge to urinate— only for a few minutes at first, but gradually increasing over time. This can help your bladder get used to holding more urine.
Pelvic floor exercises: Kegel exercises help strengthen your pelvic floor, the muscles involved in controlling urination. They may be performed on your own or your doctor may suggest adding in biofeedback sessions. During biofeedback appointments, you are attached to painless electrodes, which can help you better identify and train your pelvic floor muscles.
If lifestyle changes aren't enough, several medicines are available to treat overactive bladder. A class of medications called anticholinergics are commonly prescribed. They help relax the muscles of your bladder, decreasing bladder contractions that make you feel like you need to urinate. Some examples are:
Oxybutynin (Ditropan XL, Oxytrol, Gelnique)
Depending on the medicine, it may come as a pill, a gel, or a patch you apply to your skin. Side effects can vary between these OAB meds, but dry mouth and constipation are most common.
If anticholinergic medications don't work for you, a newer option called mirabegron (Myrbetriq) is available. It works in a different way to relax your bladder muscles and also increases your bladder capacity, allowing it to hold more urine.
Another treatment for OAB is an injection of onabotulinum toxin A, more commonly known as Botox. Injecting small amounts of this medication directly into the bladder wall is often very effective at relaxing your bladder muscles, even in severe cases. The effects can last for up to six months before another injection is needed. A small number of people may have difficulty urinating after this treatment and may need to be catheterized as a result.
Your nerves are responsible for delivering messages to your brain, such as letting your brain know that your bladder is full. Some minimally invasive procedures have been developed to stimulate nerves that play a role in your bladder control and improve OAB symptoms. These include:
Sacral nerve stimulation (SNS): A small wire is inserted under your skin near your lower back. It sends electrical impulses to your sacral nerve, affecting the way it controls your bladder. This procedure can reduce how often you need to urinate and improve incontinence. If successful, a small device can be permanently implanted for long-lasting nerve stimulation.
Percutaneous tibial nerve stimulation (PTNS): A small probe is placed under your skin near your ankle that delivers electrical impulses to your tibial nerve and other nerves responsible for your bladder function. It's performed as weekly, 30-minute sessions for 12 weeks. Monthly maintenance treatments will be needed after that.
In rare cases of severe OAB that doesn't respond to other treatments, surgery may be considered. Augmentation cystoplasty, surgery to enlarge your bladder, is one option. Urinary diversion is another alternative. In this procedure, the tubes that carry urine are rerouted from your bladder to an opening in your abdominal wall. Urine is then collected in an ostomy bag that's worn on the outside of your abdomen.
When it comes to finding the right treatment for your overactive bladder, understand that your doctor will take a step-wise approach, starting with conservative treatments and adding on as needed. But always remember, your healthcare is a partnership. Let your doctor know your treatment goals and what you're willing to do to get there, and together, you can formulate your best plan of care.
Was this helpful?