How to Find an Overactive Bladder Doctor for Telehealth
Was this helpful?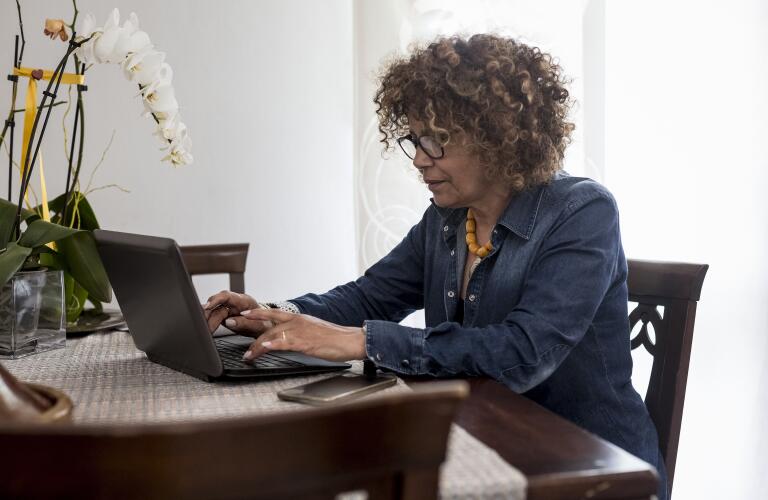 Overactive bladder (OAB) is a type of urinary incontinence that can be very distressing and difficult to control. For many people with overactive bladder, the frequent, sudden urge to urinate interrupts daily life, making it hard to enjoy normal activities and events. Fortunately, there are treatments that can help manage OAB symptoms.
If you're interested in treating overactive bladder, you'll need to talk about your symptoms and concerns with a doctor specializing in the urinary system, called a urologist. Your urologist can help you make a treatment plan including behavioral therapies and medications to manage OAB.
However, it may be inconvenient or challenging to go to a new medical office. Fortunately, many urologists now use telehealth to connect with their patients. With video conferencing or even a simple phone call, you may be able to meet with your urologist from the comfort of your own home.
Telehealth can be a good option for many people looking for OAB care. If you live in a rural area far from a urology practice, telehealth is a great way to consult with doctors who may not live anywhere near you. A telehealth visit can save you time, money, and frustration since there's no need to travel for the healthcare you need. As long as you have access to a computer or smartphone and a stable Internet connection, a telehealth visit can be easily completed from your home or any other location you prefer.
If you're interested in telehealth and already have a urologist, a good first step is asking your doctor whether or not they offer this service. If they do, it's probably very simple to set you up for a telehealth visit using a protected patient portal linked to your doctor's office. But if you don't already have a urologist, or you don't live near one, you may wonder how it's even possible to find a doctor who uses telehealth for OAB.
Fortunately, you've got options. Many health insurance companies now cover at least a portion of telehealth visits, and it's a good idea to ask your insurance carrier if they can recommend any urology telehealth providers. Your insurance company may even be able to direct you toward specific telehealth companies who employ doctors and provide services through Internet-based portals or apps that can be downloaded to your smartphone.
Or, a quick online search may be all that's needed to put you in touch with urologists who offer telehealth. A doctor rating website like Healthgrades.com can show highly rated urologists in your area who offer telehealth and take your insurance. And many hospital systems and practices associated with national associations or medical universities advertise their telehealth programs online.
Certain health centers provide telehealth services for people who may have difficulty paying full doctors' fees, who have no health insurance, or who participate in programs such as Medicare or Medicaid. Local health departments may also provide resources to help you find and complete appointments with urology telehealth doctors.
Once you've connected with your urologist over telehealth, you'll get started on a treatment plan. Urologists generally recommend a combination of behavioral therapies and drugs to manage symptoms of OAB, such as frequency, urgency, and unintentional loss of urine. Certain changes in behavior benefit many who struggle with OAB, and your doctor may suggest:
Bladder training
Pelvic floor muscle exercises
Scheduling toilet trips
Using absorbent pads or catheters occasionally
Medications may also prove beneficial if behavioral therapies alone aren't enough to manage symptoms. Women may especially benefit from prescribed estrogen therapies, since lower estrogen levels after menopause may contribute to overactive bladder. Other drugs, like those that relax the bladder, can be helpful for managing symptoms.
Telehealth is a great way to check in with your doctor to make sure your overactive bladder symptoms are managed effectively. Don't let concerns about finding a telehealth urologist stop you—there are several ways to find and connect with these healthcare providers online. If your existing urologist doesn't offer telehealth, try other options, like your insurance company or online ratings websites, for help finding care.
Was this helpful?