How Telehealth Can Help People With Overactive Bladder
Was this helpful?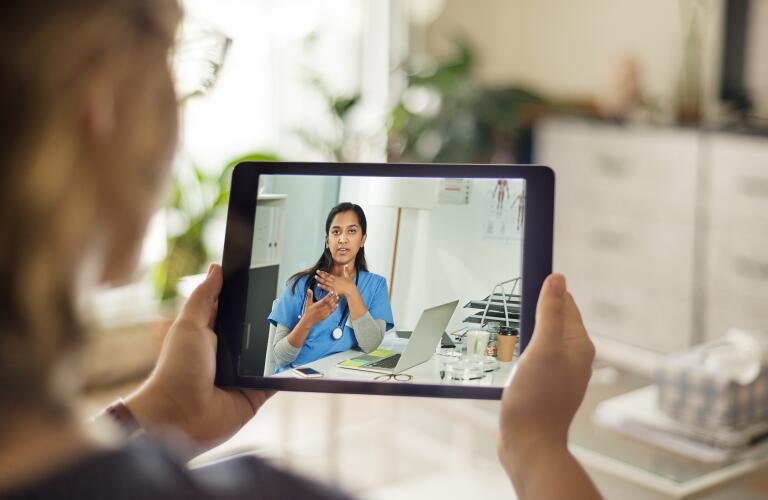 If you have overactive bladder syndrome (OAB), you know the impact it can have on your life. The strong and uncomfortable urge to urinate can come from out of nowhere, sending you on a mad dash to the bathroom, and in some cases, you may even leak urine when it occurs. Thankfully, under a doctor's care, overactive bladder is very treatable. And now with the recent growth of telehealth and telemedicine, your access to care may be better than ever.
Telehealth refers to the use of technology and telecommunications to deliver healthcare remotely. Though telehealth encompasses many different things, the ability to meet with your doctor virtually is one important aspect. Instead of traveling to your urologist's office, your appointment can be conducted over a video visit or a phone call.
Routine follow up for overactive bladder actually lends itself well to telehealth since much of the appointment revolves around a discussion, rather than a physical exam. You can still cover the same things during a virtual visit, including your symptoms and treatment plan, but with the bonus of doing it from your own living room.
With less travel time, less time away from work, and less stress, most telehealth appointments result in high patient satisfaction.
The first line of treatment for overactive bladder is lifestyle modification. During a telemedicine appointment, an online urologist can teach you behavioral therapies to improve your condition, such as:
Avoiding food and drinks that irritate your bladder
Exercises to strengthen your pelvic floor, like Kegel exercises
Bladder training tips, including timed urination and delayed voiding
You can also be counseled on taking your medication properly, potential side effects, and other treatment options, including nerve stimulation and surgery.
Telehealth enables you to take an active role in your healthcare in many ways. Some common examples include:
Viewing your medical information through a patient portal
Sending a message to your urologist if you have a question between appointments
Scheduling an upcoming appointment
Requesting medication refills
Receiving medication reminders
Before your telehealth appointment, make sure your phone, tablet, or computer is fully charged and your internet is strong. Download any teleconferencing app your doctor requires, and check to see if you need to register for an account before your virtual visit starts. Make a list of questions to ask your doctor so you don't forget them during the call, and keep a pen and paper handy to take notes. Just like an in-person visit, preparing for your telehealth appointment can help you make the most of your time with your doctor so you can better manage your overactive bladder.
Though the COVID-19 pandemic spurred a large uptick in the use of telehealth, it's likely to continue to increase in popularity even after the virus subsides. If you'd like to learn more about incorporating telehealth in your plan of care, ask your doctor.
Was this helpful?