Hard to Find a Doctor for Overactive Bladder? Try Telehealth
Was this helpful?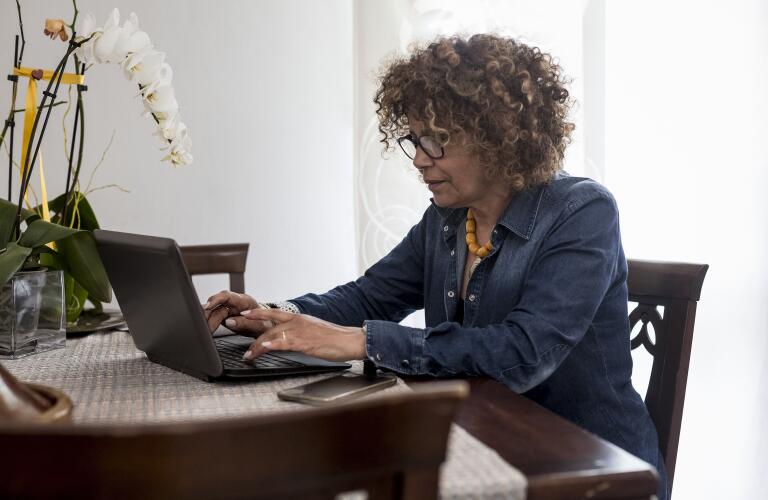 If you struggle with overactive bladder (OAB) but face obstacles when it comes to getting the right treatment, you're not alone. Many people live in areas without enough urologists or gynecologists to treat OAB. If you're having trouble finding a doctor for overactive bladder, telehealth can be a great option for getting the care you need to feel better.
Telehealth, which is also known as telemedicine, uses computers, tablets, and smartphones to help you connect with your healthcare team remotely. This type of technology makes it possible for you to talk with your doctor over a live video call or phone call, without ever having to go into a medical office. You may also send and receive messages related to your healthcare needs, and, in some cases, your doctor may use telehealth technologies to monitor your condition remotely.
Living with overactive bladder may mean you need to check in with your doctor frequently to determine how well your treatment plan is working. While your doctor can't perform any examinations this way, they can still use telehealth to refill or prescribe new medications, answer your questions, review your bladder journal, and help you learn how to retrain your bladder.
Telehealth offers several benefits. If you can't find an overactive bladder specialist in your area, telehealth can connect you with a doctor somewhere else. Since you're connecting over the internet, you have limited or no contact with people outside your home, which dramatically reduces your exposure to infectious diseases like COVID-19. You also don't have to take any time off work, travel to and from your doctor's office, and pay for parking or gasoline to get there.
In some cases, telehealth may also help you get an appointment sooner. Many doctors book appointments months in advance and stay very busy, which can impact your ability to be seen quickly if you develop problems. But telehealth appointments are often completed within hours or days of your request for a visit, which helps you get the healthcare you need much sooner.
Telehealth can also be a good way to find out if you need more urgent care. If you're having especially severe overactive bladder symptoms, a telehealth visit with your doctor is the best way to check whether you should seek in-person medical attention immediately.
If you're interested in trying telehealth for overactive bladder and already have a urologist or gynecologist, the first step is to ask your doctor whether this option is available through their clinic. Your doctor can help you determine whether telehealth is appropriate for your overactive bladder treatment plan, and, if not, how your treatment should continue. If telehealth is a good option for you, your doctor or a clinic staff member can help you schedule your first visit.
If you don't have a regular OAB doctor, reach out to your insurance company for a list of covered physicians. Many insurance companies now cover at least a portion of telehealth visits, and they can be a helpful first stop on your search. You can also search online doctor review websites or ask friends and family if they have a gynecologist or urologist to recommend.
Finding a doctor for overactive bladder can be easy if you investigate your telehealth options. Treating overactive bladder may be as simple as a video conference with an online OAB specialist.
Was this helpful?