PATIENT VOICES

Accidents Happen: Living With Overactive Bladder

Was this helpful?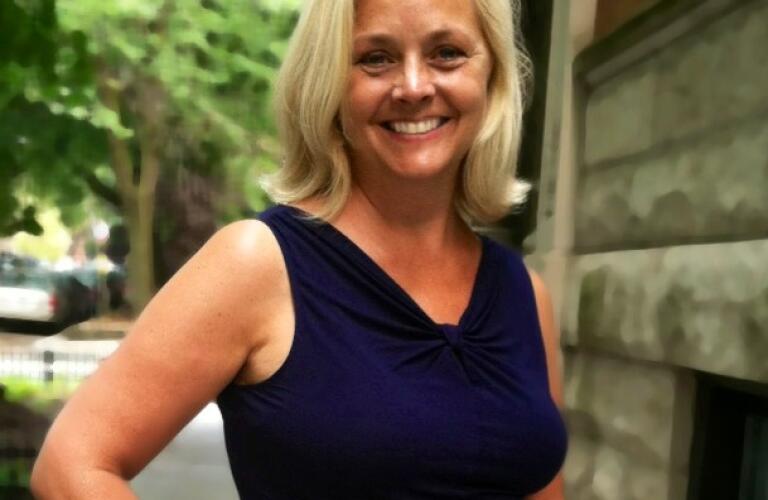 I was "in the zone" in the middle of a sales presentation when I felt the warmth and wetness between my legs. I froze mid-sentence and pretended I had lost my train of thought. I was certain people could see, or worse, smell the urine.
That's when I knew I needed to do something about my overactive bladder (OAB). I had such strong urges to go and just couldn't get to the bathroom in time. When I finally saw a doctor, it was a relief to learn I was not the only one who experienced it. In fact, my doctor said it affects nearly 1 in 3 women (and not everyone who has it seeks treatment). For me, it's not just the leaking, but the urgency. And, of course, it always seems to happen right before I have something really important to do.
Most people think of OAB as something that happens after childbirth or just as a natural part of aging, but that's not always the case. My daughter was born 16 years ago and I didn't have any problems until she was at least 10. Now, I'm 52, and while age and childbirth are definitely contributing factors, my doctor told me making little changes to my diet and starting to exercise can really help.
Rather than prescribing medication right away, my doctor offered me a few lifestyle tips to help me manage my OAB. I haven't had a soda since that first trip to the doctor three years ago, because caffeine can dehydrate and irritate the bladder. She also taught me several pelvic strengthening exercises, like kegels, which have really given me a better understanding of the whole pelvic area: the front muscles, back muscles, and the pelvic floor.
I think of a kegel in terms of making my pelvic floor go up an elevator one "floor" at a time. It's not just squeezing; rather, it's a very gentle, controlled and focused tightening of your anus, urethra and vagina. In the beginning I could only concentrate on one opening at a time. I had to concentrate to not squeeze my butt, my inner thighs, and my stomach–just the openings. Now I can activate all three at once. I do these a few times per day, in the car or while I'm watching television. Recently, I've had issues with leaking shortly after getting out of bed, so now I activate these muscles with kegels before I stand.
I really like the exercises because they make me feel like I have more control over my body, and over my condition. Instead of being oblivious to the structure of my pelvis, I can visualize my muscles and bladder and take an active role in my treatment. In addition to pelvic exercise, I have also tried certain devices to help manage my OAB or minimize the damage from leaking. I'll wear panty liners, especially when I'm running, since that seems to cause more incontinence. I'll never forget the time I went for a run on a cold day with a new acquaintance, and she noticed the wetness between my legs. I had to explain to her that no, it was not sweat. Mortifying.
Thanks to the products and the exercises, I don't have to map out the bathrooms on my various routes. I'm able to take control of my condition, and my best advice to other women experiencing OAB would be to not let it dictate your activities. Be active. You don't have to live in fear of leaking. Don't be embarrassed. Go to your doctor. Learn the exercises that can help you, and take advantage of the numerous products newly available to manage overactive bladder. Most importantly, remember you're not alone.
Elizabeth Wood, 52, lives in Chicago with her husband and daughter. She works as a content developer for Women's Health Foundation, and has been living with overactive bladder for five years.

Was this helpful?