PHYSICIAN VOICES

A Doctor's Perspective on Treating Overactive Bladder

Was this helpful?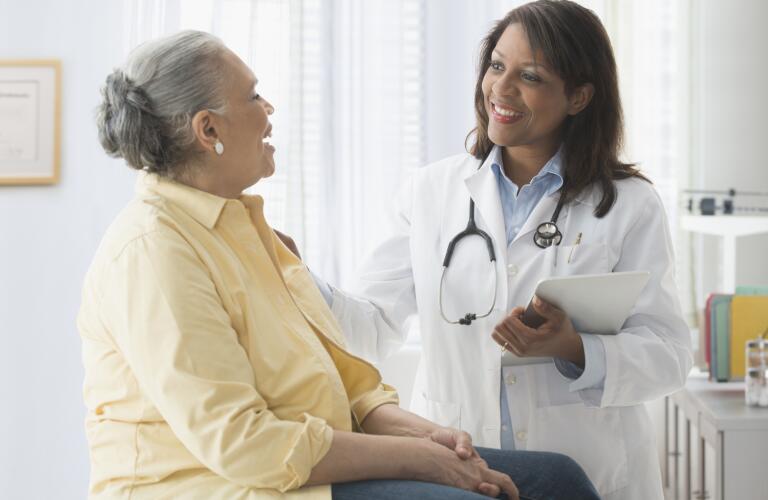 Dr. Paula Doyle is a board-certified urogynecologist with University of Rochester Medical Center. She shares common questions she receives from patients about living with overactive bladder and finding the right treatment.
A: Overactive bladder (OAB) occurs when there is a frequent urge to urinate. It may or may not result in urine leakage. My patients describe it as an urgency they can't suppress; they need to use the bathroom or they're afraid they might leak. Sometimes, it involves nocturia–the need to urinate at night–but not in every case.
A: One of the reasons my job is really rewarding is that I can help women with OAB get their confidence and independence back. You can't go out and rule the world if you constantly need to stay close to a restroom or you're dealing with leaking. OAB can limit your ability to be the kind of friend, spouse, parent, and employee that you want to be. A lot of my patients with OAB feel a lot of anxiety and fear. I hear frequently from my patients that they're afraid to travel. Someone may not like staying overnight at a family member's house because she's afraid the pads she's using might make the bathroom smell, or she's worried she might wet the bed. Even long car rides can be stressful, let alone flights. When you have OAB, your world can get pretty small. That's why I work with patients to give them back some confidence. They might not get to a perfect OAB-free place, but as long as they have enough control over their bladder to go back to the gym, or to travel to see loved ones or new places, that can make a big difference.
A: When I see a new patient with OAB, I'll start pretty conservatively as far as treatment. Not everybody needs everything thrown at them right away. First, we'll look at behavioral changes; for many people, a few tweaks to daily patterns can go a long way. I'll instruct patients to keep a voiding diary where they track how much they drink, what they drink, when they use the restroom, and if they leaked. This gives us a lot of information so we can determine what changes can be made.
A lot of managing OAB is about education. I'll talk to someone about the benefits of a balanced diet, regular exercise, and a healthy weight for people with OAB. We discuss how they can better control their diabetes or possibly change medications. And then we'll also discuss what they eat and drink. Caffeine is a known bladder irritant. Alcohol is a diuretic–it increases urine production. And I'll also assess their daily fluid intake. Some people consume large amounts of water because they think it's healthy, but in reality, it's too much. I recommend drinking 64 fluid ounces of fluid, in general, throughout the day.
I may also recommend pelvic floor physical therapy, which can help people better understand what's going on in their body when it comes to OAB–and it can give them some control over their urgency and frequency. Scheduling bathroom breaks and learning how to distract yourself from the urge to urinate can also be really helpful. There are a lot of ways to manage overactive bladder by making small changes to your day-to-day routine, and a shift in habits is often very effective.
A: If behavioral changes aren't enough, we move on to medical interventions. There are two types of medication to treat overactive bladder: beta-3 agonists and anticholinergic drugs. Both types of drugs relax your bladder and control twitching, although they do this in different ways. Beta-3 agonists are newer to the market. There are only two approved at the moment: mirabegron (Myrbetriq) and vibegron (Gemtesa). My patients often do really well on them with minimal side effects, although they aren't safe for people with uncontrolled hypertension.
Anticholinergics can be helpful too, but researchers have found an association between these drugs and early-onset dementia or cognitive impairment. Just because they're associated with these issues doesn't mean they're directly causing them, but it can make people nervous. If I think an anticholinergic drug would be best for a patient, I typically go with trospium chloride (Sanctura) because it doesn't cross into the brain; this lowers the chance of side effects involving cognition.
When someone starts a medication, we begin on a low dose and monitor how they're doing over time. It takes two to four weeks for a medication to really work. If we need to increase the dose or switch medications due to side effects, then we do that. I'll try at least two different medications, or sometimes a combination of medications, before we move on to advanced therapies. Sometimes it can be helpful to keep a voiding diary as you start these medications, because your OAB may be improving more than you realize. People might not be able to completely cut out all the symptoms of OAB, but they can make a lot of progress and gain more independence.
A: If lifestyle changes and medication aren't enough to help someone reach their goals, I'll suggest stepping up treatment. We might try percutaneous tibial nerve stimulation, in which electricity is sent to the tibial nerve and on to the sacral nerve, which controls bladder function. Injections of onabotulinumtoxinA (Botox) in the bladder can also be helpful, but it must be repeated every three to six months and can also increase urinary tract infections. In some cases, it can work too well and temporarily paralyze the bladder muscle, so the patient can't pee at all and needs to self-catheterize for a short time. Lastly, there's sacral neuromodulation, in which we implant electrodes near the pelvic nerves that can stimulate the bladder and bowel for better control. We always do a trial before implanting anything, just to make sure a patient will respond well to it. If it doesn't work, we take it out and try something else.
Not every therapy is right for every patient, but I want people to know we have a wide variety of options to help them find relief and allow them to take back some control of their lives and their bladder.
Was this helpful?