Treatments for Osteoporosis
Was this helpful?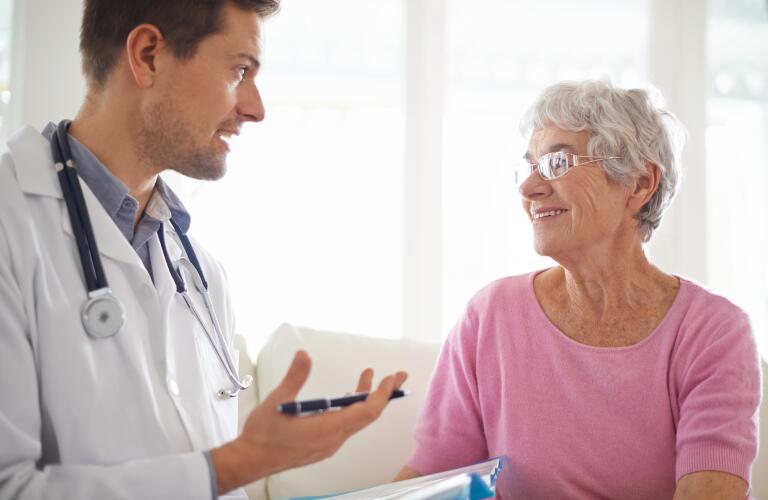 You cannot cure bone-weakening osteoporosis. You can treat it, however.
The goals of treatment are to help keep your bones as strong as possible, make it easier for you to move around, prevent accidents, and reduce the risk of your bones breaking.
Many things about your day-to-day life may lead to osteoporosis. These include:
5 Things You Didn't Know About Osteoporosis
Even after you have a diagnosis of osteoporosis, changing these factors can still be important. Adopting healthier habits can protect the bone mass you have left. They can keep the disease from getting worse.
First of all, remember two things:
If you smoke, stop. Studies show a correlation between tobacco use and low bone density.
If you drink alcohol, do so in moderation. Heavy alcohol use increases the risk of osteoporosis. Most government health organizations define moderate drinking as no more than one drink a day for women and two drinks a day for men.
Then, make sure you're eating foods that are good for your bones. This starts with foods that contain calcium. Most adults should get 1,000 milligrams (mg) of calcium every day. Women older than 50 and men older than 70 should aim for 1,200 mg a day. Good sources of calcium include:
Fish, such as sardines and salmon
Vegetables, such as kale, cabbage and broccoli
If you can't get enough calcium from food, ask your doctor about a supplement.
You also need vitamin D for good bone health because it helps your body take up calcium from the food you eat. Adults older than 50 should get 800 to 1,000 International Units (IU) each day.
Good food sources of vitamin D include:
Fatty fish, such as tuna, salmon, mackerel and sardines
Foods that have calcium added to them, such as milk, orange juice, cereal, and yogurt
Getting out in the sun also helps your body make vitamin D. Experts suggest getting 5 to 30 minutes of midday sun at least two times a week. Here again, your doctor may suggest a vitamin D supplement to help you.

It's also important to exercise to treat the disease. This makes your muscles strong. That helps your posture and your balance. It's best to stick to exercises in your comfort level. Exercises that may help include:
High-impact weight-bearing exercise: dancing, hiking, jogging, tennis
Low-impact weight-bearing exercise: working on an elliptical machine, low-impact aerobics, walking on a treadmill or outside
Muscle-strengthening exercise: weight lifting, using elastic resistance bands, rising up on your toes, and similar movements
Talk with your doctor before starting any exercise program.
Medication may keep osteoporosis from getting worse. However, all medicines for this disease have risks and benefits. Talk with your doctor about the pros and cons before starting drug treatment. The more you know, the more at ease you'll feel with the decision.
Medication options include:
Bisphosphonates: These drugs can slow down the loss of bone mass. Studies also show that people who take them are less likely to break a bone. Several types of bisphosphonates are available. You can take some as pills. You get others as an injection. These drugs sometimes can irritate the esophagus (the tube that goes from the throat to the stomach). Therefore, you should remain upright for at least an hour after taking these medications.
Calcitonin: This drug helps prevent broken bones and the pain that results. It's available as a nasal spray or an injection.
It's also important to talk with your doctor about all medicines that you take. Bring your list of prescription medicines, over-the-counter medicines, and supplements with you to every doctor appointment. Certain drugs you take for other conditions can lead to bone loss. Your doctor might be able to find a better option for you.
A good way to keep bones from breaking is to prevent falls. To do that, you need to have the tools, equipment and plans in place.
For instance, you may need assistive devices like a cane or a walker. Proper shoes are a must. Other steps that may help include:
Rid your house of clutter.
Keep your home well-lit. This is really important near stairs and in bathrooms.
Put in railings by all steps.
Install grab bars near toilets and in tubs and showers.
Remove area rugs. Check for areas of carpet that are bulging up. You may need to ask a carpet installer to tighten the carpet around your house.
Using ice-melting salt or chemicals on icy sidewalks and driveways.
Was this helpful?