Why Kids Are Seeing Orthodontists Earlier
Was this helpful?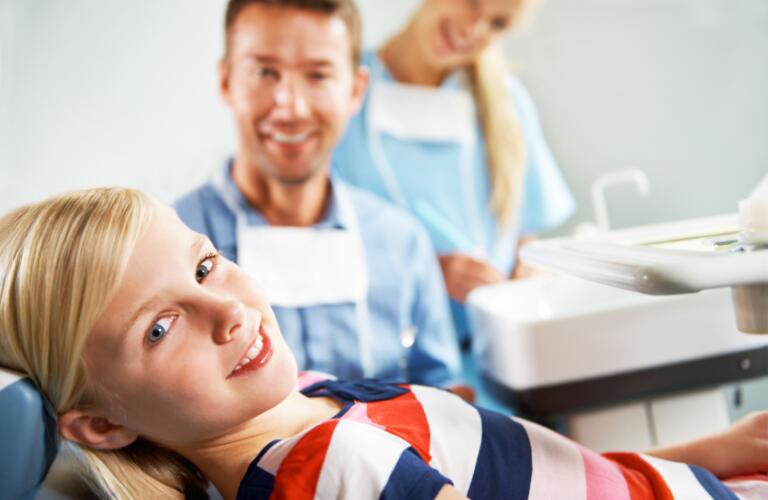 Remember when getting braces was a rite of passage for many teenagers? Today, it's not uncommon to find a silver smile on even younger kids. The American Academy of Orthodontists recommends that all children see an orthodontist for evaluation by age seven. Ask your family dentist whether you should make an appointment for your little one.
An orthodontist is a dental specialist who prevents and treats tooth and bite irregularities. Your child's dentist may recommend a checkup with an orthodontist after your child's teeth have developed enough for potential problems to be identified. This may be before your child has lost all of his or her baby teeth. And although your child's teeth may look straight, there may be reasons to make the appointment. Problems with jaw growth or emerging teeth aren't always obvious.
An orthodontist checkup doesn't mean your child will get braces early, or even needs braces. But it does allow the specialist to examine his or her mouth for potential problems. Some oral problems, such as correcting protruding or "buck" front teeth or a jutting lower jaw, may benefit from early intervention. Other dental issues may be better to wait and treat when the child is a preteen or teen. Seeing an orthodontist early on gives you the time to plan the appropriate treatment.
Potential Benefits of Early Treatment
Many children who get braces at an early age will also need a second round of treatment later in adolescence. But the American Academy of Orthodontists states that early treatment may prevent more serious problems from developing down the road. It may also simplify and reduce treatment time later. This is because some problems can be better corrected when the child is young, before the face and jaw have finished growing.
Of course, there is not a one-size-fits-all decision when it comes to orthodontics. Treatment depends on your child's unique circumstances. And what might be right for a classmate or friend may not be right for your child.
Be a Partner in Your Child's Care
If your child's orthodontist recommends early treatment, ask questions. Find out what type of treatment he or she recommends and how long the treatment will last. Ask the orthodontist if your child will need a second round of treatment later on. And make sure you share and discuss any issues that are important to you, such as treatment costs.
Was this helpful?