How to Prepare Kids for Getting Braces
Was this helpful?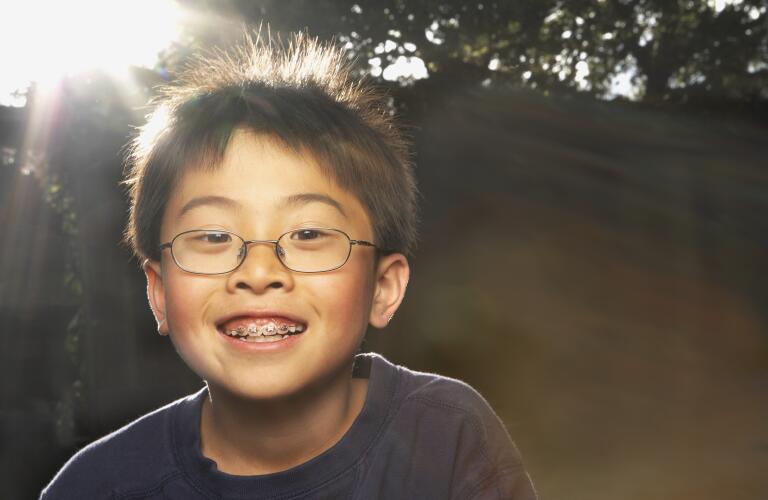 For many kids and teens, knowing they're about to get braces can be scary, conjuring up thoughts of potential pain and even embarrassment. Luckily, there are things you can do to prepare your child—physically and emotionally—so the process moves smoothly from start to finish. Use the following five techniques to keep the process positive, and maybe even fun.
Even if getting braces isn't a choice, there are still a lot of key decisions your child can weigh in on during the process. Allowing kids to make decisions helps them feel ownership over their orthodontics, and allows them to exercise some control, which gives them a stake in the whole experience.
Begin by explaining to your child why they need braces, emphasizing the end goal and what the benefit will be for them, and allow your child to take on as much of the decision-making as possible. For example, do research together on doctors, and work together to create a list of questions to ask at consultations. Discuss options together—from doctors to the details of treatment plans. Allowing your child to ask questions, do research, and use that information to make decisions gives them power over the process, decreasing the feeling of being forced into braces.
The day braces go on can cause a lot of anxiety, mostly from not knowing what to expect. Will it hurt? How long will it take? These are all issues that you should explicitly go over with your child, so they know exactly what to expect when the big day arrives. Let them know that they'll be in the dental chair for a while—maybe even up to two hours—but that that the process won't be painful. Put a positive spin on that chair time by helping your child download some new music or an interesting podcast to listen to while they're lying there.
Explain, step by step, what will happen as the braces go on, ideally with the help of your orthodontist to be sure you aren't leaving anything out. Generally, the application process goes as follows: The square, metal brackets are glued to individual teeth, then these are connected to one another with a thin wire, which is secured with small bands placed on top of each bracket. Your child can even pick out colors for the bands if they'd like.
Also describe what the braces will feel like the first few days. The pain will not be excruciating, but there will be soreness as teeth start to shift for the first time. Assure your child they'll be able to take pain medication like ibuprofen to minimize the discomfort, and that they'll get wax to rub over the brackets as the inside of their lips adjusts to the metal.
In addition to getting straighter teeth and correcting any bite issues, emphasize the things your child will love—colored bands or even getting to miss school for a bit during maintenance appointments. Try making the food limitations fun, too. Your orthodontist will recommend sticking to softer foods for the first few days, so stock up on favorites, like mashed potatoes, ice cream, soup and smoothies.
To a child or teen, a year or two can seem like an incomprehensible amount of time. Using a visual, like a calendar, to show the length of time they will have their braces on can help. This can also reinforce the idea that braces are temporary. The calendar can include appointments for adjustments, too, during which their wires get adjusted as teeth gradually straighten.
Giving your child some control over the process will help them buy in to having braces. Listening and responding to your child's concerns, and explaining exactly how each step will work ahead of time, should help decrease any anxiety they're feeling, and—as always—highlighting the benefits is a simple but powerful way to keep the whole experience positive.
Was this helpful?