How Dentists Use 3D Printing—And What It Means for Patients
Was this helpful?
Imagine getting a dental crown without having to first sink your teeth into a huge tray of mucky goo while trying not to gag. Instead, your dentist uses a small device to scan the inside of your mouth, then makes and installs your crown in minutes using a 3D printer. No mess or misery, no making time in your crowded calendar for a follow-up appointment, and maybe even a lower bill to boot. These are some of the benefits promised by 3D dentistry, now increasingly seen in U.S. dental offices.
What else can you expect from this new technology, and are there any disadvantages?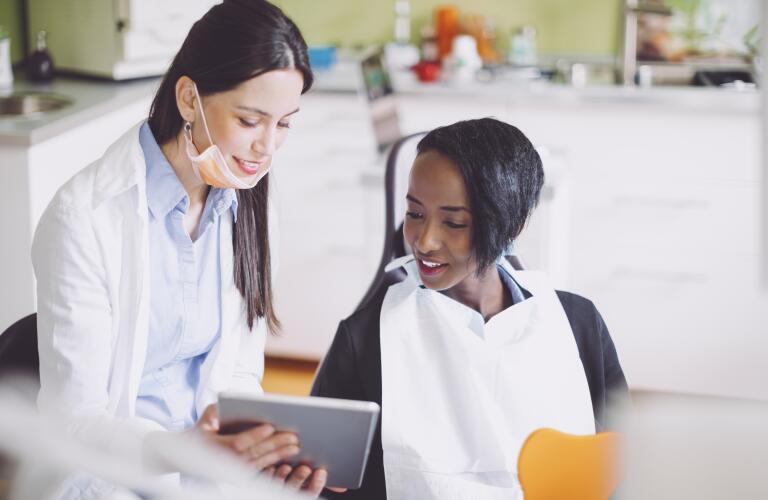 If you haven't seen a 3D printer in action, typically these devices work by repeatedly layering small amounts of material (such as resin) until an object is created. While the technology has existed for about 30 years, it has become more popular in dentistry (and other fields) in the past decade, as 3D tools have improved and costs have come down.
An increasing number of dentists are using 3D printers, 3D scanners, and computer-aided design (CAD) software. About half of dentists in a 2021 American Dental Association survey said they expected 3D printing to improve their practices. Another survey found 53% are using intraoral 3D scanners. These handheld devices, about the size of a large electric toothbrush, let dentists scan your teeth, then use the resulting digital images to create 3D printed items. This can be done with dentists' own 3D printers or by sending the digital files to outside dental labs that have this equipment.
Another 3D tool some dentists use is cone-beam computed tomography (CBCT), which creates 3D images of your teeth, soft tissues, nerve paths and bone—imagery that you can't capture with traditional X-ray. These images can make it easier for dentists to plan surgical procedures, detect cancer, and diagnose conditions, such as temporomandibular joint dysfunction (TMJ).
Dentists are finding many uses for 3D printers. They can create:
Restorative items like crowns, bridges, veneers, and even full sets of dentures

Appliances like bite guards or night guards

Orthodontic devices, such as aligners and retainers

"Trial" dentures, inexpensive 3D printed versions of full-mouth dentures to see how they fit, before ordering a more expensive, traditionally made set


Dental implants

Surgical guides that an oral surgeon can use in procedures, such as dental implants

Educational aids, replicas of your teeth that can help your dentist explain treatment options
3D dentistry provides many benefits for both patients and dentists. Some of these include:
Speed. Images of your mouth and teeth can be made in seconds with a 3D scanner. Computer programs use the image to create a digital design of the product and the 3D printer produces it in minutes. A dentist can create a crown, for example, in 10 minutes.

Convenience. If your dentist has an on-site 3D printer, you may not need multiple appointments for fittings and adjustments. Even if your dentist has an outside lab produce what you need, labs that use 3D printers can make the items more quickly than labs that use traditional, handcrafted methods. Also, if you need to replace an item, such as a lost or broken retainer, it's easy to make another from your stored digital file.

Precision and comfort. Proponents say 3D scans can help create more accurate measurements, resulting in more closely fitting dental items.

Lower cost. 3D equipment can be cheaper for dentists and labs than traditional methods. These savings may be passed on to consumers.


Safety. Digital dentistry can be safer than more traditional, hands-on approaches. For example, the dental technician either disinfects or puts a new sterile sleeve over the 3D intraoral scanner wand for each patient. (Practices vary by scanner.) The digital file of your scan zips from the scanner to the computer to the 3D printer without germs getting a chance to make contact.
Although 3D dentistry has been growing in the past decade, it is still an emerging field. Many different types of 3D dental printers, scanners, and other products are on the market, with wide varieties in price, quality and capabilities.
While manufacturers tout 3D scanning as providing more precision than traditional methods, some small studies have found that digital impressions created by 3D scanning actually were less accurate than manual impressions. However, researchers expect scanner precision to improve as the technology evolves.
Some dentists also warn that expecting items like crowns to be made and fitted while you wait is not necessarily the best approach. By rushing the process, you might wind up with a less-than-ideal result.
Another concern lies with radiation exposure from CBCT 3D X-ray machines, especially among children. While the radiation from these devices is lower than with a traditional CT scan, it nonetheless can add to your cumulative lifetime exposure, which potentially could raise your risk of cancer. As a result, the American Dental Association and the FDA (Food and Drug Administration) recommend using dental CBCT only when necessary for diagnosis or treatment of disease. (This concern does not apply to intraoral scanners.)
Some dentists have held off buying 3D equipment due to its cost. An industrial 3D printer can cost $20,000 to $100,000 (though desktop models can be $6,000 or less). Handheld scanners range from $7,000 to nearly $20,000. In addition, dentists have to pay for the material the printers use to make dental items, and must spend time training themselves and their staffs to use this equipment.
Nonetheless, analysts expect 3D dentistry's many benefits to outweigh these drawbacks. Enhancements in device quality and reductions in price will also favor the adoption of 3D dentistry. As dentist Marta Revilla-Leon, who co-authored a recent American Dental Association report about rising popularity of 3D tools, points out: "The integration of digital technologies in dentistry is unstoppable."
If you are interested in 3D approaches, talk with your dentist to find out what kind of equipment they use or may be planning to add in the near future. Your dentist can discuss the pros and cons of 3D printing and imaging and whether these options would be best for your needs.

Was this helpful?