How Baking Soda Can Keep Your Teeth Healthy
Was this helpful?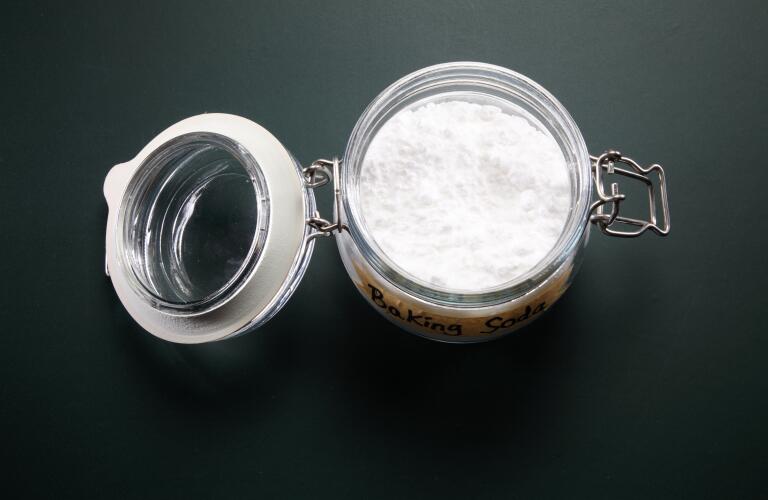 Did you know that unassuming little box of baking soda in your pantry can work wonders in your bathroom for your dental care routine? Baking soda, aka bicarbonate of soda, was first recommended as tooth powder in 1911 because it worked so well to polish your chompers without harming the gums or teeth. Since then, it's been used in a variety of ways—from preventing gum disease to tooth whitening.
The reason baking soda is so good at keeping teeth healthy is that it balances acidity levels in your mouth. The lower the pH level in our mouth, the higher the risk of tooth decay. Bacteria thrive at a lower pH of around 5.5. Baking soda has a pH of 8.3 which helps fight bacteria and make our mouths an unfriendly place for those bugs to live.
Not only is baking soda great for your teeth, it's affordable and can be used in a variety of ways to maintain ideal oral health.
You may have seen baking soda toothpaste and whitening toothpaste at the drugstore, but brushing isn't the only method to incorporate baking soda into your clean teeth routine. A dash of sodium bicarbonate goes a long way to treating dental disease.
Gum Disease: Ginvigitis, or gum disease, is caused by plaque building up on your teeth and can cause swollen, sore, bleeding gums, and bad breath. If left untreated it can be painful and lead to infection. Brushing with baking soda or a toothpaste with baking soda added will discourage the formation of plaque and help prevent or reduce the effects of gum disease. Healthy gums also help minimize tooth sensitivity, so brushing with baking soda is a double win.

Bad Breath: Speaking of bad breath, baking soda can help with that, too. Bad breath is often caused by residue from acidic foods like sugar and protein. Baking soda's acid-busting powers help rebalance the acid levels in your mouth to make your breath fresher.

Mouth Ulcers: Sores and ulcers in your mouth can be irritating, painful, and take a long time to heal. Baking soda helps relieve this discomfort and speeds up healing. A simple mouth rinse of baking soda and water will make your mouth feel better faster.

Teeth Whitening: One of the things baking soda does best is clean and whiten your teeth. While it works great on your whole mouth, you'll see big changes in your smile when you start brushing with baking soda or a toothpaste containing baking soda. Teeth can become stained from a range of items you put in your mouth like coffee, tea, nicotine and certain foods. Regular brushing with a baking soda toothpaste or whitening toothpaste can remove stains and keep them away longer. Keep in mind that over time your teeth will probably stain again, so it's important to keep using baking soda to maintain the whiteness of your teeth over time.
Ready to add baking soda to your daily or weekly teeth cleansing? Grab a box of baking soda from the grocery and get started with these ideas.
Dissolve half a teaspoon of baking soda in a glass of water as a mouth wash to combat bad breath and treat ulcers.

Put a small amount of baking soda in a glass by your bathroom sink. Dampen your toothbrush with water or toothpaste and then dip your brush in the baking soda. Brush your teeth as you normally would.

To whiten your teeth, make a paste with baking soda and a little water. Apply the paste directly to your teeth and let it sit for one to two minutes. Then use your finger or tooth brush to scrub away the stain.
If you don't like the taste of plain baking soda, try a toothpaste that's made with baking soda. Remember, brushing with plain baking soda shouldn't replace using a toothpaste that has fluoride and other ingredients to protect your teeth and gums. If you have any negative effects from using baking soda on your teeth, take a break from it and talk to your dentist. The solution might be as simple as using it less often or switching to a milder product.
Was this helpful?