What to Expect With a Telehealth Appointment for Multiple Sclerosis
Was this helpful?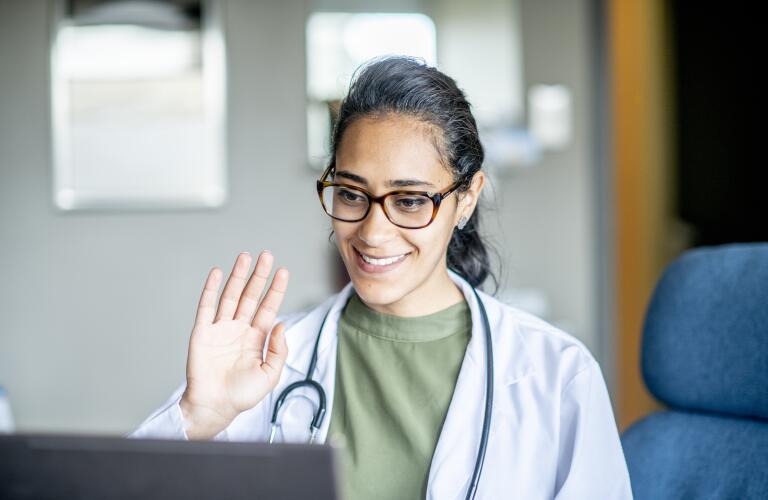 Telehealth is changing the way doctors connect with their patients.Instead of in-person appointments, you may be able to discuss your condition and concerns with a virtual doctor visit via phone call, messaging app, or most commonly, video chat. It's possible to help manage many types of medical conditions with this approach to treatment, including chronic conditions like multiple sclerosis.
Thanks to evolving technology, telehealth is now available to more people than ever before. And it's likely your doctor offers telehealth services far beyond simply getting your prescriptions refilled. Learning more about this unique way of staying in touch with your healthcare team can help you decide whether it may be a good option for you.
Multiple sclerosis (MS) is a disease of the brain and spinal cord that ultimately affects how well your nerves function. Over time, the protective outer covering of many nerves becomes damaged, and these damaged nerves can't help your brain communicate normally with the rest of your body. As a result, you may experience symptoms that get worse over time, including fatigue, mobility issues, or numbness or weakness in your limbs.
Living with MS means frequent visits with your doctor, but if you have any of these symptoms, it can be especially difficult to get to the office. Fortunately, telehealth offers an alternative to traditional doctor's office visits by using a computer or smartphone to stay connected. Virtual doctor visits are much like in-person appointments, and your doctor may even recommend using special monitors to help keep an eye on your symptoms while you're at home.
Most people who've used telehealth for multiple sclerosis report they receive the same or better care from their doctor as they would if they went to a clinic. And many find that the time and effort they save from not having to go into an office helps them feel better.
Many of the same services your doctor provides in person can also be conducted remotely. If your doctor offers telehealth as part of their practice, you could benefit from:
Medication management. Living with MS typically means using one or several medications to manage symptoms, slow disease progression, and extend the time between symptom flare-ups. Your doctor can use telehealth to make sure you're sticking with your prescribed treatment plan, as well as manage any side effects your medications may cause. And while laws about prescribing medications online vary from state to state, it's likely your doctor can prescribe new drugs or refill your old prescriptions.
Rehabilitation. Telehealth allows your doctor to provide personalized rehabilitation services to you directly in your home. Your doctor–or a physical therapist–can teach you strengthening and stretching exercises, as well as show you how to use medical devices or other accessibility tools to help make living easier.
Reviewing test results. The medications typically prescribed for MS need to be monitored with blood work to ensure side effects don't occur. Your doctor can review the results of blood work or any other medical tests with you using telehealth.
Screening for complications. For some, MS leads to complications like vision problems. If you start having problems with your eyesight, your doctor may administer a simple vision examination over your computer. While not as accurate as an in-person eye exam, a virtual eye checkup can help determine whether your symptoms need further investigation.
Symptom tracking. For many, the symptoms of MS come and go over time. But eventually, many symptoms worsen and begin to interfere with daily life. Telehealth gives you the opportunity to discuss any new or recurring symptoms with your doctor so you can find the best ways to manage them.
Preparing in advance of your telehealth appointment can help you make the most of your time with your doctor. Ensure your computer, smartphone, or tablet is charged with a strong internet connection, find a quiet, private spot in your home to get settled, and make sure you know how to access your call well before your scheduled time. Write down any questions you have for your doctor and keep medications handy if you need to refer to them.
Telehealth for multiple sclerosis has already helped many people manage their disease in a more convenient, less time-consuming manner. If you're interested in making telehealth part of your treatment plan, ask your doctor what services you could expect to receive to help you live more healthfully.
Was this helpful?