SOCIAL VOICES

The Impact of Multiple Sclerosis on Your Loved Ones

Was this helpful?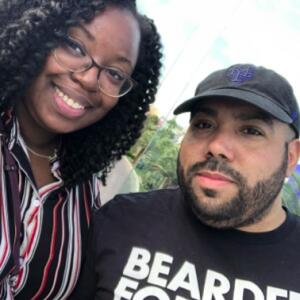 I have been living with multiple sclerosis (MS) for a little over a year now. I am adjusting to my new life and the effects MS has had on my body. I knew my physical and mental health would be impacted by my diagnosis, but I did not realize how my condition would affect my loved ones. I've realized it's crucial to acknowledge that, while dealing with your MS diagnosis can be challenging, it is also hard on those close to you. They go through your illness with you, although their struggles are often left out of the narrative. It has been difficult to figure out navigating everyone's emotions and changing roles, but we are learning that with compassion and empathy as our guides, we will find the best way forward.
My diagnosis came out of nowhere. One day I was healthy and the next, I was sick. Everything happened like a whirlwind. I was lost, and those close to me were, too. We were all in shock. We knew nothing about MS. Suddenly, we had to become experts on this condition. Everyone was trying to manage their grief while trying to be supportive of me. It felt unfair that my life was causing them so much pain. Yet, I had no control over it.
My friends and family struggled to accept my diagnosis. It took time for everyone to absorb what was happening, and they reached that acceptance at different times. Of all my loved ones, my mother, Cevan, took my diagnosis the hardest. We still cannot discuss my condition without her crying. She often tells me, "I feel a lot of guilt that maybe I did something in the earlier stages of your life that caused this condition to occur." There's not much I can say to convince her she did nothing wrong. She has a lot of fears and anxiety regarding my diagnosis. One of her fears is that my condition will worsen, which will result in her needing to retire early and move closer to me. I've learned to allow her, and the rest of my loved ones, to absorb this big change on their own timeline. How I feel about my MS may not match how my mother feels–yet. But it's crucial that we communicate, even if we're in different stages of acceptance.
Communication is vital when maintaining healthy relationships in general, but particularly when someone is living with a chronic illness. Everyone needs to be open and honest about their feelings. Not everyone will need the same thing. Some may need social support, while others may need to retreat and reflect on their own. But it's important to share how you're doing. When I was first diagnosed, I lived in a constant state of fear. It took time to realize everyone around me felt the same. We were all waiting for my next flare or possible hospitalization. Once I opened up the lines of communication, everyone felt better. I understood how people were coping with my condition, and I was able to vent freely. We knew we weren't alone, and we could lean on each other. It's been hard to watch my favorite people's lives change as they take on support roles. My fiancé walks the tightrope of balancing being my primary caregiver, parenting our son, and digesting his feelings. He fears my condition will worsen, making parenting more difficult. Outside of MS, our lives are busy. I understand his worry. I could not imagine having to carry the brunt of everything while caring for a sick partner. Together, we've been on a journey as we learn how to manage the twists and turns of multiple sclerosis. But communicating clearly with each other has been crucial. I'm working on processing my guilt at our changing roles. We're both learning how to accept that our future will be different than we expected. It's a process we're still in the middle of, but I know together, we will figure out how to balance it all.
MS has become such a large part of my life, it feels like a person–a person whose presence causes grief and stress for myself, my family, and my friends. Unfortunately, this person is not going anywhere. We all have to adjust to this new way of life. But, with open and honest dialogue, there is hope for normalcy to be regained. And the concern from my community reminds me every day how lucky I am to be so loved and supported. I'm not the only one affected by my MS, which can be hard to bear–but that also means I'm not alone in this struggle.
Was this helpful?