Navigating Multiple Sclerosis in Corporate Culture
Was this helpful?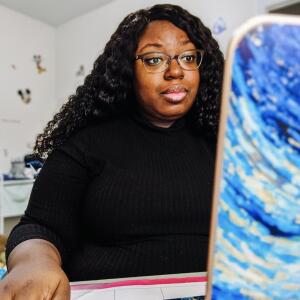 Being diagnosed with a chronic illness such as multiple sclerosis (MS) can be life-altering. When I received the news, it impacted everything. When you have MS, your health is inconsistent and can shift without any notice. Tasks that used to be simple are now more challenging to complete. And there's always concern about making it through the workweek without experiencing a flare-up.
I've learned first-hand how workers with chronic illnesses like multiple sclerosis face constant uncertainty, forced to worry about how their health affects their ability to do their job. Cognitive fog and fatigue are some of the symptoms that have impacted my work. The reality is there's a fine line between maintaining your productivity, honoring your work ethic, and nurturing your mental and physical wellbeing. Thankfully, laws like the ADA and FMLA were put into place to protect employees from being fired due to medical leave or disability, and it's important to take advantage of these resources when you need them.
As time passes, I've gotten better at balancing my health and my job. Here are a few tips to help you navigate your new normal at work.
If MS affects your work, it's best to be honest and upfront with your boss (and in some cases, coworkers) to avoid them making presumptions about you. Instead of providing specific details of the illness you have, focus on how it impacts your work and any special accommodations you need. This method offers you the ability to be honest while still protecting your privacy. If you choose to provide more details, that's fine, too. It's all about your comfort level.
Your boss may be understanding, but you should also talk with your human resources representative. Informing someone with authority about your illness is essential so they know what's going on in case you experience unfair treatment. Also, double-check your organization's non-discrimination policy so you're equipped to protect yourself.
If you need alterations to your work schedule or method of working, speak to your boss. Ask if certain adjustments are available to better aid your health and productivity. For example, you might request to work from home a few days a week. If scheduling your doctor's appointments has become difficult because of office hours, ask if you can change your schedule to accommodate your appointments better. Personally, I was afraid at first to discuss needed accommodations with my employer. I am thankful my job has been very understanding and allows me flexibility for my appointments. If speaking to your boss is overwhelming, write down what you want to say ahead of time. This way, you have a reference point during your meeting and you'll remember everything you wanted to discuss.
Sometimes, when work makes special accommodations regarding your illness, it can unfortunately lead to conflict with coworkers. If they do not know about your health situation, they may have the perception that you're receiving preferential treatment for no reason. A chronic illness's symptoms may not always be readily visible, which can lead others in the workplace to believe you're exaggerating what you're going through. If you encounter negativity or bullying behavior, document it and report it to your supervisor and HR rep.
Also, be mindful that not every comment is meant to bully. Sometimes a co-worker can make a comment because they're simply uninformed. I have experienced this and I took the time to educate them. We went to lunch together so we could converse more in depth in an informal setting. I let her know about my diagnosis, what she said to me, and how it made me feel. She was very understanding and our work relationship has progressed nicely. This is not a cure-all for every situation, but if there is room for some dialogue, give it a try!
Remember to make your health and wellbeing at work a priority. You cannot perform at your best when you are not taking good enough care of yourself. Take breaks when needed: get up to move around if your pain allows it, or head to the breakroom for lunch instead of eating at your desk.
Also, make a record of how you are feeling daily. Update your doctor if that changes. Do not push through and ignore small symptoms to get work completed. When you feel sick, contact your doctor, and get the treatment you require. Keeping symptoms in check can decrease worry about how a flare-up will affect your job performance.
Being honest with your boss and coworkers about your MS can lead to a much smoother work experience. But it is also vital to maintain your mental and physical wellbeing. If accommodations are needed, do not hesitate to ask. MS is a challenging illness to navigate; using available resources can help!
Was this helpful?