PERSONAL STORY NETWORK

Multiple Sclerosis: Nothing to Feel Sorry About

Was this helpful?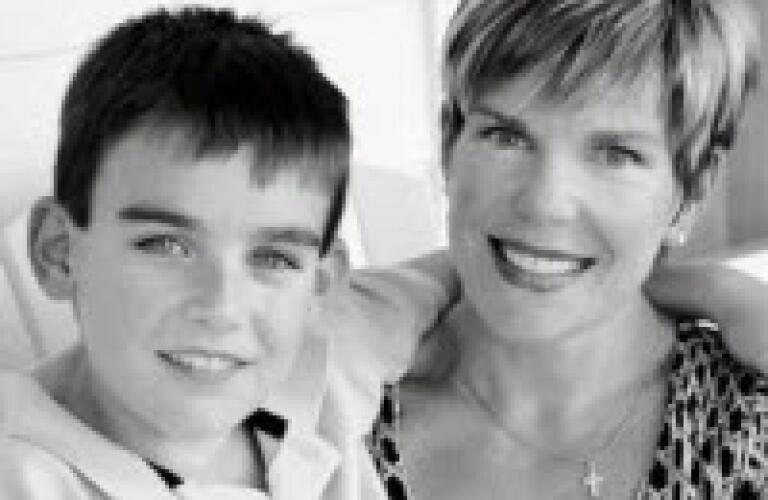 I remember when my doctor asked if I'd been stressed. I laughed. Yeah, I guess you could say that.
I've always had autoimmune issues, and after giving birth to my son, I was suffering from what doctors thought were psoriatic arthritic symptoms. I decided to join a clinical trial study in Seattle that was testing a new drug for psoriatic arthritis. I would go in every week for 16 weeks, get a shot, and they'd take all my vitals. Right around the 14th week, I felt numbness spread from my left shoulder all the way down to my leg. They immediately withdrew me from the study and sent me to a neurologist. It turns out that possible side effects of the drug were autoimmune and nervous system issues that are associated with multiple sclerosis (MS).
The neurologist said that the numbness could be a precursor for MS; but it could also be a number of other issues. I underwent a spinal tap and an MRI, which showed a high level of white matter in my brain typically found in 60-year-olds, not 42-year-olds. No one could tell me a definitive cause of the numbness or white matter, however. The thing about MS is that it's not a simple "yes or no" diagnosis. It can only be diagnosed after a continuation of behaviors, patterns, and signs of degeneration seen in CAT scans and MRIs. My neurologist said that if the numbness persisted, I could come back in six months and we could see if a new spinal tap showed different results. He also said that the numbness may go away. When my numbness did subside, I decided to put the episode behind me and not seek further treatment.
Fast forward three years to my big move from Seattle to Atlanta. We'd discovered that my son was on the autism spectrum, and I had just started a new company. I was at a pretty high stress level. My rheumatologist had just started me on injections for psoriasis because I wasn't responding to the typical psoriasis treatment. After four weeks on the psoriasis injections, I started having numbness symptoms all over again. I asked to be put on another medication immediately and just went cold turkey.
The numbness in my left shoulder and leg continued, and I started having sporadic gastrointestinal (GI) tract issues and began bleeding off and on for weeks. I told my Ob/Gyn—she's the one who asked me if I'd been stressed lately. She told me to get on a better diet, relax, take as much stress as possible out of my life and come back in six months.
I met with my primary care physician, too. We took some blood tests and found out that I was anemic and had low levels of vitamin B and vitamin D. Soon after, I started having problems hearing from my left ear and when I went to a hearing specialist, she was just amazed. She told me I was deaf in my left ear.
I had all these problems going on and no one really connected the dots yet.
The psoriasis was getting worse and the numbness and tingling spread up my neck, my ear, and across my skull. A friend who is an emergency room nurse was adamant about my seeing a neurologist. Within the next week they thought I either had a brain tumor or MS. They finally diagnosed me with MS and it was at a pretty aggressive stage. Although my symptoms were dormant for three years, the effects of MS had been damaging my body the whole time. The level of white matter in my brain three years later was even higher. I should've gone in 18 months earlier. That's something I really regret.
I went on the MS recovery diet soon after. Each of our bodies is unique and everyone develops differently. In order to find what causes inflammation for you specifically, the MS diet encourages you to eliminate everything and slowly introduce different foods back into your body. I started off by eating foods that were gluten-free, casein-free, egg-free, dairy-free, low sugar and low salt. Basically, I ate raw fruits and vegetables, and proteins cooked on the grill without butter. I was that high-maintenance girl at the restaurant, but I knew I had to be strict.
What I truly hated was that everyone approached me with absolute sympathy, as if my life was ending. I just hated that. I would tell them that I had nothing to grieve. About six months into this whole experience, I realized that I never really felt sorry for myself because I already knew that life throws the unexpected at us.
For the first time in my life, I stopped agonizing and apologizing. Because this is a chronic illness and because the impairment can be severe, I have the freedom of putting priorities where I feel they should be. If someone wants to do a project with me, I'll tell them exactly what I know we can accomplish in a given time period. But I've stopped compromising my diet or exercise regimen, because I know if I fail at that, I can't be a wife or mother, a sister, or a daughter. I can't be a CEO and I can't be here for me.
This is probably surprising, but I see all of this as a gift. I will not feel sorry for myself and I will not let anyone feel sorry for me either. There is nothing to feel sorry about in my beautiful life.
What I Know Now:
Don't delay your diagnosis. See a doctor immediately if anything feels off.

If you go to different doctors, they'll see different things. Make sure your doctors know all of your symptoms so they can make a fully informed decision.

Identify your priorities and stay true to them.

Enjoy the life and body you have been given. Don't feel sorry for yourself. Don't let anyone feel sorry for you. You are capable of living a full, happy life.
Gailynn Gluth is a mother, wife, daughter, sister, and CEO living with multiple sclerosis in Atlanta.
Was this helpful?