SOCIAL VOICES

Multiple Sclerosis and Intimacy

Was this helpful?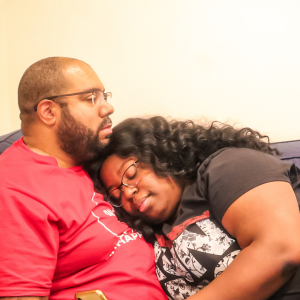 Recently, on one of my social media platforms, I asked my followers to message me questions about living with multiple sclerosis (MS). Someone asked how MS has affected my experience with intimacy and sex. I wasn't surprised to receive this question; MS impacts all aspects of my life, including this important part of my relationship.
MS in general can be an uncomfortable topic to discuss, and talking about symptoms that can hinder sexual relations can be even trickier. But communication is key for any relationship, especially when chronic illness is involved. Working through these challenges with your partner can lead to a stronger and closer love affair. In my experience, honesty, open communication, trust, and understanding add to the foundation of a solid relationship.
With MS, all areas of a relationship are affected. At first, I knew it might impact my physical capabilities and sensations, but I didn't realize how it can create obstacles to intimacy. While sex consists of physical touch between individuals, intimacy is about more than just the physical. It involves an emotional connection and closeness, and it doesn't solely need to occur in the bedroom. Your intimate relationship might change when MS affects the dynamic between you and your partner. Roles change and expectations are unclear. Having a chronic illness like MS can put a damper on the romance, but there are ways to get creative and find what works for you as a couple.
People with MS can experience sexual problems from a plethora of different symptoms. When trying to tackle the sexual symptoms of my MS, I did some research. I learned that sexual arousal begins in the central nervous system; the brain sends signals to the sex organs along nerves that run through the spinal cord. If MS interferes with these nerve pathways, sexual response can be directly impacted. You might find it difficult to orgasm, experience a drop in sex drive, have issues maintaining an erection, have problems with vaginal tone and lubrication, or feel changes in genital sensation, like pain or numbness.
Personally, I have so far only had temporary issues. I experienced genital numbness after my initial flare; I could not feel any part of my vagina, inside and out. My libido decreased and I was not interested in any sexual activity. The numbness and libido dip took months to subside but they fortunately did resolve.
Of course, psychological problems can cause issues in the bedroom as well and affect both sex and intimacy. Depression, anxiety, and body image concerns can change the dynamic between you and your partner as you navigate what your MS means for your relationship. When our mental health suffers, our sensations and sex drive can suffer, too. Personally, I experienced body image issues after my MS diagnosis. A combination of my symptoms and the global pandemic led to additional weight gain, which resulted in frustration with my appearance and low self-esteem. I felt undesirable and unattractive. Plus, I was stressed about my new diagnosis and what it meant for my life. My husband was very supportive during this time. He allowed me time and space to navigate these new changes. Ultimately, my negative headspace ended up having more of an effect on my sex life than my MS symptoms of pain and discomfort.
Whether you're in a relationship or single, MS can become a nuisance. The good news is there are ways to strengthen intimacy and adapt to your new circumstances; the following are some tips to try.
Focus on communication: It may not seem easy or helpful, but an open dialogue can go a long way. Talk with your partner about your MS and any sexual dysfunction. Honesty about your feelings is one of the most important ways of dealing with sexual challenges. Your sex life may be different due to your MS, and ignoring this change doesn't help anyone. Talk it out so you can work together to adapt and find what feels good. When I was feeling unhappy and self-conscious about my body, I discussed these feelings with my husband and he was completely supportive, sweet, and understanding. His love and encouragement helped me get back in tune with myself.
Stop overthinking: I understand very well that moments of insecurity lead to overthinking, questioning every step, or being unfairly tough on yourself. But when you're in an intimate setting with your partner, it's essential to stay in the moment and go with the flow. Overthinking is the quickest way to take yourself out of the mood. Try your best to stay present, focusing only on what you're feeling in the here and now.
Slow down: There is no rush. Take your time and do what feels right. The old phrase is correct: "slow and steady wins the race."
Get creative: Your MS symptoms might mean you have to make some adaptations or adjustments in bed. If you try something new and it doesn't work out like you hoped, it doesn't mean you've failed or your sex life is destroyed forever. It just means that one thing didn't work. Try something else and see what happens. Be curious and open-minded about how you and your partner can accommodate both your needs.
I know from personal experience that chronic illnesses like MS can hinder sex and intimacy. Navigating this new challenge in your life can be intimidating at first–it certainly was for me. But establishing open and honest conversations with your partner is the first step to being in sexual sync. Remember to not overthink and take it slow. Finding what works for you is worth the effort.
Was this helpful?