How to Get the Most Out of a Virtual Doctor Visit for Multiple Sclerosis
Was this helpful?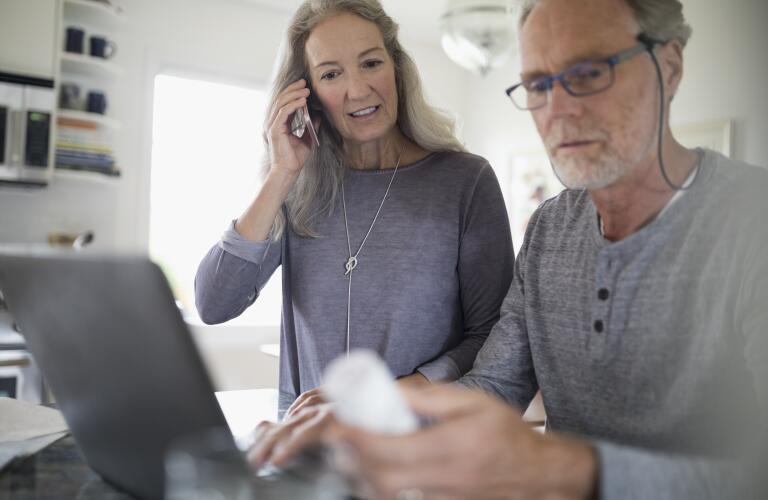 In the United States alone, almost one million people live with multiple sclerosis (MS), a progressive disease in which the protective sheath covering nerves is damaged or destroyed over time. When this occurs, the brain cannot communicate effectively with the body, and symptoms such as dizziness, tingling or numbness, slurred speech, or vision problems may occur. For many, mobility issues also play a significant role in everyday life.
These symptoms can make getting to your doctor's appointments difficult. But in recent years, telehealth has revolutionized the way patients stay connected with their healthcare team. Many doctors provide telehealth services for MS using patient portals, messaging apps, phone calls, and video chats. If you're interested, the first step is asking your doctor whether they offer telehealth and, if so, if these types of appointments could be worked into your treatment plan.
Virtual doctor visits offer significant benefits that differ slightly from in-person appointments. First, there's no need to travel to a clinic. Your visit is conducted right from the privacy of your home, as long as you have access to a computer or smartphone. This approach to patient care may be more convenient for you, and it may help save you time and spend less money on travel costs.
In some cases, doctors provide remote monitors to help collect information about your symptoms and other health issues. This data is transmitted directly to your doctor, who can interpret the findings and determine whether you need any adjustments to your treatment plan. Such technologies make it easier to track your symptoms or ensure you're taking your medications properly.
Telehealth also makes it easy to ask questions. You may hesitate to talk freely at your in-person appointments, especially if other healthcare providers or patients are around or if you are embarrassed by symptoms or other problems. But conducting your visit from home ensures your privacy and can help you feel more comfortable. Many people with MS also deal with problems like depression, and an at-home visit can help you receive counseling and advice for improving your mental health.
A telehealth appointment shouldn't be intimidating, but you may have questions about how you can get the most out of a visit. Fortunately, it's very easy to be sure you're ready to remotely connect with your doctor. Before your appointment, be sure to:
Ask your insurance company. Many insurance companies, including Medicaid and Medicare, now cover telehealth appointments. You may find that a virtual doctor visit costs less than an in-person appointment, which can help you save money over time.
Check your connection. Since you'll be speaking with your doctor using a computer or your smartphone, it's important to make sure these technologies are in proper working order before your appointment. Make sure you know how to log in or access your appointment beforehand, and consider doing a test run in advance to work out any kinks.
Find some privacy. Get set up in a quiet, well-lit room where you'll have privacy for your appointment. Ideally, you'll be able to close the door to prevent any interruptions.
Grab a pen and paper. You may want to have a pen and paper handy so you can write down what your doctor says. This can help you easily remember changes to your treatment plan. You can also ask a loved one to join you during the appointment to take notes for you.
Have your paperwork ready. In many cases, doctors require specific paperwork to be completed before appointments. Telehealth is no exception, and it's a good idea to have everything filled out well before your visit. That way, your doctor has all the information needed to make appropriate treatment decisions.
Know your medications. During your appointment, you'll likely discuss your medications, including any side effects you experience–so have your meds on hand if your doctor wants more details. Depending on your state's laws, your doctor may also be able to prescribe new drugs or refill old prescriptions.
Write down your questions or topics you'd like to discuss in advance. It can be easy to let time get away from you during your telehealth visit, so it's a good idea to write down any topics you'd like to talk about, as well as questions you may have. Writing these thoughts down helps ensure all your concerns are addressed during your visit.
Telehealth provides a great way to stay connected to your doctor without ever having to leave your home. If you're interested in using telehealth to help manage MS, ask your doctor whether this approach could be right for you.
Was this helpful?