How Telehealth Can Help People With Multiple Sclerosis
Was this helpful?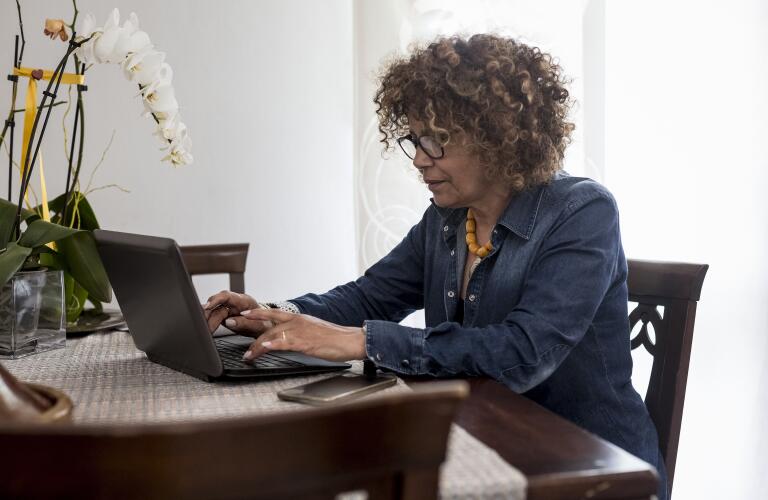 Living with multiple sclerosis (MS) isn't easy, but doctors are constantly researching new ways to connect with patients, manage symptoms, and help reduce stress. In recent years, telehealth, also known as telemedicine, has emerged as an effective way of providing care to people with MS.
Telehealth uses technologies like your computer or smartphone to help you stay in touch with your healthcare team, via phone call, messaging apps, or most commonly, video chat. And it isn't just for managing your symptoms—a virtual doctor visit can also help you build resilience, stay active, and learn more about your condition. If you're interested in using telehealth to help manage MS, ask your doctor if this option could be incorporated into your existing treatment plan.
The typical symptoms of multiple sclerosis, such as difficulty walking, tremor, or vision problems, may make getting to your doctor's office difficult. Fortunately, a virtual doctor visit can eliminate your need to travel to your doctor, saving you time, effort, and even money. And while you may worry about your doctor's ability to provide top-notch care using telehealth, studies show most patients are completely satisfied—or even happier—with the level of care they receive using these technologies.
You may also have problems connecting with MS specialists, especially if you live in a more rural area of the country. But with telehealth, specialists from across the nation are available right at your fingertips. And since MS is typically a long-term, or chronic, disease, using telehealth to communicate with your healthcare team can help ensure you receive proper care for your entire life.
In some cases, doctors use specialized equipment to help you report MS symptom severity, duration, or frequency. Your doctor may provide you with one of these special monitors that allows you to input information about your experience in real time. Then, your doctor can monitor your condition remotely and address any immediate concerns as they arise.
While not all services your doctor provides can be completed using telemedicine, there are still many benefits you could experience. For most, multiple sclerosis symptoms appear and then may improve slightly or completely. However, these symptoms usually come back within weeks, months, or years. Telehealth is a great way to monitor your symptoms, since a virtual chat with your doctor allows you to easily report new problems or changes in what you typically experience.
Telemedicine can also be used to:
Complete rehabilitation exercises in your home
Educate you about your condition
Manage your medications
Provide mental health counseling
Review the results of any blood tests or other diagnostic tests
Screen for complications of MS, such as vision problems
If you're thinking of using telehealth to help you manage MS, following a few tips can help you get the most out of your experience.
Check your equipment. If you're going to meet with your doctor virtually, be sure your computer, camera, and internet connection are working properly before your visit.
Have someone else join you. If you're comfortable doing so, having a family member or friend with you during your appointment can help make sure you don't miss any important information.
Prepare just like normal. Since your telemedicine visit is a doctor's visit, it's important to prepare just like you would for an in-office appointment. Have pen and paper ready. Write down any questions or concerns you have, as well as any other topics you'd like to discuss.
Think about your When you go to an in-person doctor's appointment, you're likely seated in a private patient room to help ensure your medical information and concerns aren't shared with others. You may want to conduct your telehealth appointment in the privacy of your bedroom or other area where other members of your household won't interrupt. You'll also want to choose a comfortable, well-lit area with strong internet connection so your doctor can see and hear you as clearly as possible.
Virtual doctor visits for multiple sclerosis can make a huge difference in both your quality of life and the treatment you receive, since you won't have to travel but will still be connected to your healthcare team. If you're interested in using telehealth, asking your doctor about it is the first step toward making it a regular part of your treatment plan.
Was this helpful?