Finding the Right Drug to Slow Down MS
Was this helpful?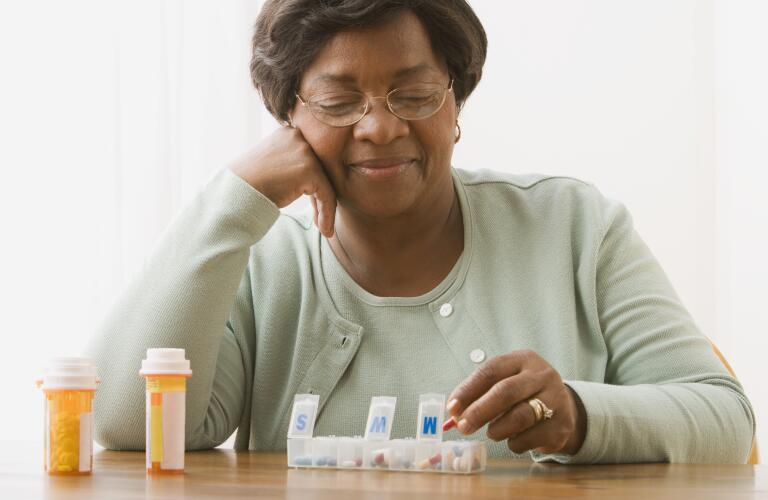 Getting a diagnosis of multiple sclerosis (MS) is a life-changing experience. However, there have been major breakthroughs in MS treatment: In 1993, the U.S. Food and Drug Administration (FDA) approved the first medication that can actually slow down the progression of the disease. Before that, doctors could only treat MS symptoms. There are now numerous disease-modifying therapy (DMT) drugs.
DMTs can reduce the frequency of MS attacks, reduce damage to the brain and spinal cord, and reduce the chances of becoming disabled. There is a DMT for every type of MS, and recently a new drug was approved by the FDA to treat primary progressive MS, a rare form of MS that does not have periods of remission.
MS is caused by an abnormal immune system (your body's defense system), which means your body mistakenly targets the tissues of your brain and spinal cord. Immune system cells cross into your central nervous system and attack the myelin, or protective lining around nerves. Over time, the myelin sheaths around your nerves deteriorate and become scarred, and nerve signals become blocked or distorted. DMTs work by interfering with this abnormal immune system response.
DMTs are the best treatment available for MS. The one you'll take depends on your level of disease, your response to the drug, and possible side effects. (You can't take any of the drugs if you are pregnant or planning to become pregnant.) You may choose one drug over another based on how the drug is administered and its known side effects. This is a decision you will need to make with your MS healthcare provider. Here's a look at current DMTs.
Injectable DMT Medications
You give injectable DMT medications to yourself or with the help of someone else. Your MS healthcare provider will teach you how to do it. Because they are injections, you can have skin reactions at the injection site, so you will need to rotate the areas of injection.
Interferons
Interferon drugs are proteins that alter the immune system. Flu-like symptoms are common after injecting these drugs. These symptoms may decrease with time as you continue to use these drugs. Taking over-the-counter pain relievers, like acetaminophen (Tylenol) or ibuprofen (Advil, Motrin), at the time of your injection may lessen this reaction. Liver abnormalities, depression, low white blood cell counts, and allergic reactions are less common side effects.There are three classes of interferons for MS.
Interferon beta-1a drugs include:
Avonex, which was approved for MS in 1996. Avonex treats newly diagnosed and relapsing MS. It comes in a preloaded syringe for a once-weekly injection into a muscle at bedtime.
Rebif was approved in 2002 for injection under the skin, three times a week. It is approved for people with relapsing forms of MS and comes as a prefilled syringe.
Interferon beta-1b drugs include:
Betaseron, which was the first drug approved for MS in 1993. It is for people who are newly diagnosed with MS and for people who have relapsing MS. Betaseron comes in a preloaded syringe for injection under the skin, at bedtime every other day.
Extavia, which has the same every-other-day dosing, indications, and similar side effects as Betaseron.
Pegylated interferon lasts longer in the body than regular interferon drugs. Drug makers accomplish this by attaching interferon proteins to polyethylene glycol—or PEG. The advantage is less frequent dosing. Currently, there is one drug in this class:
Plegridy, which treats relapsing forms of MS. It comes as a prefilled syringe for injection under the skin every 14 days.
Monoclonal antibodies
Monoclonal antibodies are synthetic drugs that bind to a specific target on the surface of certain cells. Currently, there is one drug in this class that you can administer yourself:
Kesimpta (ofatumumab), which is for relapsing MS. It binds to B cells with a surface receptor called CD20. Kesimpta essentially takes this type of B cell out of action. B cells are one type of white blood cell—part of the immune system; B cells are likely responsible for the nervous system damage in MS. You inject Kesimpta under the skin. It requires weekly injections at first, but eventually you only need it once every four weeks.
Other Injectable DMTs
Currently, there is one other injectable DMT, glatiramer acetate. It works by blocking the damage MS does to myelin nerve sheaths. It can treat new or relapsing cases of MS. Uncommon side effects include chest pain, anxiety, and flushing. This drug is available for injection under the skin in a 20 mg dose for daily use and a 40 mg dose for use three times a week. There is a generic version available.
Brand names of glatiramer acetate include:
Copaxone, which was approved in 1996
Glatopa, which is the generic equivalent of Copaxone
Oral DMTs have the convenience of coming in pill forms.
Nrf2 activators
This class works two ways—protecting the nerves while quieting the immune system. Nrf2 activators include:
Tecfidera (dimethyl fumarate/BG-12), which gained approval in 2013 and currently has a generic equivalent available. Studies of MS patients taking this twice-daily pill have shown reduced relapse rates, fewer new brain lesions, and a lower overall rate of disability progression. The most common side effects are flushing and gastrointestinal symptoms, including diarrhea, nausea, and abdominal pain. Treatment may lower white blood cell counts, which means that people taking Tecfidera need routine lab studies.
Vumerity (diroximel fumarate), which is a prodrug—the body converts it to the active ingredient in Tecfidera. Compared to Tecfidera, Vumerity has improved tolerability—fewer digestive side effects—with the same twice-daily dosing.
Bafiertam (monomethyl fumarate), which is a 95 mg delayed-release capsule. Dosing is one capsule twice daily for seven days, then two capsules twice daily. Bafiertam is similar to the other two drugs in this class; the body converts dimethyl fumarate (the active ingredient in Tecfidera) to monomethyl fumarate. So, in fact, all three of these drugs are related to each other.
Sphingosine 1-phosphate receptor modulators
This is a new class of drug that blocks white blood cells from crossing into the central nervous system. Agents in this class can cause slow heart rate. You need to have heart tests before starting these drugs. Infections, which can be serious, are also possible. Common side effects of this class include headache, muscle ache, abnormal liver tests, and diarrhea.
Drugs in this class include:
Gilenya (fingolimod), which gained approval in 2010 for relapsing MS. It is the first DMT available as a pill—you take one every day. You take the first dose in your doctor's office.
Mayzent (siponimod), which is also for relapsing MS. In addition to blocking white blood cells, it may have anti-inflammatory or other effects in the central nervous system. This drug has an up-dosing period of a few days when you gradually increase the daily dose.
Zeposia (ozanimod), which also requires a dose titration over a few days
Other oral DMTs
There are two other oral DMTs currently available:
Aubagio (teriflunomide), which is a once-daily DMT typically used for relapsing MS. It can reduce the number of MS lesions and delay MS progression. The most common side effects are diarrhea, nausea, hair thinning, and elevated liver enzymes. There are two serious precautions with Aubagio. Those with liver problems should not take this drug. Also, due to a high risk of birth defects, both men and women trying to conceive should not take this medication.
Mavenclad (cladribine), which belongs to a class of drugs that doctors typically use to treat cancer. In MS, it targets white blood cells called lymphocytes. Like cancer chemotherapy, you take Mavenclad in cycles. You take it daily for 4 to 5 days, then repeat this cycle in about a month. Another course of two cycles is repeated in about a year. Doctors generally reserve this drug for people who have already tried other treatments. Side effects include headache, nausea, hair loss, and low white blood cell counts. Birth defects are also possible, so precautions are necessary.
Infused DMTs are IV (intravenous) infusions that go directly into a vein. You must go to a medical facility to get these DMTs. But their advantage is that you only need to get them a few times a year.
Antineoplastics
Antineoplastics are anticancer drugs. They work against MS by suppressing immune system cells. Currently, there is one drug in this class:
Novantrone (mitoxantrone), which was approved in 2000 with four times a year dosing. However, it can have serious side effects, such as bone marrow, liver and heart damage. Because of this, doctors only use it for two to three years to treat worsening relapsing or relapsing and progressing MS. Common side effects include fatigue, bruising, infections, hair thinning, and nausea.
Monoclonal antibodies
Like the injectable form, these monoclonal antibodies work by targeting certain immune cell receptors. Infusion monoclonal antibodies for MS include:
Lemtrada (alemtuzumab), which depletes the autoimmune cells that lead to MS nerve damage. It is a once-yearly infusion you get over the course of a few days. Research suggests it is more effective than interferon beta-1a for reducing the relapse rate in relapsing-remitting MS. However, there is a small increased risk of potentially serious infections and autoimmune disorders, including immune thrombocytopenia (ITP). Because of its safety profile, doctors reserve this drug for folks who have a poor response to other drugs.
Ocrevus (ocrelizumab), which came to the scene in 2017. It's the first drug ever approved to treat primary progressive MS, one of the most debilitating forms of the disease. It also treats relapsing-remitting MS. It works by targeting B cells. In clinical trials, ocrelizumab significantly slowed disability progression and reduced brain lesions. For patients with relapsing MS, the drug reduced yearly relapses by half. Ocrelizumab is given every six months; common side effects include reactions at the infusion site and upper respiratory tract infections.
Tysrabi (natalizumab), which blocks immune system cells from getting into the central nervous system. Approved in 2006, it is a once a month infusion for relapsing MS. Tysabri can have side effects, such as fatigue and allergic reactions. Doctors reserve it for people who have not done well with other DMTs because it can also cause a very rare side effect called progressive multifocal leukoencephalopathy (PML). PML is a viral brain infection that is often fatal.
Finding the Right Choice for You
In clinical trials, all disease-modifying drugs have been shown to effectively slow down the progression of MS. But not all people have the same results. One drug might work for you and another might not. You may also have more side effects with one drug than another. That's why you'll need to work closely with your MS care provider to find the drug that works best for you with the most tolerable side effects. But no matter what drug you choose now, you may decide to switch to a new drug in the future.
Most MS experts agree that the sooner you start taking a DMT drug, the less likely it is you'll develop the kind of brain or spinal cord damage that leads to disability. Research into effective MS treatments continues and more choices will likely keep coming. The outlook for MS treatment has never been brighter.
Disease-modifying drugs have changed the way MS is treated. They are the first MS drugs that can slow down the progression of the disease.
The drug you take depends on which type of MS you have, your response to the drug, the side effects you can tolerate, and how you prefer the drug to be given (injection, pill or infusion).
Work closely with your care provider to find the right drug for you.
Was this helpful?