PATIENT VOICES

A Melanin Millennial With Multiple Sclerosis

Was this helpful?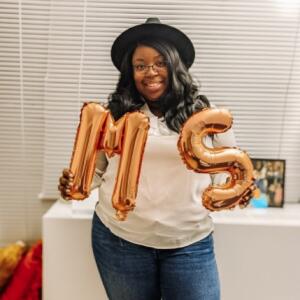 As my 27th birthday approached, I noticed an issue with my right eye. I had a small circle of blurriness in the center of my vision. At the time, my doctor told me it was nothing to be concerned about, despite my worries. Eventually, it went away on its own, and my eyesight returned to normal. A year later, I woke up on a Sunday morning to find the blurriness had returned, accompanied by a sharp pain in my eye. I immediately contacted my ophthalmologist to have my eyes checked.
Within a week, my vision returned, but the pain remained. I explained my symptoms to the doctor, and he insisted I schedule an appointment with a neurologist. He said that I was experiencing optic neuritis; I was unaware that this is a polite way of saying I could have multiple sclerosis (MS).
By the time I was able to schedule an appointment with the neurologist, I was numb from underneath my breasts to my toes and had difficulty walking. Given my symptoms, the neurologist believed it could be MS, but I needed more tests. I knew nothing about the disease before this. In the past, I had only seen worst-case scenarios. I feared it meant I would never walk again and I had no feeling in my legs. Lack of mobility shook me to my core. I can handle a lot, but I felt that life in a wheelchair would destroy me.
After three MRIs and a hospitalization, I was formally diagnosed with multiple sclerosis. I struggled to understand what this new term meant to me and how it would affect my life. Before this significant flare, I had no outstanding severe health issues. My sense of normalcy was gone.
Now, a year later, MS affects me differently. My symptoms are not as severe–as long as I avoid specific dietary triggers. Eating MSG can flare up my MS, and I'm learning I have to be very careful to stay away from it. I was hospitalized recently due to drinking japanese liquor that contained MSG. Fortunately, the symptoms from my initial flare are gone. I have feeling back in my body with no mobility issues. I am currently on a monthly infusion medication, which has been helping me. Overall, as long as I am mindful of what I am eating and prioritizing my overall health, my MS has been manageable.
However, during those first scary months, I spent hours researching everything I could, from MS treatments to diet to types of exercise. I found lots of helpful information, but there was something missing.
I searched for MS support groups or resources in particular. I felt so alone with this new chronic illness. I noticed a trend online: MS was mainly depicted from a white perspective. Black women were not included in the narrative, even though we usually have more severe symptoms and faster disease progression. And I couldn't find anything from the perspective of a millennial Black woman like me. I felt even more isolated than before. Was I the only Black woman in the world with multiple sclerosis?
I was infuriated that I could not find a space in which I felt comfortable sharing my story and learning from others. I vented to my partner, Nick, about my frustrations with the MS community. Despite it being a great community, there was no defined space for Black women. Nick suggested I create my own. I thought that was crazy; how could I single handedly create the space I craved? But, still inspired, I decided to give it a try. I had nothing to lose!
I started small by sharing my new diagnosis on Instagram. The amount of love and kind words I received was overwhelming. It motivated me to create an Instagram page, @lifewithmoyna, where I share my story as a young Black professional mother with MS living in NYC. I use my platform to discuss what MS looks like for me. I created my blog under the same name, lifewithmoyna.com, to share more of my story. Also, I recommend products and tools that have been working for me to ease symptoms and boost my wellbeing.
Since I created my Instagram and blog, I have enjoyed interacting with other Black women with MS. Their stories and desire for more inclusivity continues to motivate me. Now I get comments and DMs from Black women who feel comforted when they see another Black woman with MS acknowledging our experience. We discuss what is missing in the chronic illness community and the change we would like to see.
I am often asked about advice I have for other Black women suffering from MS. I advise you to stand in your truth and share your story. It matters, and it is worthy of being shared. Also, continue to advocate for yourself. I sometimes look back at my appointment with my ophthalmologist and wish I had been more assertive. If I had pushed for additional testing, maybe I could have been diagnosed earlier and avoided the large flare I experienced later. If a practitioner is not listening to you, then find one that will. Too often, Black women's health is dismissed.
I am here to support Black women through this disease. It is time for inclusivity to be a significant focus within the MS and chronic illness communities.
Was this helpful?