PATIENT VOICES

5 Tips to Combat Multiple Sclerosis Caregiver Burnout From Someone Who Knows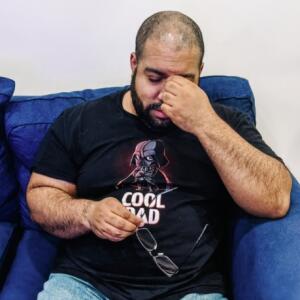 I've lived with multiple sclerosis (MS) for a little over a year now, and it's brought with it many challenges I didn't expect. As I researched more about my diagnosis, it wasn't a surprise to learn MS would affect my body in certain ways, and I knew that would have an impact on my mental health, too. But I didn't realize at the start just how much my condition would affect my loved ones.
A couple of weeks ago, my mobility was unsteady, and I needed assistance walking around. My fiancé, Nick, had to help me around the house. I could see his exhaustion, but he did not complain. With tears in my eyes, I apologized for my current condition. He replied, "There is no reason to be sorry. It's not your fault." Once he got me to bed, I heard him sit on the couch and let out a loud sigh. I know it's hard to be the primary caregiver to someone with multiple sclerosis. Often the people closest to us carry the burden of our disease in their own way. However, if they're intentional about taking care of themselves and using any available support tools, the experience of caring for a loved one can be manageable—and this benefits everyone involved.
Multiple sclerosis can cause pain, numbness, and instability, affecting my ability to accomplish basic tasks–and it's unpredictable. Nick often needs to take on responsibilities that I typically handle, and it can be a lot for one person to bear. To avoid getting overwhelmed, it's a good idea for caregivers to be proactive, identify strategies that help them reduce stress, and recognize the triggers that can create additional physical and emotional burdens. If a caregiver is experiencing burnout, they might withdraw physically, psychologically, and socially, which can isolate them and make things worse. High stress levels, especially over an extended period, can affect your health, and a caregiver is more likely to experience mental health challenges such as depression or anxiety. Caregivers must try to notice signs of burnout to prevent their health from declining and emotional instability.
The heavy demands of caregiving can cause stress for anyone. That's why it is essential to use available tools and resources. Remember, if you do not take proper care of yourself, you cannot care for anyone else. Here are some strategies Nick and I have learned as we continue on this path:
Ask for and accept help.If possible, reach out to family members and friends. Share the responsibility with others. Understand that you cannot do everything and accept assistance when offered. A friend or family member could help with small tasks, making the overall load lighter. Maybe asking someone to do something as simple as running errands or cooking for you once a week would make a big difference. Remember, it is okay to ask for help when needed.
Be easy on yourself. You are doing the best you can, so be kind to yourself. Negative thoughts will not make the situation better. Understand you are providing the best care possible and making sound decisions. And keep in mind you'll get better at this role with practice and experience. You're not going to get it right immediately and no one expects you to.
Join a caregiver support group. You are not alone.There are many individuals in the same situation as you. Find a group that matches your experiences, where you feel comfortable sharing. Joining a caregiver support group is excellent for encouragement and validation. They may even have tips and strategies that you haven't thought of.
Seek emotional support.Reach out to family members and friends who are not involved in the situation. An outside perspective can provide clarity and a different perspective, as well as an outlet to express yourself freely. If you do not have someone close to you to turn to, try talking to a therapist.
Maintain self-care. Take a break, exercise, find some time for yourself. Find a hobby or get involved with other activities. Whatever can help you relax, prioritize that! This is time for you and you only!
Chronic illness is hard on the people living with MS and those close to them. As a patient, it can be difficult to know your caregiver feels the impact of your condition directly. Try not to feel like a burden or guilty for having needs. Instead, have an open and honest conversation about your feelings with your loved one. Be understanding and compassionate with them, and try to listen and be present without focusing on the guilt you may feel. They may be experiencing burnout, and acknowledging that fact can help. Caregivers can be our heroes, but understand they are still human. Ultimately, though, they love you. Everyone has different challenges in their relationships, and this ended up being one of yours. Being honest with each other and acknowledging you're learning as you go can help both of you manage your new normal with grace and strength.
Was this helpful?