PATIENT VOICES

My Multiple Myeloma Journey: Connecting With My Oncologist

Was this helpful?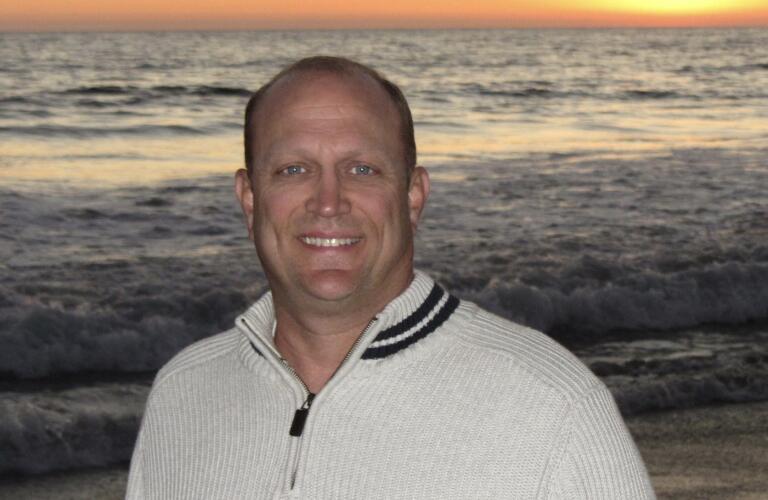 I'd been working out at the gym, doing a series of military presses, when I started to feel back pain and nausea. That brought me to the orthopedist, who took an X-ray but didn't see any skeletal damage. After three weeks on painkillers, my back pain got so bad I couldn't stand up; it was off to the ER.
After an emergency magnetic resonance imaging scan (MRI) revealed I had broken my back, the ER doctors told me my bones were abnormally weak; they said I either had early onset osteoporosis or cancer. Hearing the word cancer, I said, "You've got the wrong file." I was only 41 years old. I went back to the orthopedist, who recommended I see an oncologist.
My father was with me when the orthopedist suggested we connect with an oncologist. We quickly reached out to some family friends from church—a husband and wife who had both had cancer. They had developed a relationship with Dr. Martin York, an oncologist they both greatly respected. Not knowing any other oncologists, I took their recommendation.
It was during my first oncology visit with Dr. York that I received the diagnosis: I had multiple myeloma, a type of blood cancer. Basically, the cancer produces abnormal white blood cells that build up within my bone marrow. This is problematic because the human body dispatches white blood cells to treat injury and fight illness. You want healthy blood cells to take on that task, but my body overproduces abnormal ones and sends them to attack instead. The cancer cells also eat away at your bones like termites. That's why I broke my back.
Based off of the MRI and a bone marrow biopsy collected by the doctors who repaired my back, Dr. York was able to quickly diagnose my multiple myeloma. It was clear to me he was ahead of the curve when it came to multiple myeloma treatment options and a student of the latest research.
When he delivered the diagnosis, my knees buckled. But he was a straight shooter with a positive attitude. He immediately helped me focus on the next steps, advising that I go to the University of Arkansas for Medical Sciences (UAMS) in Little Rock. He said UAMS was the foremost authority on multiple myeloma in the world. And if it were him or a member of his family, that's where he'd go. From that first visit, I was so impressed with Dr. York. His confidence in the decision to send me to Little Rock made me feel comfortable packing my bags and making the trip. The man saved my life.
I routinely saw the oncologists at UAMS in Little Rock and Dr. York back home. In Arkansas, they harvested my healthy stem cells, started me on chemotherapy to wipe out the cancer, and then transplanted my healthy cells back into my body. Meanwhile, weekly appointments with Dr. York allowed him to regularly monitor my condition and treat my bone damage.
I always came prepared with a series of questions to ask my doctors, but UAMS was so highly recommended I didn't feel the need to question the process there. I'm a former Marine Corps officer; I viewed my treatment there as going to boot camp and following orders. I wasn't scared about the treatment at all. The greatest challenge was the time spent away from my wife and four sons. That's what made me nervous and emotional—the thought that I might not be able to watch my kids play football, or take prom pictures, or graduate high school. That's what was hurting me. I was willing to take rat poison if it would have somehow guaranteed I would be around for my kids.
Normal life expectancy with multiple myeloma is 2 to 3 years post-diagnosis. Over the years, I've met other patients who didn't go to Little Rock. They ended up having complications and are no longer here. That tells me I've made the right decisions.
My cancer went into remission nine months after Dr. York gave me that life-altering diagnosis.
We moved across the country while I was in remission, so I had to find a new oncologist and I checked with UAMS for recommendations. The oncologists in Little Rock still had my healthy stem cell samples and they'd been fantastic. I knew I wanted a local oncologist who would work with them and my insurance. UAMS found me an oncologist, Dr. Gregg Olsen, with whom I developed a great rapport. My cancer recurred under his care, and so I then went to both him and UAMS for treatment. I saw Dr. Olsen until he retired, and luckily my cancer went into remission again a few months later.
Dr. Olsen's replacement was a general oncologist who committed a series of unprofessional missteps in my care. At one point, he left me waiting for two hours for an infusion because he'd failed to authorize the medication on time. On top of this, his specialty wasn't multiple myeloma. You don't want to go to a general oncologist with multiple myeloma. You want someone with expertise.
After a few months with that oncologist, I reached back out to UAMS, and they again helped me connect with a wonderful provider, Dr. Robert Vescio. Though my cancer is in remission, my immune system is still diminished, and I need what's called an intravenous immunoglobulin (IVIG) infusion every month. This infusion helps me fight infection by increasing the levels of antibodies within my system. Dr. Vescio takes care of this treatment for me. I think because I've been through this for so long, I know enough about multiple myeloma to make my appointments easy for him. This gives us more time to catch up and have a good conversation.
When it comes to finding the right doctor, you might get lucky and connect with the right one straightaway, like I did with Dr. York. But you always have to be willing to get a second opinion. Use all the resources available to assess your doctors and don't be afraid to be a pest with questions. I've been so fortunate to have received incredible support from my community. And I'm absolutely indebted to the doctors, nurses, and staff who have taken care of me over the years. But, ultimately, it's your life, and you only have the one.
Was this helpful?