How Doctors Diagnose Multiple Myeloma
Was this helpful?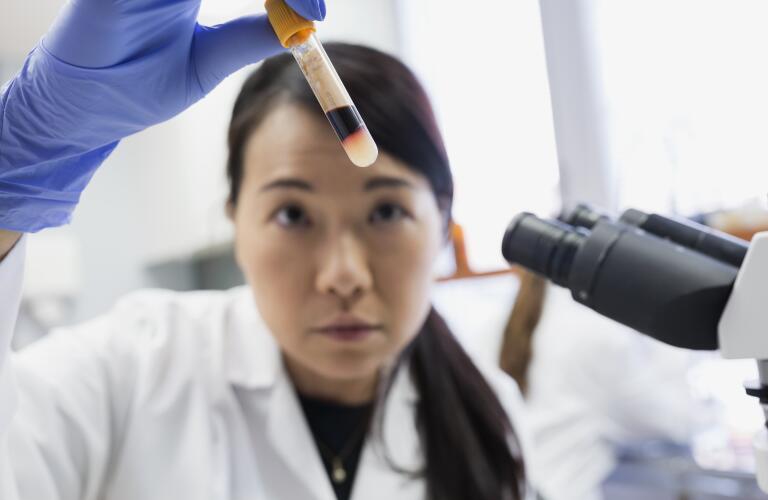 Multiple myeloma is a type of blood or bone marrow cancer. It specifically affects plasma cells. These cells make antibodies to help your body fight infections. Early in the disease, you may not have any multiple myeloma symptoms. When symptoms occur, they tend to be vague. As a result, doctors usually do not find this cancer in early stages. If you have symptoms or if your doctor suspects a problem, here is what you can expect in reaching a diagnosis.
A multiple myeloma diagnosis starts with a medical history and physical exam. Your doctor will review your risk factors and ask about your symptoms. One of the most common symptoms is bone pain. Fractures due to weakened bones can also occur. Other symptoms can include frequent infections, tiredness, fatigue, unusual bleeding, numbness, tingling or weakness. Be sure to mention if you have had loss of appetite or unintended weight loss.
During a physical exam, your doctor will feel for soft tissue lumps or masses.
Lab tests are also part of comprehensive diagnostic testing for myeloma. These tests can include:
CBC (complete blood count)
This blood test can show if multiple myeloma cells are crowding out other blood cells. The result of this crowding is lower than normal levels of red blood cells, white blood cells, and platelets.
These tests measure the amount of normal immunoglobulins and check for the presence of an abnormal one. Immunoglobulins are the antibodies plasma cells produce. Multiple myeloma can cause levels of normal ones to be high or low. It can also produce an abnormal one, called M protein. Multiple myeloma cells produce many, many copies of this same protein. However, M protein can also be present in MGUS (monoclonal gammopathy of undetermined significance). This condition is not cancer, but may progress to cancer over time.
Immunoglobulins consist of long (heavy) and short (light) protein chains. In some cases, multiple myeloma cells only secrete the light chains. Finding pieces of light chains in the blood or urine can help identify multiple myeloma if other tests are inconclusive.
Myeloma cells make another protein called beta-2 microglobulin. Measuring the level of this protein gives your doctor information about your stage of multiple myeloma and your prognosis.
This blood test measures the amounts of electrolytes, calcium, albumin, and other substances in the blood. LDH (lactate dehydrogenase) may also be part of this test. When these levels are off, it can be a sign of disease. Some substances will be high in people with multiple myeloma, while other substances will be low. The levels of some of these substances can also tell your doctor if your kidneys are healthy. This is important because multiple myeloma often affects kidney function. The kidney damage results from high levels of M protein.
This multiple myeloma test removes a sample of bone marrow and some fluid. The sample goes to a lab for testing and examination. In multiple myeloma, there will be an overpopulation of abnormal plasma cells in the bone marrow. This is visually confirmed by the pathologist. The lab will also test the cells for changes in the genes (DNA) of the multiple myeloma cells. This information plays a role in your prognosis.
The most common site for the bone marrow biopsy is the back of the pelvic bone. It involves numbing the area and inserting a needle to remove the sample.
Imaging exams give your doctor information about the extent of cancer in the body. They can also show your doctor the size of the tumors and how much damage they have done. Here are some common imaging exams for multiple myeloma diagnosis:
All of these tests help your doctor make a complete diagnosis, including the stage of multiple myeloma. Staging helps your doctor plan your treatment and predict how successful it will be. Your kidney function, age, and overall health also affect your prognosis. Ask your doctor to explain all the factors influencing your treatment options. Together, you can decide on the best approach for you.
Was this helpful?