Why It's Crucial to Care for Mental Health With Chronic Migraine
Was this helpful?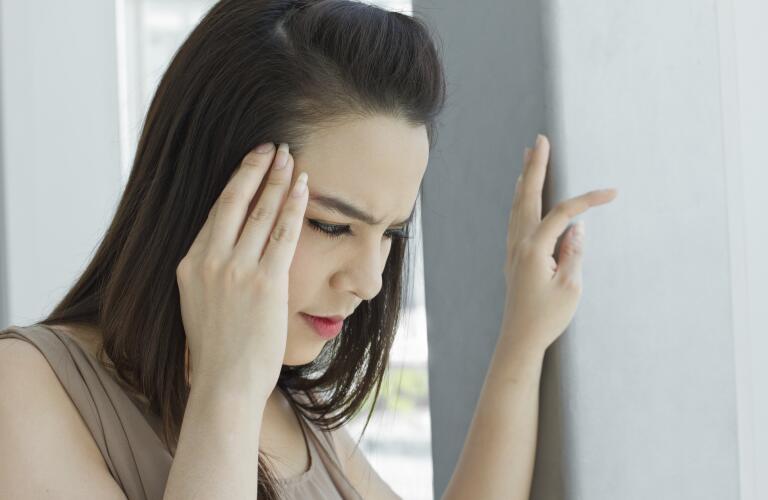 Chronic migraine can be a debilitating condition to live with, interfering with all aspects of your life. The physical pain can be significant, but it's also important to consider the emotional affect of your migraine attacks. Research shows people who experience the intense pain of chronic migraine are more likely to become depressed or anxious. Women with migraine are also more likely than men to develop these mental health conditions, and some researchers believe there's an estrogen connection. Learn why it's so important to prioritize mental health when you have chronic migraine, and get tips on self-care and stress reduction.
Does your chronic migraine make you feel sad and hopeless? Have you lost interest in things you used to enjoy? You may be experiencing symptoms of depression. If you feel irritable and can't stop worrying about when your next migraine will happen and how bad it will be, you may have anxiety. Have a conversation with your doctor about chronic migraine and mental health. Many effective treatments are available, including prescription medications, and your doctor can make recommendations that ease both your migraine pain and mental discomfort.
Depression and anxiety both increase the risk of suicide. If you have thoughts of suicide, call 911 immediately.
It might feel like chronic migraine has taken a lot away from you. In many ways, this is true. But shifting your perspective and focusing on your wellbeing can help you process your experiences with this life-altering condition. First, take a good look at the stress in your life and take steps to reduce it. Try not to hold yourself to the same standards as you did before your migraine attacks. Adjusting your expectations and treating yourself with compassion can release a lot of pressure. And keep in mind, stress can trigger migraine attacks, so it's crucial to reduce it and learn to manage it.
Look to these strategies as you make stress-reducing changes in your life:
Cut back on the number of things you're trying to do in a day
Keep a daily to do list and delegate what you can
Stick to a schedule
As hard as it may be, learn to say "no"
Try to focus on what you can control (how you deal with chronic migraine), not what you can't (having chronic migraine in the first place)
Take a break when you need to
Give yourself at least 15 minutes a day to do something you like
Join a support group that will let you vent
In addition to changing your expectations and increasing self-care rituals, practicing meditation can be another tool in your toolbox. Research shows meditation can help reduce stress and manage pain. It promotes relaxation, better sleep, and less intense emotional reaction to challenges. Meditation works on the principles of mindfulness-based stress reduction. The idea is that you stay in the moment and focus on what you're feeling emotionally and physically, not letting your thoughts race forward or back. There's also evidence that other mindfulness practices like yoga, relaxation techniques, deep breathing, and tai chi can improve your mood.
Mental health care is an important part of treating chronic migraine. Don't let depression, anxiety, and stress go unaddressed. The more stress you experience, the more migraine attacks you may have and the worse they may be. Schedule your next appointment with your doctor and approach the conversation as a "whole person" with thoughts, emotions and a quality of life—not just a migraine.
Was this helpful?