What to Expect With a Telehealth Appointment for Migraine
Was this helpful?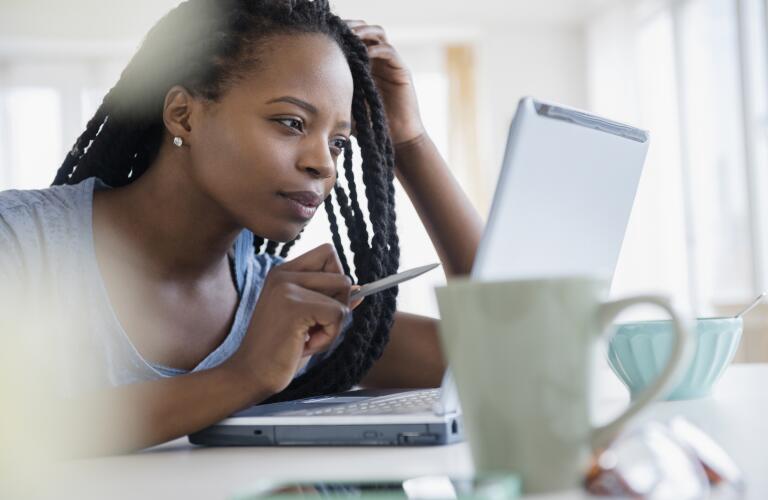 Over the last several years, migraine telemedicine has given more people faster, convenient access to specialist care than ever before. Depending on your provider, telehealth can take multiple forms—video visits, phone calls, emails, text, and chat. Studies have shown that virtual doctor's visits offer the same quality care as in-person appointments, but it may feel uncomfortable to try something new when it comes to your health. Knowing what to expect can help you embrace new opportunities for regular touchpoints that can better control your migraine pain and reduce the frequency of attacks.
Genetics are believed to play a role in a person's tendency to develop migraine, and women are three times more likely to have migraine than men. Beyond that simple baseline, episodes can be brought on by wide-ranging triggers, and your triggers can be completely different than someone else's. As with an in-person appointment, you can expect a virtual visit to include an in-depth conversation about patterns in your mood, sleep quality, and diet in a calculated effort to identify your triggers so you can avoid them. Expect to talk to your doctor about any of the following migraine triggers:
Stress or anxiety
Lack of sleep
Strong smells
Taking too much medication
Caffeine or alcohol
Certain foods, including chocolate, yeast, cured meats, aged cheese, and MSG (monosodium glutamate)
Your doctor will also ask you about your symptoms, which tend to occur in distinct phases before, during, and after migraine. For example, you may crave certain foods, yawn excessively, or see auras before a migraine comes on. During a migraine, your pain may get worse when you cough or sneeze. After a migraine, you may feel fatigued.
Coming out of a telehealth visit, your treatment plan may include:
Prescription medication for pain relief
Relaxation exercises
Hormone therapy for women
Your doctor may also prescribe a rescue therapy for an acute migraine attack that would otherwise require an emergency room visit.
You won't need to leave work early, plan a route that avoids traffic, or arm yourself with pain-relieving tools to ward off the triggers of traveling to and waiting for your in-person appointment. However, you'll still want to prepare in advance for your telehealth visit. Find a quiet, private spot in your home to conduct the call, and charge your device so you won't have technical difficulties. Make sure you know how to log in to the virtual visit, and keep a pen and paper handy to take notes. Keep a list nearby with all of your prescription and over-the-counter medications. You may also want to make a list of questions or concerns to go over with your doctor, as well.
The capabilities of telehealth don't mean you can't see a doctor in person, too. You may find you like a mix of in-person visits and online follow-ups. Rather than limiting your options, migraine telemedicine multiplies them. Ask your doctor how adding telehealth can help you achieve better migraine control.
Was this helpful?