Migraine: It's a Disease, Not "Just a Bad Headache"
Was this helpful?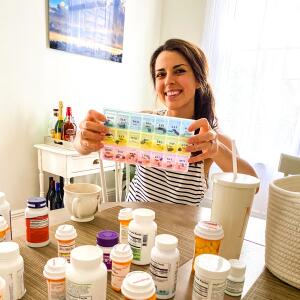 While living with frequent migraine attacks in my early 20's, the way people spoke about migraine repeatedly made me feel like my experience was being minimized, doubted, or dismissed. It took years of pain, disability, and self-advocacy for me to learn how simple shifts in the vocabulary around migraine could be a powerful tool to change others' perception of my journey.
More specific migraine language can help correct the misunderstanding that "migraines are just a bad headache" and instead recognize migraine as the complex, highly prevalent, and nuanced disease it is.
It is important and empowering to speak about migraine in a way that helps bring this condition out from the darkness of misunderstanding and into the light of acceptance.
When someone suffers from migraine attacks, the words we usually use to describe what they're going through are: "I/they get migraines." In reality, a person who has migraine attacks lives with migraine disease–a neurological condition encompassing a wide spectrum of experiences–every single day.
Using the term "migraines" oversimplifies the broad scope of the condition–especially when we as a society so casually conflate a "bad headache" with a "migraine." Although head pain is typically a symptom of a migraine attack, it's only one of many common and disabling symptoms, including nausea, vertigo, light sensitivity, distorted vision, fatigue, etc.
Currently, I live with the diagnosis of chronic migraine (CM), meaning that on over half of the days of the month, every month, I experience a baseline level of head pain combined with migraine symptoms. My migraine attacks often overlap and the constant barrage of symptoms never completely goes away. This concept can be baffling to those who have only witnessed less intense or infrequent presentations of migraine. Surprisingly, some of the most skeptical responses to the validity of my pain come from others living with migraine disease, who are unfamiliar with its potential breadth of severity and frequency.
This was particularly true for me seven years ago, as my once-infrequent migraine attacks morphed into CM and daily symptoms. I felt like I was overreacting or exaggerating when friends and colleagues with less severe migraine compared our experiences. My migraine condition was (and still is) often debilitating, yet friends with less severe cases didn't understand why I needed to cancel plans or avoid triggers on a daily basis.
When I started to explain that CM is one extreme on the wide spectrum of migraine disease, it helped others realize how varied someone's experience of this condition can be, which made them more likely and better able to empathize with me and offer their support.
Using updated language initially felt uncomfortable, and even a little bit unnatural, but it became easier over time. Here are some basic ways to to shift how we speak about migraine disease:
"I get migraines" → "I live with migraine disease"
"My mom gets migraines all the time" → "My mom lives with migraine disease and experiences a high frequency of attacks"
"I have chronic migraines" → "I live with the diagnosis of chronic migraine"
"He has a migraine today" → "He is having a migraine attack today"
"I'm a migraineur" → "I am a person with migraine disease"
I can't overemphasize how powerful these shifts in language have been in articulating my migraine experience and helping others to grasp the extent of the symptoms and limitations I live with on a daily basis.
There couldn't be a more important time to adjust how we discuss migraine disease. Recent years have seen groundbreaking developments in migraine medicine, with more treatments targeted specifically toward this condition than ever before.
Changing how we speak about migraine supports global advocacy efforts to advance life-changing treatments and expand awareness. In every conversation where you discuss migraine with accuracy, you help to improve the understanding and experience of people with migraine disease.
Was this helpful?