How Doctors Diagnose and Treat Migraines
Was this helpful?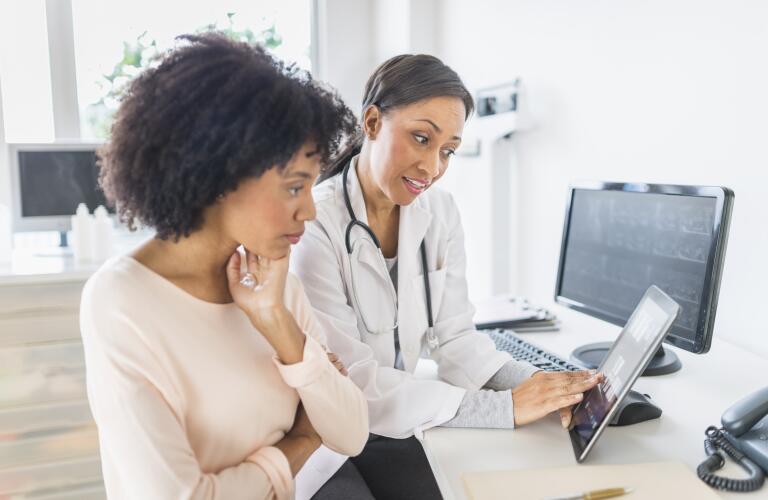 If you have frequent, pounding headaches that last four hours or more, you could be suffering from migraines. Migraine headaches are common. They affect about 12% of the population, women more often than men. If one of your parents had migraines, there's a 50-50 chance you will, too. No one knows for sure what causes migraines. But, they often are triggered by stress, certain foods, fatigue, changes in the weather and missed meals or sleep. If any of this sounds familiar, talk with your doctor.
First, doctors usually try to see if anything else might be causing your headaches. To do this, your doctor will do a physical exam. The doctor might do some blood tests. You also might have a brain scan, like an MRI or a CT scan.
The doctor will also ask for details about your headaches. Usually, it's the symptoms you have that determine if your headaches are migraines. Symptoms typical of a migraine include:
Headaches that last from four hours to several days
Headaches that come back every day or several times a month
Moderate to severe pain that pounds or throbs and gets worse with activity
Nausea, vomiting, fatigue, or blurred vision along with the pain
Pain that is made worse by bright light, loud noise, or strong odors
Experiencing certain warning signs that a headache is coming
About 15 to 20% of people have warning symptoms called a migraine aura. These can include changes in your senses or feelings, such as strange visual disturbances, odors, mood changes, food cravings, excess energy, or fatigue.
How a Doctor Will Treat Your Migraine
If your doctor decides your headaches are, in fact, migraines, you have lots of options for treatment and prevention. Keeping a headache diary can help you and your doctor identify your migraine triggers. Those are things that set off your migraines. Avoiding stress, getting regular exercise, getting enough sleep and not skipping meals will probably help you prevent migraines. Other options include:
Over-the-counter pain medications. These include aspirin, acetaminophen, ibuprofen, naproxen, and aspirin combined with caffeine.
Prescription pain medications. These are called "abortive" medicines. You take them at the first sign of an attack. They can keep a migraine from getting severe. Examples are ergotamines and triptans. They come as pills or nasal sprays.
Prescription medications for prevention. For severe, frequent migraines—more than four a month—your doctor may prescribe a migraine prevention drug that you take every day. They include certain antidepressants, antiepileptics, antihypertensives, and new drugs called CGRP blockers, which target specific molecules involved in instigating migraines.
Non-medicine options. Lying down in a dark, quiet room usually helps. Massaging your scalp may help. Or, try putting a cold compress on your forehead.
If your treatment does not get rid of your headache in 2 to 4 hours, talk with your doctor about trying a different strategy.
It's also important to always let your doctor know right away if you have a severe headache that is different from your usual migraine headache. Headaches need immediate attention if they come on very suddenly, you have weakness or trouble speaking with the headache, or if the headache follows a blow to the head.
Was this helpful?