Chronic Migraine and Telehealth: What You Need to Know
Was this helpful?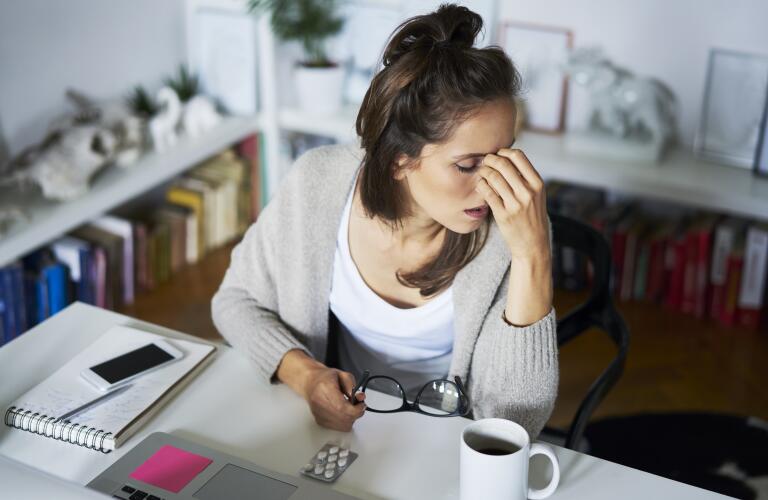 According to some recent studies, migraine affects as many as 45 million people in the United States, or nearly 15% of the total population. Over half of all people with migraine say their headaches significantly or severely impact their ability to live and work normally, which in turn decreases their quality of life. If you're someone who lives with migraine, you may experience these issues yourself.
Most people who live with chronic, or long-term, migraine see headache specialists frequently to help manage their symptoms and find the root cause of the problem. With chronic migraine, you experience at least 15 headache days every month. But it's not always easy or safe to see the doctor during an in-office appointment. That's where telemedicine for migraine comes in.
Telemedicine, also called telehealth, is a way for doctors to connect to patients remotely using modern telecommunications technology. Many doctors now offer this service as a way to follow up with their patients to help keep migraine treatment on track. If you're interested in chronic migraine telehealth, ask your doctor if this option could become part of your treatment plan.
Why You Should Consider Telemedicine for Chronic Migraines
If you've never used telemedicine for chronic migraine before, you may wonder whether it's really worth it and whether your personal health information will be safe. Fortunately, there's good news. First, a large amount of data points to telehealth as being just as effective—if not more so—compared to traditional in-office visits with your doctor. While your doctor probably won't offer all their services for remote migraine treatment, many people who live with chronic conditions like migraine still benefit from the ability to talk with their doctors and receive medical advice. Telehealth may also help you get your prescriptions refilled and your doctor can screen you for new problems, like secondary headaches.
A recent article in the Annals of Headache Medicine notes that there are only about 650 certified headache specialists in the U.S. If you can't see a specialist in your area, chronic migraine treatment online can make it easy to connect with one of them no matter where you live.
All healthcare providers offering telemedicine must also follow strict rules to help protect patient information, including using secure video conferencing technology, requiring patients to sign into patient portals for appointments, and avoiding the use of any public facing video services such as Facebook Live or Twitch. Just like with an in-person appointment, your doctor is legally obligated to keep your personal health information private and protected.
Benefits of Chronic Migraine Treatment Online
Even beyond its effectiveness and security, telemedicine for chronic migraine offers many other benefits:
You don't have to travel. Not commuting to a doctor's office is one of the main benefits of You don't have to worry about traffic, there's no need to pay for additional gas, parking, or public transportation, and you can spend the time you'd usually spend driving talking to your doctor instead. You can avoid common migraine triggers like bright lights, traffic sounds, new smells, and other common irritants.
Social distancing is easy. Chronic migraine telehealth appointments also help protect you, your healthcare providers, and other patients from infectious diseases like COVID-19.
It may be less expensive. In many cases, chronic migraine treatment online costs less than an in-person office visit. And many insurance companies are now paying for at least a portion of telehealth visits, which can help you save even more cash.
Telehealth is simply more convenient. In many cases, doctors offer telehealth appointments within 72 hours of you first contacting them. Since there's no need to leave the house, you may not have to worry about things like finding childcare. And since many doctors offer after-hours telehealth appointments, you may not even have to take time off work. You can speak to your doctor from the comfort of your home and even stay in your sweatpants!
Chronic migraine telehealth appointments can really help you manage your headaches and get the treatment you need to live your life as normally as possible. Many people find it's easy to get started with telehealth, so if you're interested in this treatment approach, ask your doctor whether you can use telemedicine to stay connected.
Was this helpful?