6 Misconceptions About Virtual Doctor Visits for Chronic Migraine
Was this helpful?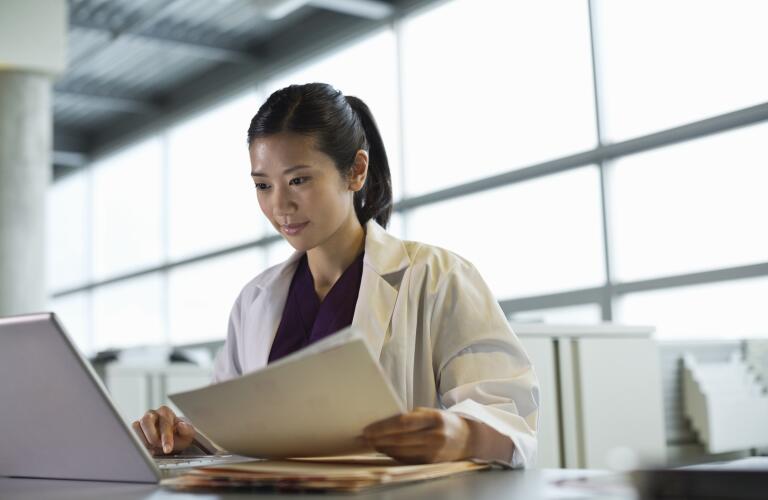 Today, more people than ever before are taking advantage of chronic migraine treatment online as more doctors offer this option. Telehealth, also known as telemedicine, is a new approach to connecting with healthcare professionals remotely using modern telecommunications technology, like your smartphone or computer. It's a great way to stay connected during treatment, but there are many misconceptions about this service. Examining the misconceptions about telehealth for chronic migraine can help you decide whether to give this approach a try.
Myth #1: Online doctors aren't as qualified.
One of the most common concerns people have about telemedicine for migraines is that the doctor they see won't be as qualified as a doctor they'd see in person. But that simply isn't true. Doctors offering telemedicine must have the same credentials as doctors working anywhere, like clinics or hospitals. They receive the same education, take the same licensing tests, and are held to the same standards as all other physicians.
In many cases, your own doctor—who you already have a relationship with—will be the one managing your migraine treatment, even if it's online. And, since there are only about 650 certified headache specialists in the U.S., telehealth can connect you with top migraine experts from anywhere in the country.
Myth #2: You'll have to wait for an appointment.
Another common misconception is that you'll have to wait for a telemedicine appointment. Most chronic migraine patients need to follow up with their doctors several times each year, and it can be tricky to schedule these appointments since physicians are usually booked out months in advance. However, many doctors can see patients via telehealth within 72 hours of the appointment request, making migraine treatment online much more convenient, especially if you develop migraine symptoms quickly.
Myth #3: You won't receive the same level of care.
Yes, there are some services your doctor can't provide if you use telemedicine for migraines, such as performing a magnetic resonance imaging (MRI) scan. But many of the same services performed in your doctor's office can also be completed during a telehealth appointment. Studies show telemedicine neurological examinations compare favorably to in-person exams, and most parts of a standard neurological exam for migraine can be completed remotely. Also, your doctor can still recommend or refill prescriptions, answer your questions, and screen you for any new or additional health problems.
Myth #4: Telehealth is just for urgent needs.
Some think telehealth is supposed to be used only for urgent health needs. But in fact, many chronic conditions like migraine, diabetes, high blood pressure (hypertension), and chronic pain are successfully managed using telemedicine. And since chronic migraine telehealth means you may not have to wait for an in-person appointment while still receiving most of the same services, you may even have better outcomes during the course of treatment.
Myth #5: Telemedicine for migraine costs too much.
The average cost of a telemedicine appointment is around $79, whereas the average cost of an in-office doctor's visit is $146. You can do the math—it's pretty clear that telemedicine isn't as expensive as in-person care in many cases. And telehealth is frequently covered by most insurance companies, although you should contact your insurer to confirm beforehand.
Myth #6: Your relationship with your doctor will suffer.
As more people turn to telemedicine, studies show most are just as satisfied with their care—and some are even happier. An online migraine treatment appointment gives you the opportunity to talk with your doctor when you have their undivided attention. There aren't any distractions that can occur inside a medical office, and your doctor can focus on you completely during your time together. Telemedicine may actually help strengthen your relationship with your doctor instead of worsening it.
You can get the most out of telehealth for chronic migraines and find ways to effectively manage your headache symptoms even if you connect with your doctor remotely. If your doctor offers this service, it's worth finding out if telemedicine could be a good option for you.
Was this helpful?