12 Drugs Commonly Prescribed for Migraine
Medically Reviewed By William C. Lloyd III, MD, FACS
Was this helpful?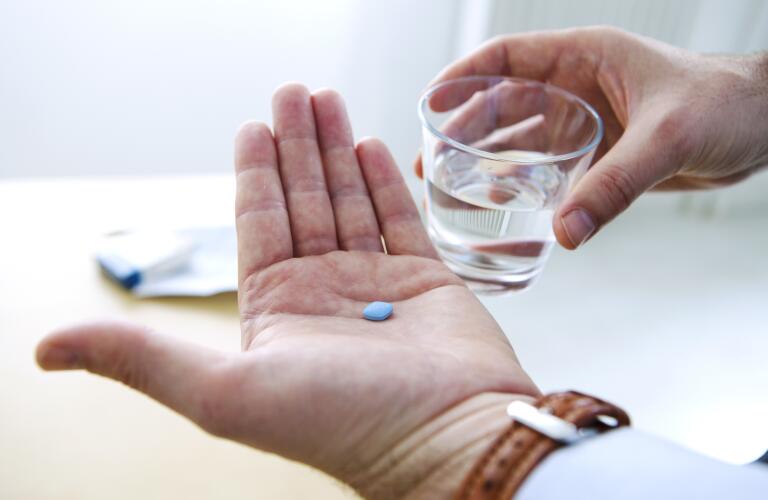 Migraine is an intense headache that can last for hours to days. Typically, a migraine headache is throbbing or pounding pain on one or both sides of your head. Sometimes, people have an aura up to 30 minutes before the headache. An aura can range from seeing flashing lights to tingling to mental fuzziness. During the migraine, you may have other migraine symptoms, such as nausea, vomiting, or sensitivity to light or sounds.
Over 30 million Americans suffer from migraine headaches. These headaches tend to happen more commonly in women compared to men. Your risk of migraine also increases if you have a family history of it. Common migraine triggers include hormone changes, stress, alcohol, and certain foods. Migraine medications can't cure migraine, but they can help control and prevent symptoms and get you back to living life.
Medications work in two ways to treat migraine. The first is acute or abortive treatment. These medicines treat migraine attacks and stop the symptoms. The other is preventive treatment, which reduces the frequency of migraine attacks. You may need preventive treatment if you have four or more migraine attacks per month, the attacks last 12 hours or more, or if acute treatment is not relieving your migraine symptoms. Doctors follow guidelines and recommendations from experts in the field when choosing migraine treatments.
The classes of acute treatment migraine drugs include:
Analgesics treat pain and include both over-the-counter and prescription medicines.
Ergots work to balance brain chemicals and constrict blood vessels. Nausea is a common side effect.
Triptans work in much the same way as ergots. However, they are more specific for migraine. Common side effects may include flushing, tingling, sleepiness, and throat or chest tightness.
Small molecule CGRP blockers are not approved to prevent migraine but are effective for rapidly treating acute migraine episodes. They are an oral pill that can be taken with other migraine drugs.
The main classes of preventive treatment migraine drugs include:
Antidepressants also balance brain chemicals that play a role in migraine. Side effects vary depending on the drug.
Anticonvulsants are drugs that treat seizures through various effects on the brain. Common side effects include sleepiness and weight changes.
Beta blockers. Drugs in this class commonly treat high blood pressure. Dizziness, fatigue and nausea are common side effects.
Botulinum toxins are injected to prevent migraine in people with 15 or more headache days each month. Common side effects include headache, neck pain, and pain at the injection site.

Monoclonal antibody CGRP blockers are the first class of drugs specifically produced to prevent migraines. They block a molecule thought to instigate migraine and increase migraine pain and intensity. This drug is injected under the skin. Common side effects include redness at the injection site, constipation, or muscle spasms or cramps.
After starting treatment, your doctor will monitor your treatment success. In general, your acute migraine medication should relieve your symptoms in four hours or less. You should be able to return to your daily routine within that time. If your headaches still interfere with your day, talk with your doctor. You may need to try different treatments to find the right one for you.
Within each class, your doctor has more choices to make. Some classes contain just a few drug options. Others, such as antidepressants, include many drugs. Finding the right choice for you may involve some trial and error. Twelve drugs doctors commonly prescribe for migraine include:
Amitriptyline (Elavil) is an antidepressant. The dosing ranges from once a day up to four times a day. It belongs to a group of antidepressants called tricyclics. Drowsiness and sleepiness are very common with this group, so your doctor may recommend taking it at bedtime.
Divalproex sodium extended-release (Depakote ER) is an anticonvulsant. You take the extended-release tablet once a day. Taking it with food can help prevent stomach upset.
Eletriptan (Relpax) is a triptan. It is a tablet you take at the onset of your migraine symptoms. For triptans, your doctor will tell you how many tablets you can take in a 24 hour period.
Metoprolol (Lopressor, Toprol XL) is a beta blocker. It comes in both an immediate-release and an extended-release form.
Propranolol extended-release (Inderal, Inderal LA, Inderal XL) is another beta blocker. It comes in several forms, each with their own dosing. Talk with your doctor or pharmacist about how to take your medicine.
Rizatriptan (Maxalt) is a triptan you use at the onset of symptoms. It comes as a tablet and a disintegrating tablet, which melts in your mouth without water.
Sumatriptan (Imitrex) is another triptan. It comes in several forms, including a tablet, injection, and nasal spray.
Topiramate (Topamax, Trokendi XR) is an anticonvulsant. It comes in a regular-release tablet and an extended-release capsule. You can take either kind with or without food.
Venlafaxine (Effexor, Effexor XR) is an antidepressant. You take both the tablet and the extended-release capsule with food. Stomach upset, headache, and appetite loss are common side effects.
Zolmitriptan (Zomig) is another triptan. It comes as a tablet, disintegrating table, and nasal spray.
OnabotulinumtoxinA (Botox) is a botulinum toxin that, when injected into areas of the face and scalp, can prevent the brain's pain response from activating. This stops migraine attacks before they occur.
Erenumab (Aimovig) is a CGRP blocker. It's given by self-injection once a month.
It's important to talk with your doctor about your migraine medication. Let your doctor know if your headaches get worse with your medication. You also need to tell your doctor if you use your acute migraine treatment three or more times in a month. You may be able to switch to a different medicine and get better results. Ask your doctor about lifestyle changes and other strategies to manage your migraines.
Researchers continue to explore the causes and treatment of migraine. Understanding how migraine pain occurs can lead to new ways to treat it.

Was this helpful?