How to Convince Your Child to See a Therapist
Was this helpful?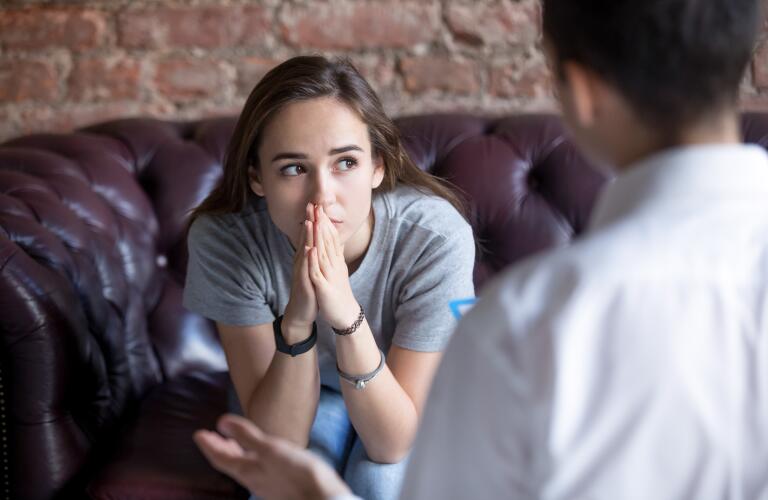 Approximately 1 in 8 children has an anxiety disorder and 2 to 3% of children ages 6 to 12 experience serious depression, according to the Anxiety and Depression Association of America. Many other children deal with attention-deficit hyperactivity disorder (ADHD), obsessive-compulsive disorder (OCD), and other mental health challenges, as well as social and behavioral problems.
Most of these children would likely benefit from working with a therapist, but it's not necessarily easy to get your child to agree to see a therapist. Learn more about therapy for children, including signs your child should see a therapist and how to talk about therapy in a kid-friendly manner.
Everyone has good days and bad days, and everyone occasionally struggles with friendships, responsibilities, and daily life. It can be difficult to tell the difference between developmentally typical "growing up" behavior and conduct or habits that might signal a problem. Worrisome behavior that persists over time and negatively affects your child's life may be a sign of an underlying issue.
You may want to consider therapy for your child if they:
Engage in self-harm, including cutting, skin-picking or hair pulling
Withdraw from family, friends and activities they usually enjoy
Suddenly lack self-confidence
Talk about suicide or say things like, "I wish I'd just disappear"
Has an eating disorder or has lost or gained a significant amount of weight (or drastically altered their eating and fitness habits)
Therapy can also help children dealing with significant life stress, including:
Death of a family member of a friend
Substance abuse within the family
Do some homework before talking with your child about therapy. Check your insurance coverage to see which local or online therapists accept your insurance. Make a list of possibilities. Professionals who provide therapy to children include licensed professional counselors (LPCs), licensed clinical social workers (LCSWs), psychologists, and psychiatrists. You may want to ask your child's healthcare provider or school counselor to recommend therapists for children.
Once you know what's available, talk with your child. Carefully choose the right time and place. This is not a conversation to have right after school, when your child is hungry and tired. Instead, look for a time when your child is likely to be relatively relaxed and plan for privacy. Don't count on a face-to-face conversation; talking while walking side-by-side or engaged in physical activity may be more effective.
Don't start the conversation with, "I think you should see a therapist." Instead, share some of your observations: I notice you've been spending a lot more time than usual in your room. You haven't talked to your friends in a long time and there are some funny scars on your arm.
If your child's behavior has been an issue, frame your conversation around the impact of that behavior on your child's life, rather than yours. So, instead of saying, "We can't have you storming around here all the time!" try something like, "It must feel terrible to lose control."
If your child resists, listen carefully. Address your child's fears and concerns, if possible. If your child continues to resist, back off for now.
It may help to describe a therapist as someone who helps people develop the skills they need to deal with life, just as coaches help athletes develop specific skills. Reassure your child that therapy is private and confidential.
If your child is willing, let them pick a couple therapists from your list. Schedule appointments with both; then, allow your child to choose one after meeting both.
If your child is stubbornly resistant, drop the conversation for the time being, but let your child know that the offer still stands. Sometimes, it takes multiple conversations over a period of months before a child will agree to go to therapy.
Telehealth is experiencing a boom in the age of the COVID-19 pandemic, and psychological counseling is no exception. Also known as telemental health or teletherapy, online mental health support has been around a long time. Since kids who are learning remotely are becoming more comfortable speaking with adults via videoconferencing, your child may be more accepting of an online therapy session rather than going in person. It's possible the therapist may first want to see your child in person, then continue therapy online.
Contact your insurance company about teletherapy coverage and help finding mental health providers who offer this mode of therapy. If you do not have insurance, contact your county's mental health department for referrals. The National Alliance on Mental Illness is also a good resource (search for "online therapy").
With patience, understanding and persistence, you may be able to convince your child to see a therapist.

Was this helpful?