How the Colors in Your House Affect Your Mood
Was this helpful?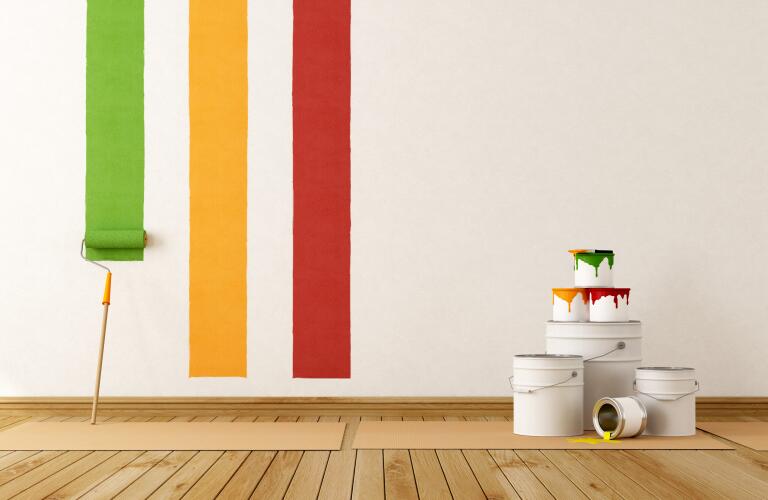 People choose colors in their home for all sorts of reasons: to express style, to make a room feel bigger, to warm up a space. But color can not only make a room feel more calm, cheerful or comfortable—it can do the same for you. Though researchers are still trying to understand the connection between color and psychological functioning, studies show that color has a physical effect on humans due to its energy, which can influence our perceptions and affect our emotions and mood.

Blue

Universally, blue is the most highly-favored color of any shade. Perhaps it's because it makes us think of calming experiences, like staring at a crystal-blue sky, or marveling at the deep-blue ocean. It's a popular color in today's homes, especially in accents like rugs, pillows and draperies. Psychologically, strong blues tend to stimulate clear thought, while lighter, soft blues calm the mind and aid concentration.

Gray

Gray (or grey) is a popular color for home décor these days, but does it leave us feeling, well, gray? It depends. For some, gray may be under-stimulating, even stressful; they may need more color in their lives to inspire them and boost creativity. For others, it may feel calming and serene. It's a "cool" color, and less saturated, which can feel more relaxing. Colors that are more saturated, such as a sapphire blue, are more energizing to look at.

Green

Another cool color, green is considered to be emotionally calming. Often reminding people of nature, it gives a sense of refreshment, harmony and equilibrium. And it can be incorporated with the use of plants and other forms of greenery, adding to the natural effect. Because it's on the cooler side, it's a good choice for homes in warm climates, and in rooms that tend to be on the warmer side.

Orange

Many people are drawn to what are considered "warm" colors, such as oranges and reds. Just as with cool colors, a space where the walls are painted in warm colors can actually feel warmer in temperature, which can affect your inner climate, as well. Often associated with joy, sunshine and the tropics, orange can leave you feeling happy, creative, determined and encouraged.

Yellow

Yellow is associated with joy, creativity and playfulness. Often described as "exciting" and "stimulating," it's a great color for the kitchen to brighten your mood and increase your energy in the morning. (Yellow ribbons have been used as a sign of hope and optimism since the 19th century.) Light, pastel or amber yellows can feel more warm or mellow.

White

If you're drawn to a minimal, white look, there's probably a reason why. It can leave you feeling clean, simplified and de-cluttered, which can have a stress-reducing effect on your mind and mood. It also can make a space feel bigger, giving you a little breathing room.

Red

Of all the colors, red may have the greatest variety of emotions attached to it. For some, it represents strength and passion. For others, anger, danger and drama. Still for others, red brings up feelings of love and romance. One study found that red is associated with sweetness, so much so that participants thought that salty popcorn tasted sweet because it had been served in a red bowl.

How you feel about red—or any color—is largely based on your personal experience with it and, well, how it makes you feel. Most color experts agree—when it comes to choosing a color for your home, ask yourself how you want to look and feel in a space, and go with what makes you feel good.

Was this helpful?