For Men: 5 Ways to Take Charge of Your Health
Was this helpful?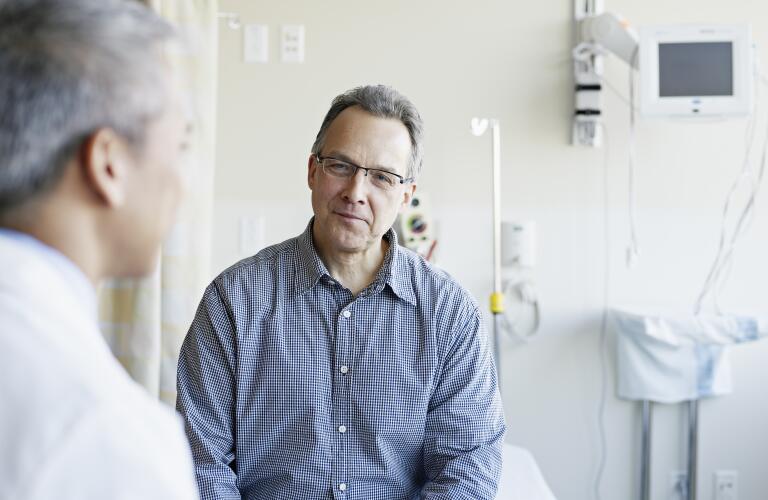 When you are in pain, would you rather "tough it out" than see a doctor? If so, you're not alone. Studies show that men are less likely than women to engage in preventive care or see a doctor—especially when they have no symptoms to report.
But there are many reasons for men to see a doctor. Regular men's well checks (an annual physical) allow you to take charge of your own health, giving you the opportunity to monitor risks, prevent health problems, and catch any serious disease at an early stage when it's easier to treat.
It's natural for men to pay more attention to their health as they get older, but you can take smart steps at any age to stay proactive in your own wellness. These five men's health tips will give you power over your own care choices and put you on the path to your best health.
Some health issues are more common in men, and men's preventive care is a critical step in managing and treating them. Knowing you have a greater risk for developing certain diseases may motivate you to take steps to protect your health now. Conditions more common in men include: heart disease (including coronary artery disease and heart attack), hypertension (high blood pressure), lung cancer, skin cancer, Parkinson's disease, and ALS (Lou Gehrig's disease).
Certain conditions in men, compared to women, also increase the risk of experiencing a negative outcome or complication with surgery or chronic disease treatment. Recent analysis from Healthgrades reveals five common risk factors that increase men's risk of negative outcomes compared to women's risk:
Atrial fibrillation (afib) is a common risk factor for men and women. More women than men experience afib, but afib tends to negatively impact men's outcomes more than women's based on Healthgrades analysis. For example, men being treated for COPD (chronic obstructive pulmonary disease), who also suffer from afib, are more than 11% more likely to have a negative outcome than women being treated for the same condition with the same afib risk factor.
Diabetes can increase your risk for problems before and after surgery and when seeking treatment for other conditions. Analysis from Healthgrades shows diabetes increases the risk of negative outcomes for men more than women in: treatment of heart failure, spinal fusion, knee replacement, pneumonia, and other diseases. In fact, the rate for mortality or complications is more than 10% higher for men with diabetes for treatments of heart failure and COPD, spinal fusion, pancreatitis, and gallbladder removal surgery,compared to women with diabetes receiving the same treatments.
Elevated BMI (body mass index) is an increasing risk factor as national obesity rates continue to rise. In prostate removal procedures, an elevated BMI can increase the likelihood of a complication by 22% to 46%. Across a broader selection of procedures and conditions, men with an elevated BMI see negative outcomes 10.2% to 15.9% more frequently than women with similarly elevated BMIs.
Hypertension, a condition millions of men across the country are managing, has an impact on outcomes across procedures. For the most common procedures and conditions, male patients with hypertension experience negative outcomes 4% to 24% more frequently than women with the same hypertension risk factor.
Tobacco use overall is trending down, but usage among men remains roughly 25% higher than for women and has many negative impacts on overall health. Across the most common procedures, male smokers have negative outcomes 7.5% to 22% more frequently than female smokers treated for the same condition. Specifically, in common elective procedures like knee and hip replacements, male patients who smoke encountered negative outcomes 11.5% more frequently after knee replacement and 17.3% more frequently after hip replacement than women who smoke and had the same procedures.
There are risks involved in any surgery, even if you are healthy. While there are some risks you can't control, there are others you can do something about. You can reduce some of these risk factors by changing your lifestyle; for underlying chronic conditions, you can seek treatment. If you need surgery, work closely with your doctor or surgical team to come up with the safest surgery plan based on your risk factors.
2. Build your healthcare team.
Who will be on your healthcare team depends on your age, current health, and risk factors for serious illness. All men should have a primary care physician. Think of this doctor as your healthcare command central. Your primary care doctor will monitor your overall health through preventive care, annual checkups, immunizations, and health screenings.
If you have risk factors for certain diseases or you are diagnosed with a chronic condition, your primary care doctor can refer you to a specialist. You and your primary care physician should also discuss prostate health and prostate cancer screening.
These are some other doctors you may need to see to maintain your best health now and in the years to come:
Cardiologist for health health and if you have risk factors for heart disease
Dentist for regular checkups, teeth cleaning, gum disease, and oral symptoms
Psychologist or counselor to discuss your risk factors if you have a family history of mental health disorders, or to address common issues, such as stress, relationship problems, or substance abuse
3. Find the right doctor.
Finding a physician means looking for someone with the training and experience to provide the specific treatment you need. It's also important to have a personal connection and feel comfortable with the doctor you choose. Whether you're looking up a doctor referred by a friend or health professional, or beginning a new search, take time to consider the doctor's qualifications and your personal preferences.
Ask yourself these questions to help guide your search to find the right doctor:
Is the doctor both qualified and experienced in the care you need?
Is the doctor covered by your insurance?
Are the doctor's office location and hours convenient?
Does the doctor offer telemedicine visits?
Do you feel more comfortable with a male doctor or a female doctor? How much does the age of the doctor matter to you?
What do other patients say about the doctor and office experience? (View the doctor's ratings on healthgrades.com.)
What is the quality of care at the hospital where the doctor treats patients?
If you're going to need hospital care, it's important to know where your doctor has admitting privileges, and if that hospital is highly rated for the type of treatment you need. Take a few moments to review the quality of a doctor's affiliated hospitals. If you are considering a highly qualified doctor who has admitting privileges only at a 1-star hospital on Healthgrades, talk with the doctor about this concern.
4. Be honest with your doctor.
To get the most out of your doctor appointments, transparency is key. In a recent Cleveland Clinic study, 20% of men surveyed said they were not completely honest with their doctor. Top reasons included feeling embarrassed, not wanting to hear about having to change their diet or lifestyle habits, or not being ready or not wanting to know they had a health issue.
Your doctor is your partner in your healthcare. He or she is there to guide you through your healthcare journey—not to judge you. It's important to speak openly and honestly with your doctor. You can be assured that whatever you say, he or she has heard similar concerns before.
5. Follow your care plan.
Being an engaged patient means establishing a good connection with your doctor and following the care plan you design together. It takes time, effort and sometimes lifestyle adjustments to maintain good health. If you are managing a chronic condition, it's key that you follow your care plan. If something isn't working for you, reach out to your doctor to find something that will work for you.
When it comes to preventive care and good health, you can be a good example for your family and loved ones:
Exercise; even a walk is good for your health.
Get screening tests to check for health problems before you have symptoms.
If you smoke or use tobacco, quit.
If you drink alcohol, drink in moderation—1 to 2 drinks a day.
Get 7 to 8 hours of sleep each night.
Don't be afraid to ask for help when you need it.
Remember that caring for your well-being is as important as caring for the well-being of your family and loved ones. The people who love and depend on you also benefit when you take charge of your care and live your healthiest life.

Was this helpful?