Talking to Your Doctor About Menopause Drugs and Treatments
Was this helpful?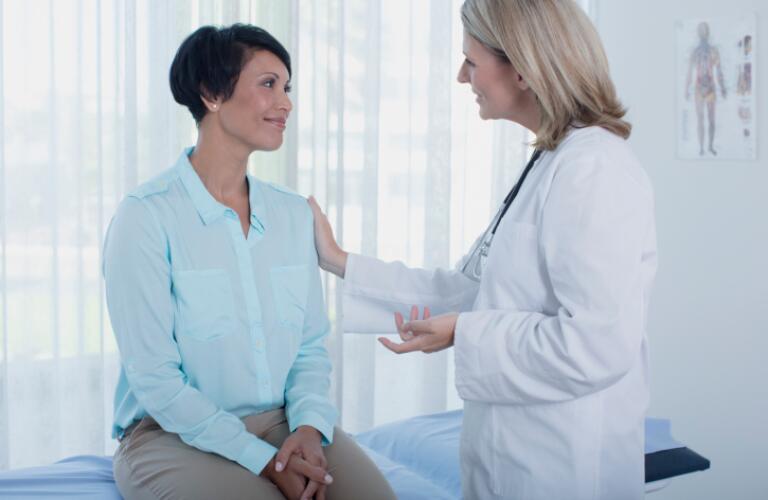 Questions This Article Answers:
What treatments are available for menopause symptoms?
How does hormone replacement therapy work?
What should I ask my doctor about menopause treatment?
While some women pass smoothly through the transition to menopause and beyond, many others may experience physical and emotional changes that can be a strain on day-to-day activities. Common symptoms of menopause include irregular periods, hot flashes, night sweats, vaginal dryness, fatigue, mood swings, and memory problems.
If your menopausal symptoms are more intense, it's important to know there are treatments that can help. However, each comes with its own risks, which must be weighed against potential benefits. That's why it's important to talk with your doctor about the best options for you.
Hormone replacement therapy (HRT), a conventional treatment for menopause symptoms, remains an effective method for many women. Essentially, HRT puts back into the body estrogen and progesterone—female hormones that the body is ceasing to produce naturally. However, in certain women, HRT carries an increased risk for heart attacks and strokes, blood clots, and certain cancers. Women with conditions like a family history of breast or uterine cancer or heart disease are not good candidates for HRT.
Other treatments include low-dose birth control pills, antidepressants, and select blood pressure drugs, which can lessen the intensity of menopausal symptoms. Your doctor may also advise you to try lifestyle tips like changing your diet, exercising more, quitting smoking, practicing better sleep habits, and exploring relaxation techniques like yoga or meditation.
Complementary medicine and homeopathic remedies associated with treating menopausal symptoms include black cohosh and evening primrose oil. However, they are classified as dietary supplements and not regulated by the FDA like other drugs. Thus quality and dosage can be inconsistent, and their safety and effectiveness unclear. They may also interact with other medications that you are taking. Always talk to your doctor before taking any supplements.
When it comes to effectively treating your menopausal symptoms, begin by having a frank talk with your physician about your specific symptoms, overall health, and risks based on your age and medical history. Such a discussion can help rule out other conditions that may be causing your symptoms. It will also allow your doctor to determine what menopausal stage you are in and what treatments could be best for you. Here are some questions to ask during your appointment:
How should my family medical history influence my treatment?
Are alternative treatments an option for me?
What lifestyle changes can I make so menopause is easier for me?
Could hormones be right for me? Why?
What are the risks and most common side effects?
How long should I continue hormone therapy?
What is the lowest dose I can take?
Menopausal symptoms are a serious matter that can affect your sleep, work, health and relationships. However, treating them can mark the beginning of a much healthier lifestyle, one that will benefit you through menopause and the years that follow.
Was this helpful?