What I Wish People Knew About My Melanoma
Was this helpful?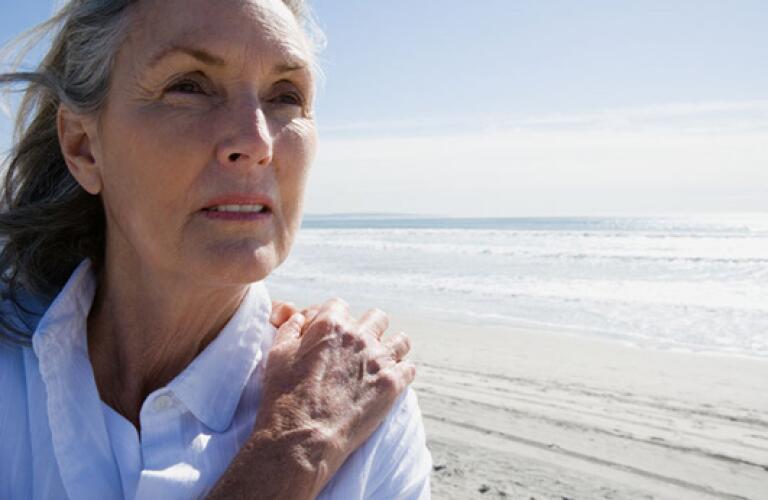 Skin cancer warnings are everywhere these days and there's good reason for it. When we were children, we didn't know what sun exposure could do to our skin. Now years later, many of us are being told we have skin cancer. The more common basal cell and squamous cell skin cancers are highly treatable, but melanoma is different. Melanoma starts from skin cells called melanocytes and is more likely than other types of skin cancer to spread beyond the skin.
With more than 91,000 new cases of melanoma diagnosed in the United States every year, you may know of someone who has been diagnosed with this most severe type of skin cancer. Here, three people who have or have had melanoma share their thoughts about what it's like to live with melanoma.
Lung cancer can cause a bad cough or shortness of breath and breast cancer usually shows up as a lump, but melanoma doesn't cause bothersome symptoms in the beginning stages of disease. But that doesn't make it any less serious than other cancers.
Gretchen Anderson, a marketing manager who lives near Boise, Idaho, said people were stunned when she told them about her diagnosis five years ago. "I looked perfectly healthy and they wondered how that could happen to me."
Diane Selkirk, a freelance writer who is currently sailing around the world, added that this invisible aspect of the disease could be hard sometimes. "Having a cancer that doesn't make you feel sick is a tough one to explain to people," she said. "I felt like a fraud when friends were having serious treatment for breast and other cancers."
The more common basal cell and squamous cell skin cancers rarely spread or cause danger. But in 2016, more than 10,000 people in the United States will die from melanoma, according to the American Cancer Society.
Because basal cell and squamous cell skin cancer are so common, some people don't understand the seriousness of melanoma and they may downplay it. This can make it harder for people with melanoma to express how they feel. When Selkirk was first diagnosed with melanoma nine years ago, "[Some] people assumed it was no big deal, and told me stories about their own basal cell or squamous cell, or precancerous lesions, and would reassure me that it was fine."
Melanoma is usually treatable when it's caught early enough. In fact, if you are diagnosed when it's in the early stages, removing the cancerous spot may be all the treatment you need. But, Selkirk remembers one friend who believed that Selkirk wasn't taking her diagnosis seriously enough. She said Selkirk needed to focus on planning for her then five-year-old daughter's future without her mom. Neither downplaying the news nor believing the worst would happen were helpful, Selkirk said.
Chemotherapy is usually the treatment of choice for melanoma that has spread beyond the skin and lymph nodes, although a doctor may prescribe it earlier. The side effects of medications to treat advanced melanoma can be harsh. Evan Katz, who lives in San Diego, California, has taken several medications to treat his advanced melanoma. He first received treatment for stage 3 melanoma in 2010, and then again when he was diagnosed with stage 4 melanoma in March 2015. He experienced many debilitating side effects, including depression, body aches, and vomiting. Katz says, "There were some days that I could walk, some days I couldn't, because my hips and knees hurt." He also experienced severe night sweats and digestive problems.
Once you've been diagnosed with melanoma, even if the doctor removed all the cancer and it hasn't spread, you're still that person who had cancer. And there's the fear that it can return. "It's the beginning of a lifelong commitment," Anderson explained. "You need to get checked every six months, because things can change."
Selkirk didn't let her trip around the world keep her from undergoing regular skin checks. "I've seen doctors now in five different countries and have learned to know my skin really well," she said. A suspicious mole led her to see a dermatologist in Mexico. That visit led to a second diagnosis of melanoma for Selkirk. The mole was removed and the cancer has not spread. "It was less serious so it felt like maintenance, rather than treatment. But it was an important reminder that I can't become too casual."
Having cancer is tough, emotionally and physically. Katz needed help while receiving chemotherapy, so having someone drive him to appointments or advocating for him when he couldn't do so himself was important. "For someone to be there, to sit next to you or to make calls—for someone to be there with you, that is a big deal," he said.
Selkirk appreciated how her friends would make her laugh or do spontaneous things and little acts of kindness. "I appreciated friends who offered to take our daughter so I could attend appointments with my husband," she said. "One friend would keep her through dinner the night of the appointment, so I had time to process information outside of the doctor's office, and not be quite so emotionally raw when I saw her."
Being diagnosed with melanoma is like starting a difficult journey without a roadmap. You don't know what twists and turns may lie ahead. But having supportive people around to lend a hand can help smooth the road as you move towards healing.
Was this helpful?