Migraines and Botox Injections
Medically Reviewed By William C. Lloyd III, MD, FACS
Was this helpful?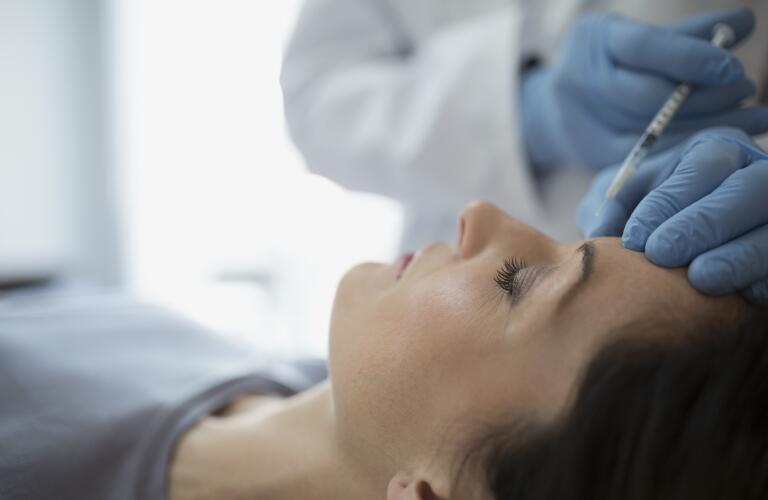 Botox® is approved to prevent chronic migraines in adults 18 years and older. Chronic migraine means that a person experiences a migraine headache for four hours or more on at least 15 days each month. About 3.2 million Americans suffer from chronic migraine. If you're one of them, you may wonder about using Botox. Use this article as a quick reference for what you need to know.
Migraines usually occur periodically from a couple of times a year to a couple of times per week. Some people experience an increase in frequency of migraine headaches that turns into a condition known as chronic migraine. In most cases, this progression to chronic migraine is due to overuse of pain-relieving migraine medication. This is also called a rebound headache. Chronic migraine actually causes structural and functional changes in the brain that make it different from episodic migraine (migraine headache that occurs periodically).
Researchers don't fully understand how Botox works to prevent chronic migraine. Botox is a neurotoxin that prevents nerves from releasing a chemical. This chemical tells muscles to contract. If nerves don't release the chemical, muscles stay relaxed. This is how Botox works to smooth wrinkles and treat medical conditions, such as overactive bladder and eyelid muscle spasms.
This mechanism of action can't fully explain how Botox prevents chronic migraine. Researchers have a few theories, but they haven't been able to pinpoint exactly how it works. It could have something to do with Botox blocking pain signals from muscles and nerves back to the brain. This breaks the cycle of the brain being constantly sensitized to pain.
The FDA (Food and Drug Administration) approved Botox for the prevention of chronic migraines based on evidence from two large studies. These studies compared Botox to a placebo injection. They showed that Botox significantly decreased the number of headache days from baseline. It also decreased the cumulative hours of headache on headache days.
If you've tried other preventive therapies without success, you may want to consider Botox. But first, you need to be sure you suffer from chronic migraine. Botox is not effective in preventing episodic migraine.
Think about how your headaches are affecting your quality of life. Keep a symptom diary to record the frequency, length and effects of your headaches on your daily life. This will help your doctor know whether Botox is likely to help you.
You should understand that you need to give Botox adequate time to work. It generally takes two sessions 12 weeks apart to see the full effect. Continuing your symptom diary will help your doctor gauge your progress. If it works, you should have a treatment every 12 weeks.
Was this helpful?